Heart-Shaped Phrase Pillow
Pillows are usually preferred when it is up to decorating the sofa. We believe that a writing that says "I love you" is the perfect element for a romantic Valentine's day atmosphere. Using patterned fabric and some stylish embellishments is a fantastic chance to make a piece that stands out from the rest of your interior.
Easy Hand-Knit Kids' Scarf
Look at this little cutie! Keep the children warm and stylish for the season with such kind of hand-knitted accessories. And what do you think of such kind of fabric hearts that show the ultimate love for the Valentine's day?
String Art Heart
Your beloved one will simply love to see such kind of handcrafted items, of course in a heart shape. The good thing is that he can keep it all the year round as an evidence for your love.
Paper Heart Garland/Chandelier
Paper handcrafted decorations are very good in convincing someone that you are skilful in all kind of things. For example, a creative chandelier of a kind will not only show your attention to details but will also create the desired romantic touch.
Hand-Drawn Coffee Mugs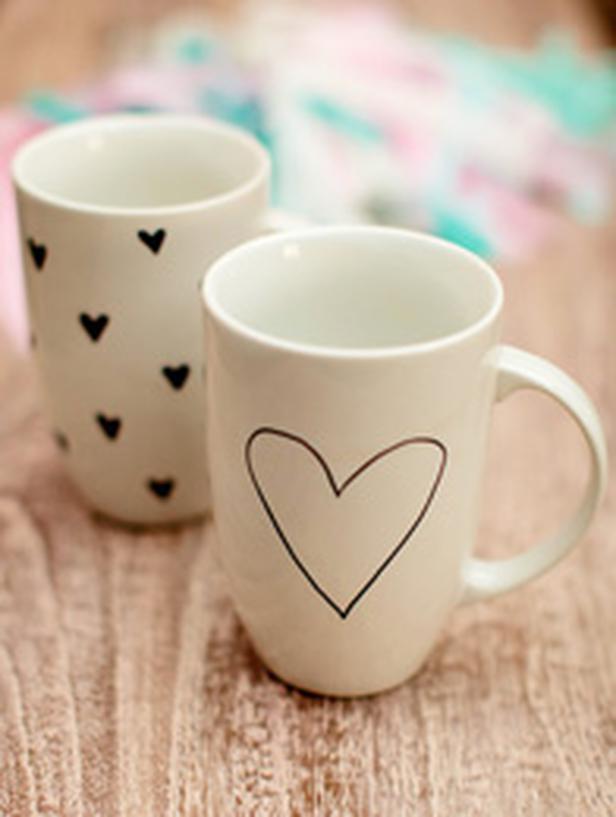 If you know your love for a while you will definitely know for sure if he likes coffee or not. In case he does you can decorate a plain white mug using a permanent marker. Just have in mind that it should be a special one for writing on ceramic. Now, your creativity sets the limits! Draw some fun designs and express your love.
Glitter Champagne Flutes
What is a day devoted to love without a bottle of champagne? The champagne glasses are also a brilliant way to decorate the festive table and establish a stylish and elegant setting.
DIY Takeout Treat Box
Cookies and sweets are essential for a sweet and romantic holiday surprise. Such kind of Chinese takeout box is a great way to achieve a WOW effect in your love's eyes. Needless to say, cookies covered in heart shaped sprinkles will do amazing job.
Sequin-Covered Cupid's Arrow Wreath
This cupid arrow sets a sophisticated touch at your home. And in case there are words that you have always wanted to say but there wasn't any chance to do so, the cupid is a great way to display them. Yes, not is the time!
Love Letters
You can leave a sweet message to your valentine be using inexpensive chipboard or wooden letters. For a memorable experience you can bet on colorful patterned scrapbook paper that will certainly impress the subject of your love.
Etched Wineglasses
If you are planning a romantic dinner you should also think about the decoration. Wine is one of the most famous drink at Valentine's day, so we suggest that you stick to traditions. If you place such kind of customized etched glasses that display one of the most intimate and sincere phrases that only the two of you know, you must be sure that your companion will be astonished.
Upcycled Heart T-Shirt Dress
Do you have old t-shirts that you don't already use? Make a comfortable play dress for your child. You may such kind of heart stamps and fabric ink to a festive touch to the wear. Now, your kid will be in a perfect harmony with the rest of the holiday displays.
Countdown Paper Chain
Made a garland or a paper chain in order to count down the days to Valentine's day.
Play Dough Valentines
Why don't you give a chance to homemade valentines? The all you need is a simple play dough recipe and heart-shaped cookie cutter. When you are ready with the shape you should pack each of the individually in a different holiday package. This will add a personalized look to them and the recipients will love it!
Pretty Paper Flowers
You do almost everything with a heart themed wrapping paper. This is so suitable for every kind of Valentine's day decorations that now we want to show you one of them. You if plant to make gifts you can add a stylish paper flower at the top of them.
His + Her Throw Pillows
When you have such kind of personalized pillows you will always know which one is your seat or bedside. Of course, this is a wonderful opportunity to mess with your partner's space and start a naughty game about it.
Hand-Dyed Bouquet
Flowers are suitable for every occasion all around the year. Add a handmade touch by hand-dying a bouquet in a color of your choice.
Neon-Dipped Flowerpot
Do you have a small and simple ceramic pot? If you do so, take it and add a colorful neon paint. In this visual example we have displayed a half-painted pot. Achieving the same effect is not a hard task as far as you are using painter's tape to separate the two parts and paint them easy. As for the flower, use your imagination and bright up your interior!
Doily Dream Catcher
Create one-of-a-kind dream catcher that will preserve your romantic experiences in the other dimension. Add little and sweet decorative accessories like feathers and hand-crafted jewelry.
Doily Treat Cup for Kids
Turn the paper doilies into sweet treat cups. This will be not only a great surprise for the kids but also for all your guest for the holiday.
Playful Cupcake Toppers
Creating an attractive and unique atmosphere requires certain knowledge on how to decorate the interiors. Our advice is to set additional toppers to the homemade cupcakes. Heart shapes will be best for February 14th , of course, accompanied with personalized messages.