Weekend Getaway
If you are a person that loves the mountains in summertime instead of going to the beach, you will simply love this eclectic weekend getaway located in Canada's Okanagan Valley. The designers that participated in this project are of Sticks and Stones Design Group. Their leader – Carla Bond Fisher and her team worked in order to provide everything needed for a family vacation – functional spaces and beautiful views over the mountains. Their inspiration was the nature and all the home interior design is based on their impressions from the scenery around.
Image: 1
Well, we can't imagine a better way to spend the sunny summer days in the mountains. Sitting in this outdoor furniture and enjoying the mountain view can be pretty inspirational and relaxing activity. The house's orientation provides maximum access to natural sun light and this is what a person needs – sunrays caressing his eyelids. But the sunshine doesn't only stay outdoors. The huge sliding glass doors and windows allow a huge amount of light in the interior turning this beautiful getaway in a sunny mountain home.
Image: 2
As for the interior design, we must say that it doesn't follow some strict lines in a certain style. You can find it rustic, yet warm enough to make the place cozy. A touch of contemporary style is also found. For example, a nice hand-forged chandelier is in contrast to the rest of the contemporary furniture and materials used for the walls. Once you enter this eclectic paradise, take the walnut staircase and you will find yourself on the second floor where private areas are well arranged in order to serve their occupants.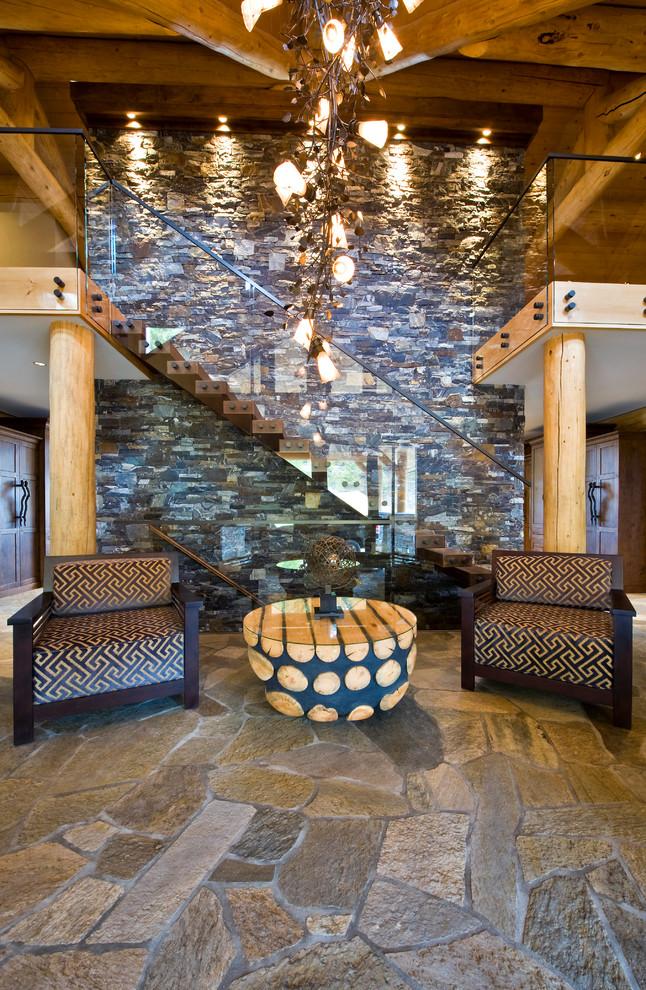 Image: 3
Carla Fisher decided to use textured materials, instead of the boring one colored ones. This is because she knew that they create a warm and welcoming atmosphere, compared to the raw and minimalist appearance that a one color wall creates, for example. Actually, using textures has another function. It plays a key contrasting role in the interior design, highlighting the modern finishes.
Image: 4
When we are talking about a design entity of a project, we mean that there are certain elements that can be found in almost all the areas of the specific place, of course in different configurations. Fisher placed flagstone flooring and dark wood in the kitchen so that it can be in perfect harmony with the rest of the house, where these specific materials are also used.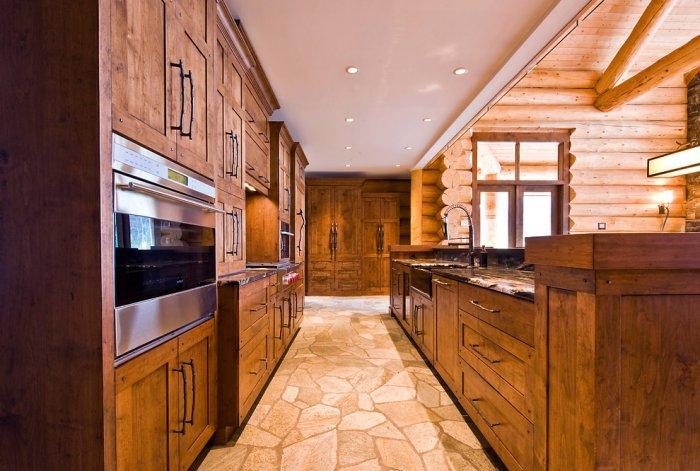 Image: 5
Behind the stove there is a titanium granite counter that adds some luxury accent in the kitchen interior design.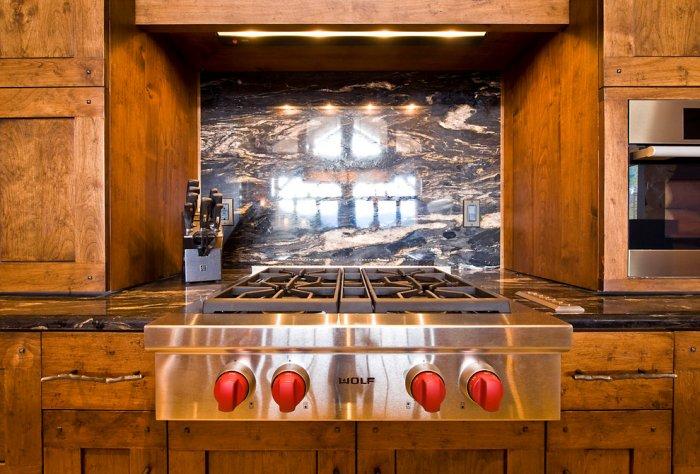 Image: 6
What about this gorgeous wooden rustic dinner table? It has been made form a fallen tree and transformed into a state, ready to match the eclectic interior design of the place. This is a product of Vancouver Island's Live Edge Designs.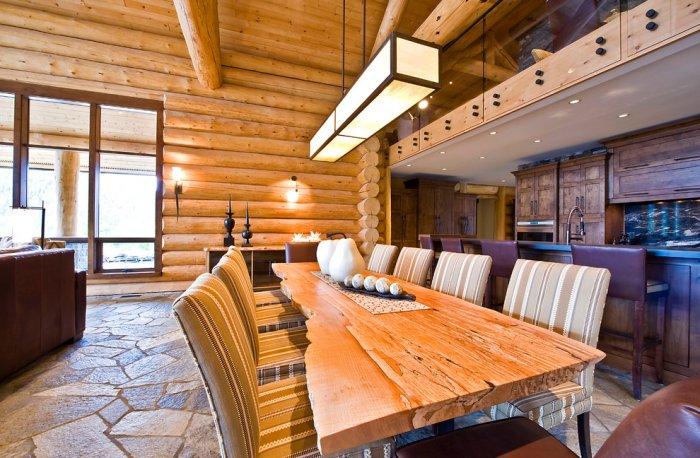 Image: 7
As we already outlined this feature in some of the rest of Founterior's articles, we have to mention it once again. Can a home be cozy, without a stunning fireplace in it? Of course, not! At the far end of the great room there is a well designed fireplace, surrounded by windows and amazing views looking in at them. In order to create a pleasant living areas around the fire, the designers placed a small rustic coffee table, some custom chairs in brown color and the coziness of the area has been achieved.
Image: 8
When arranging the powder room, the designers placed a sculpted sink stand created by Live Edge Designs. The natural eclectic appearance of the character of this gorgeous getaway has been continued even in the private areas.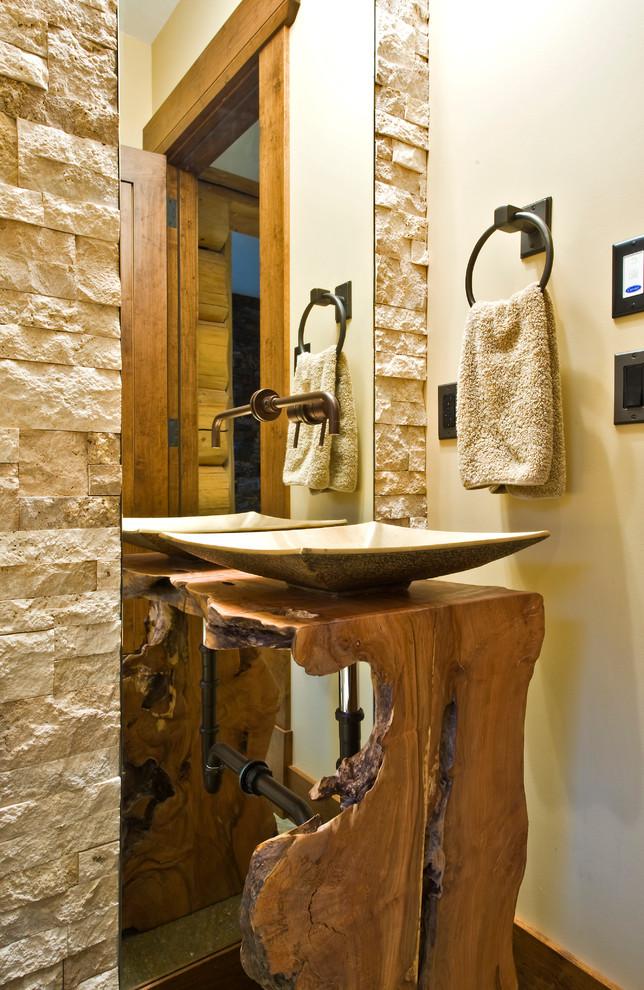 Image: 9
How do you feel about entering this luxury bathroom, taking your clothes off, and slipping into the comfortable bathtub where you can have a long and relaxing afternoon? For your pleasant stay, there are modern vessels, contemporary sink, stone tiles and granite countertops.
Image: 10
A true romantic journey and a fictional escape from the reality – this is how Fisher describes one of her favorite rooms in the house – the master bedroom. A nice scenery of the surrounding hills opens its brilliance in front of the homeowners. There is everything needed for a romantic or relaxing stay in the bedroom – a fireplace, sofas, small tables, small home library, etc. Actually, it is designed not as a typical bedroom containing only a bed and a wardrobe. Fisher arranged this place as a room for rest and integrated some of the most common living room elements in order to achieve a bedroom with more functional possibilities.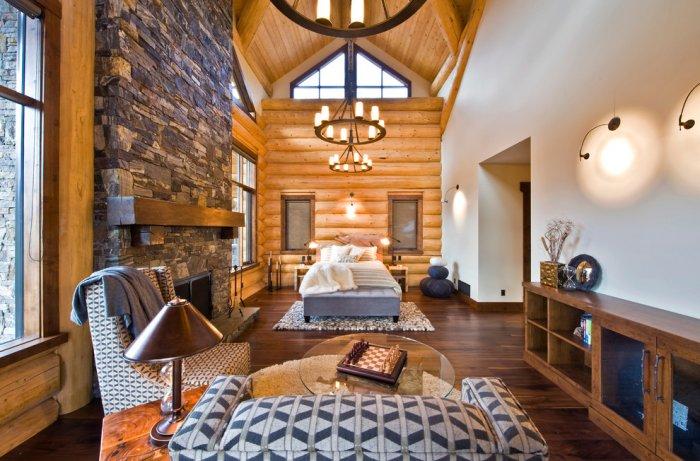 Image: 11
Now, let us introduce you to a really lovely feature in one of the smaller bedrooms. A window seat with a nice ladder leading to it. We can't describe how cozy this place is accompanied with the fantastic views over the mountains around. Paradise achieved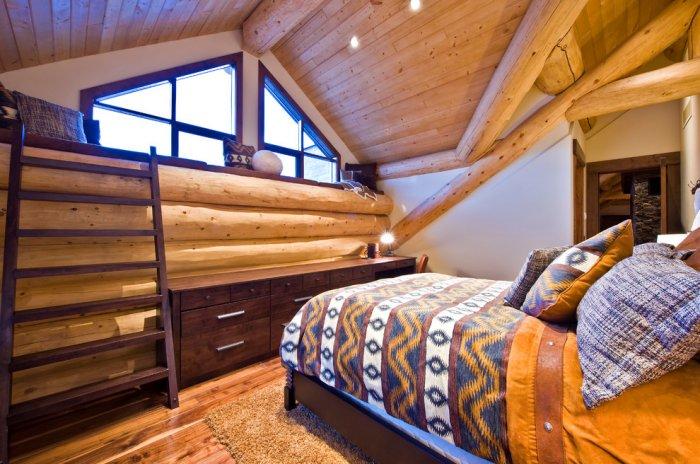 Image: 12
There are several sitting areas located on the second floor of the house. From there, you have a clear view towards the great room downstairs.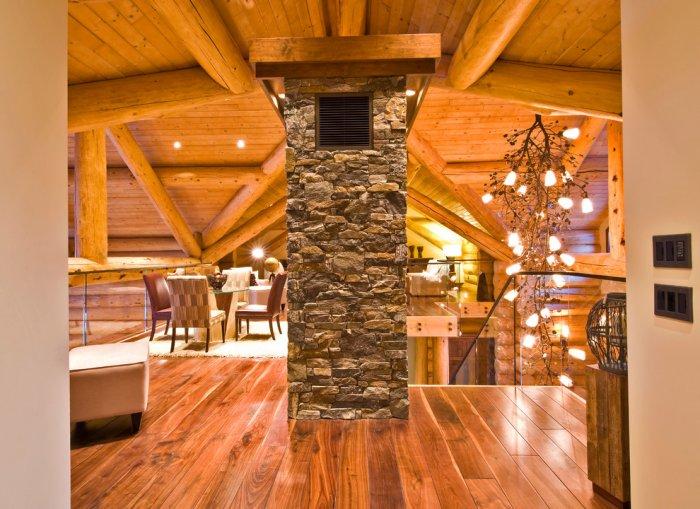 Image: 13
The eclectic interior design style can be felt even in the laundry. This is the place where a dryer and a washing machine are placed in the presence of rustic cupboards above.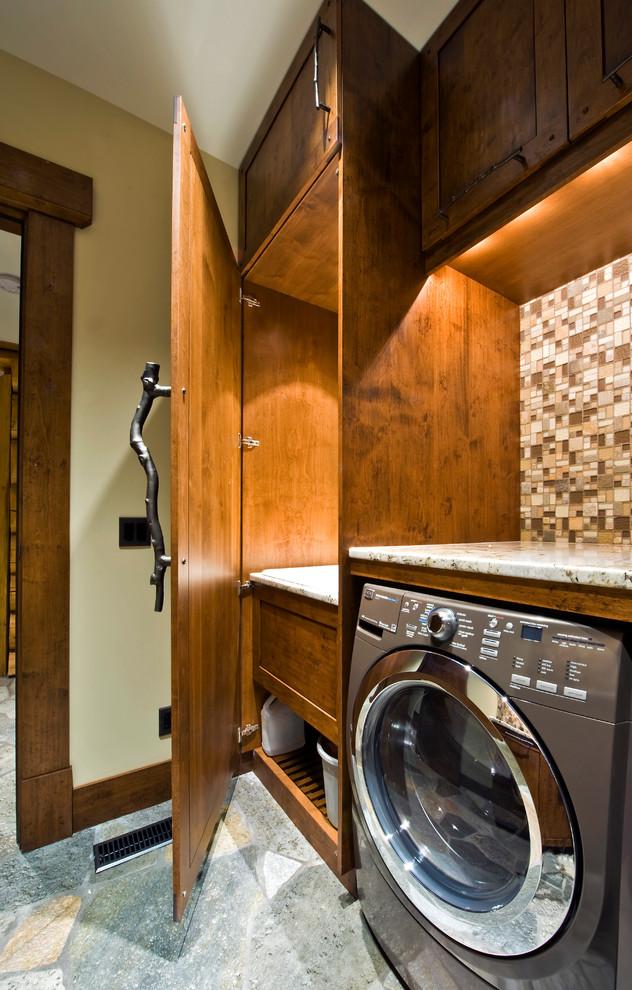 Image: 14
And now, let's have an overview of this fantastic mountain family getaway. So gorgeous in design and so amazing in the surrounding nature. It makes you dream and feel connected with nature, while feeling the contemporary achievements of modern lifestyle at the same time.