Kerrie Kelly is an American designer from Sacramento that has recently created this gorgeous idea and transformed it into a miracle. The old and rusty garage turned into a wonderful family fun room with elegant interior design, all done under her arrange. After she removed all the unnecessary things she decided that it was time to place some funny colored furniture in it. Of course, the room express her feminine emotions and looks girlish, but this is what makes it so attractive!
Imagine that you stand in front of the garage with the door shut down. Pushing the button opens the original garage door, but what you find inside it is simply astonishing. The room is filled with sunlight when the door stays open and the connection between indoors and outdoors seems to remove the boundary.
The main colorful palette can be described as white and grey – an inspiration that Kelly got in Napa. She decided to use her memories and created an atmosphere of the kind. If you want to recreate the same concept right into your garage, you can use Swiss Coffee 23, Chadwick 217 and Greyswood 3958-3.
The background colors definitely set the nuances foundation but that are not the main colors that make this place so special. All the colorful accents in the garage create a welcoming funny place where you will definitely feel excited and willing to have fun. All the bright colors stand for playfulness.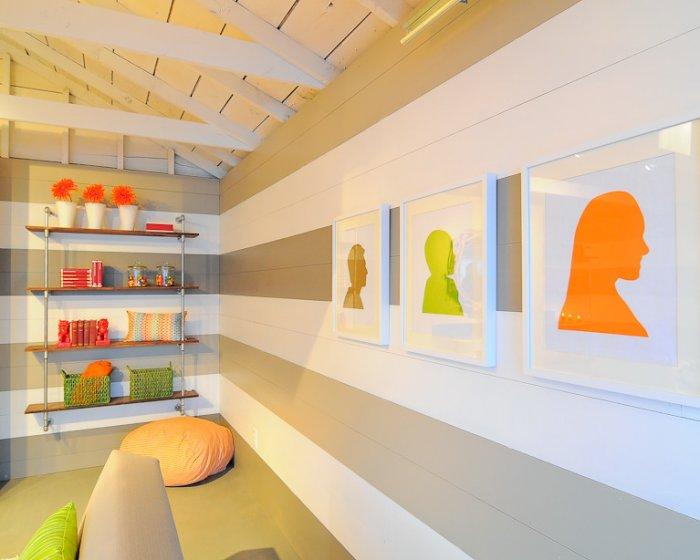 One of the most remarkable ideas that came out form Kelly's head was to paint the wall in this stylish horizontal lines that create additional volume to the place. They team painted some wood boards and then placed them on the wall. The effect is amazing!
We have always claimed that creating a brilliant interior design doesn't always require a lot of money. It is the ideas that are important and that make a place unique. Kelly did her best to make this dream come true. As for the furniture, she bough a Room & Board couch, Crate & Barrel light and some fancy contemporary bar stools. As you can see, the result is striking.
Note! Find special coupons for Crate & Barrel here: http://verified.codes/Crate-and-Barrel
What can make a room cozy? Of course, wood! Kelly knows that and that's why she wanted to place some of these wooden book shelves. In fact, they are not used on purpose. Instead of keeping books there, the shelves accommodate different decorative elements. We must admit that the idea is brilliant.
And now we should reveal what is the main purpose of the garage transformed into this amazing state – eating, drinking, playing and enjoying. A lot of them!