Today we will get you introduced with one amazing tiny apartment of Michele Cabot that is one tranquil heaven located in the Inner Richmond near to San Francisco. Along the apartment we found one serene aesthetic space which style is dictated by the love for French things and for refinishing furniture and sewing.
Because of her trip to France a year ago, Cabot was inspired by the French Provencal and farmhouse style so we definitely find them in this apartment design. Cabot bet on renovation and instead of choosing something new, she find almost every furniture by searching in flea markets and antique shops for furniture.
We are not surprised that most of the furnishings in the Cabot's home are either handmade or vintage. What she love the most and use like for always is the forvintage French linen.
White cupboard chic designer style
Let's take a look of the most San Francisco's part of the home as Cabot says. In the dining room we see the favorite built-in of Cabot. She says that she uses this dainty display to store her favorite vintage pitchers and some old painted baskets for bread.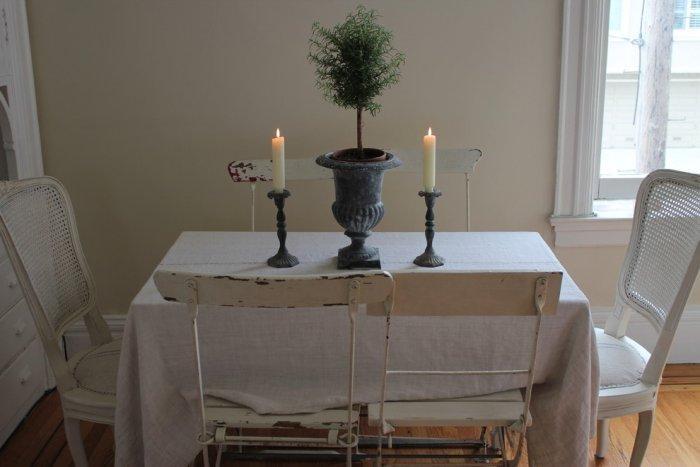 Small dining table and candles on the table
Cabot is a huge fan of rustic style so to obtain one mismatched look she bought for her dining table two Louis XV caned back chairs and four antique bistro chairs from Germany. She was beloved to paint, distress and covering them on her own.
Famrhouse chic kitchen and island
Cabot had done a really nice job at organizing the space work although that there are some things to be wanted more. Here we also observe a rustic elegance added by the barstools that interflow with the style in the room, for an extra detail there is a wainscoting under the counter. Americangr reviews farmhouse style sinks, to know more, check the article. Next up: new countertop and stylish pendants.
Reading corner with white textile cloth
As this is a small apartment, Cobat had considered the scenario when there is an overflow of guests in it, so she designed a small seating area in the middle of the hallway. The slipcovers for the chairs were hand-sewed by Cabot and this lovely wooden side table was found at the local flea market.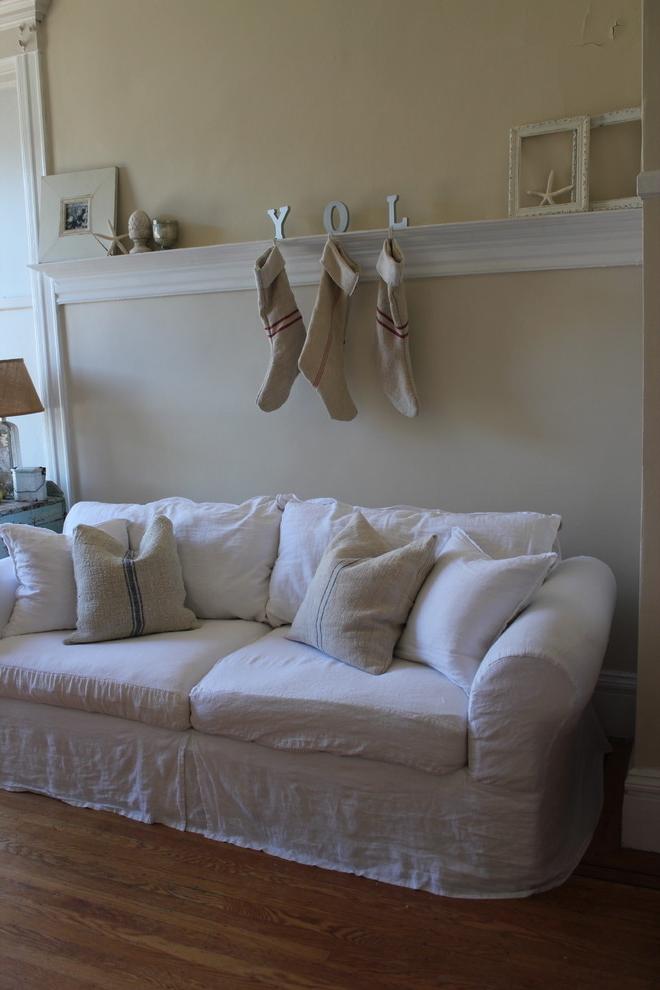 Farmhouse chic of a family home
The project for renovation of this apartment started with the Cabot's desire to have in the living room a sofa with white linen slipcover. As it can be very spendy, she decided to sew one slipcover for the sofa that she already had.
The slipcover is made by heavy but soft white linen even without usage of pattern or sewing machine. As you can see from the photo, the slipcover looks really beautiful and the most surprising of all is that Cabot actually stimulates her kids to play on it, because with every wash it becomes softer. The stockings above are also hand-made by her.
Living room with TV set
After the huge success of the sofa slipcover, Cabot made also curtains, pillows, duvet covers, tablecloths and even more. Cabot is a workaholic so she was sure she could make these. Before to start the project she already knew that it will acquire time, undying patience and substantial use of her seam ripper.
Farmhouse chic bedroom and a lot of pillows
In most of the apartments in San Francisco a bedroom was at first place living room. This apartment doesn't make a difference. The bedding is of course hand-made again sewed from heavy 6.5-gauge soft linen and antique hand-loomed linen from hemp. The table lamp is a present from her parents from Ireland and the mirror and frame were bought from the local flea market.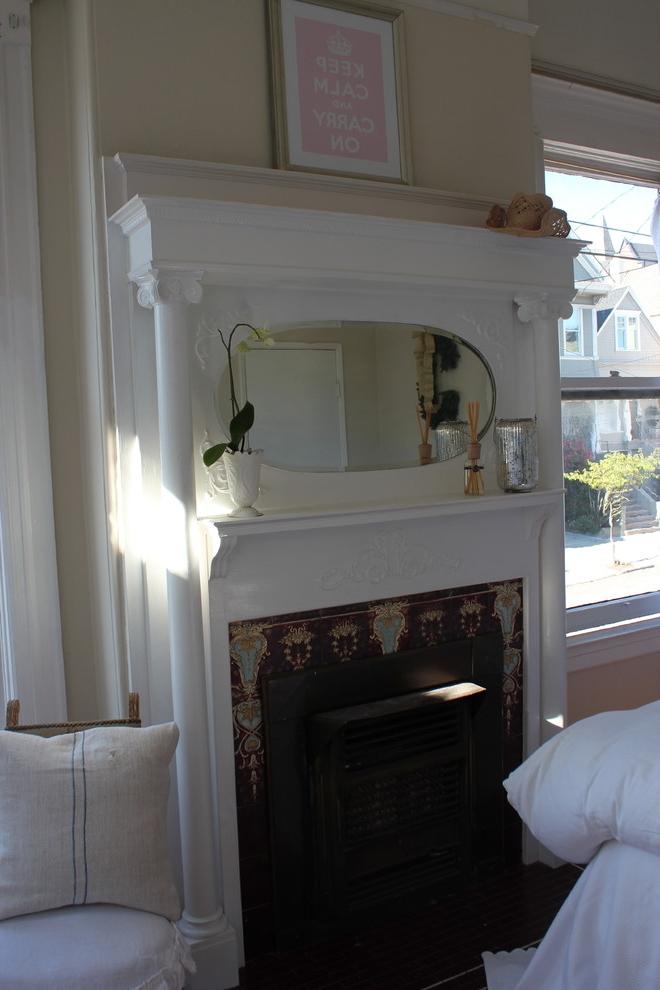 Farmhouse chic with vintage look
In addition to the home's vintage feel are the beautiful period details. We observe a contrast of simple traditional mantle that is above the fireplace and a piece of art that is topical these days.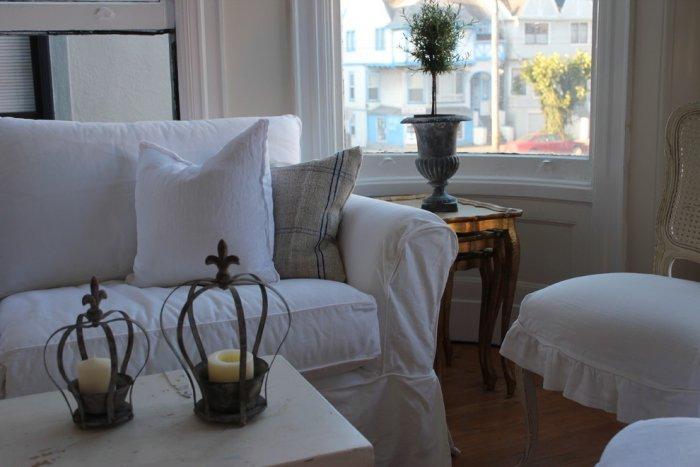 Farmhouse chic wrought iron candleholders
Because the bedroom is very large, Cabot needed to consider a small sitting corner along to the bed including two amazing antique French chairs and white sofa. The room is very rich of natural light and the atmosphere inside is very serene, thanks to the five large windows that room has.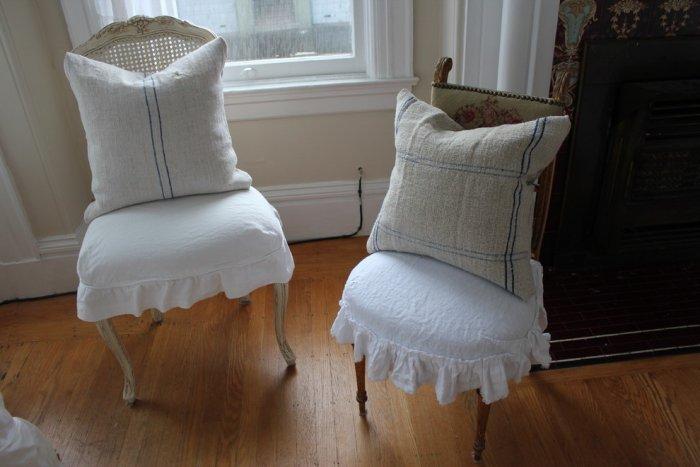 Farmhouse chic pillows in the living room
Cabot is a huge fan of rustic style as we already saw, so she made a lot of pillows and runners around the home from antique hand-loomed linen. Do you know that the fabric is used to make light brown grain sacks in Europe in the late 1800s and in the beginning of 1900s. What Cabot like the most in them is the history that can be smelled from them and their durability and uniqueness.
Farmhouse chic in white color
Now we are moving to the daughter's room where we find one dainty antique feel emanating from the bed frames. The bedding is made from the same fabric as the master room and the chandelier is snagged from her sister.
After these few successes Cabot was encouraged to open her own blog where she can share her great ideas and even she open an Etsy store.
Comfortable pillows in the family Farmhouse chic home
Another great detail of daughter's room is the small bench with small cubbies which was found at Pottery Barn. Cabot painted it in pink with cute white polka dots to obtain a match with the rest of the room.
The happy family
The biggest challenge for Cabot as she said, was finding the time to make everything that she planned. This task quite tough for her as she has a full time job and in parallel she wanted also to learn sewing, caning chairs, to paint furnishings and take upholstery classes.
Do you want more Farmhouse chic interiors? Look at the video!