If you are considering renovating your kitchen, then you need to make sure that your kitchen's flooring matches the rest of the appliances that you have there. A failure to match your kitchen's flooring with your cabinets, appliances, and general design can make your kitchen look strange and incomplete.
It can be very difficult to match one's floor to the rest of one's kitchen, especially if there is a tight budget. Despite how difficult it can be, it is possible. This post will tell you how you can do that, so your kitchen looks great:
Durability
One of the first things that you need to make sure that you do when you are looking for kitchen flooring is find one that's made from durable materials. The best way to do this is to shop exclusively with worry-proof brands that will be able to offer you high-quality products. The reason that you need to find durable flooring is that kitchen cabinets and appliances tend to last a very long time. If you invest in new flooring, then you need to make sure that your kitchen's flooring lasts just as long as the other elements in your kitchen. There's no guarantee that four years from now you will be able to find the same flooring that you plan on introducing today, which means that having to add a new floor later if it becomes damaged could mean that you aren't able to effectively match it to the appliances and cabinets that you have installed currently. Trends and styles change over time, so buying durable flooring protects you against having to redo your entire kitchen, just to make it match your new flooring in the future.
Color
Whatever style your kitchen's cabinets or flooring are, you need to make sure that they match as far as their colors are concerned. One of the worst things that you can do is fail to match the colors of your kitchen's flooring and countertops, cabinets, and other items. The reason for this is that it can make your kitchen look strange, incomplete, and your floor incongruous. It should be relatively simple to match the color of your floor to your cupboards, though if you are struggling then you could consider hiring a professional interior designer to assist you. For a wide array of design options and expert advice, checking out kitchen floor tiles from reputable suppliers can give you a clearer idea of what will fit best in your space.
Material
Materials are also something that is worth thinking about. If you don't ensure that the materials in your kitchen all match or work together, then your kitchen will look strange. For example, if you have genuine wood cabinets with high-quality marble countertops, but your kitchen's floor is cheap laminate, then it won't match. Similarly, if you have ultra-modern plastic cabinets and faux marble countertops, but your floor's hardwood, then again, it won't match and will look silly. You need to ensure that your floor's material works well with the materials of your other kitchen appliances, cabinets, and countertops. This shouldn't be hard for you to achieve.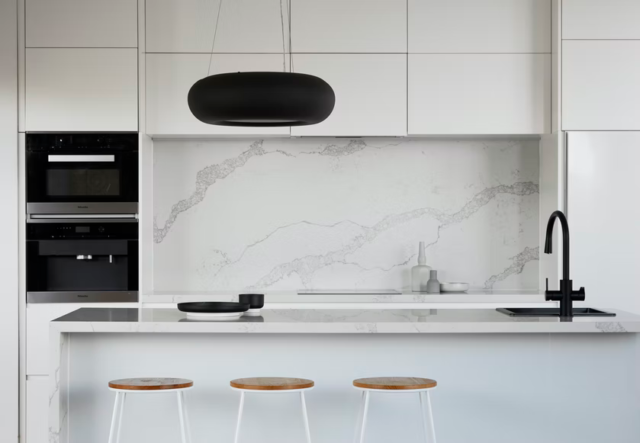 Style
Make sure that your kitchen's flooring matches the style of your cabinets and other kitchen appliances. As mentioned in the previous section, oak flooring won't go with ultra-modern plastic cabinets. The reason for this is that oak is a very traditional country style of flooring. It doesn't work well with modern things, unless it's very light, which can be expensive to purchase and hard to find. You can get faux oak laminate flooring, however, which does look good. Your floor's style must match, otherwise, your kitchen will look incomplete. Again: If you are struggling to match your flooring to the other elements in your kitchen, then the best thing for you to do is to contact an interior design specialist.
Pattern
If you intend on having flooring that is patterned, then it's generally a good idea to avoid patterns on anything else in your kitchen. When you have more than one pattern in your kitchen, it can detract from the pattern of your flooring, and make it look like there's too much going on in your kitchen. The addition of patterned flooring to your kitchen can look great if it's done right and is very popular currently. In particular, Victorian-style tiled floors are very popular at the moment.
Countertops
One last thing to consider is the style of your countertops. Most people opt for marble countertops, but if you are going to have a stone floor, then your countertops should be stone (and vice versa). It's always good to match your countertops to your floor, much like you would your tie to the color of your socks.
Matching your kitchen's flooring to the other elements in your kitchen is essential if you want a kitchen that looks great and doesn't appear incomplete. Redoing your kitchen flooring can be expensive, but it's a worthwhile investment for the overall appearance of your house.