Perhaps you could never find the bed that matches the perfect image in your mind. You might have special needs and require a custom-made mattress. Or you enjoy DIY projects, and building your own bed sounds like a fun challenge.
Whatever the reason may be, creating the bed of your dreams is much less of a challenge than it may appear.
The main reason it seems like a big task is a fact the bed is a large structure. Yet, it is one that consists of only a few main parts. Even a novice in the world of DIY can put it together once equipped with the right information.
So, let's take a look at the bed, piece by piece, and see what you need to make the sleeping area of your dreams.
The Bedframe
Building the bed frame is the most significant part of your project, but it can be easier than you think.
The best part about it is that there's no typical bed frame. You can choose the material, the size, and even the shape. These are the details that make a real difference. Also, no matter the type you're building, the process stays the same.
If you're not comfortable with drafting the design yourself, there are many building plans available online. They exist to take you through the process, step by step.
There are a few things to keep in mind. Most make a lot of sense and you will pick the rest up along the way.
THE MATTRESS SIZE
There are a few basic mattress dimensions, and you should think of the one you want before you build a frame. The frame itself should be a few inches wider to accommodate the sleeping surface.
TYPE OF WOOD
Softwood, such as cedar, is a popular choice. However, if you go for such material, remember to cut the pieces a little thicker to ensure the longevity of your furniture.
THE FINISH
Once your bed is in place, you will need to cover the frame in a coat of a substance to protect it from premature aging. 
Paint is a popular choice due to its stylistic flexibility. If you're looking for a natural finish, polyurethane varnish provides the best protection.
The Sleeping Surface
The mattress itself is just as important as the bed frame. You should make sure it's of the best quality, as your body will react to whatever you decide to get. It will either reward or punish you.
For this part, you might want to go for the store-bought option. For example, this mattress-related website, SleepJunkie provides a wide variety of sleeping surfaces to meet any need. Your design doesn't have to suffer for it.
Yet, if you're determined to make your own mattress as well as the rest, you could do so. DIY mattresses consist of foam which you stitch together and then cover. Look into the benefits of different foams if you go for this option, so you get the most out of your effort.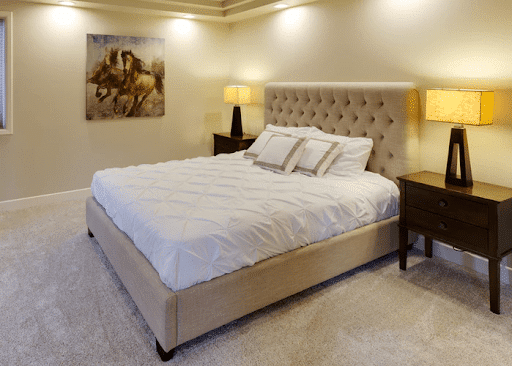 The Details
Now that you have the foundation of your bed, it's time to add a layer of personality. Here's where we really make it the bed of your dreams. This step leaves your hands open to do whatever comes to mind, but here are some of the popular options.
HEADBOARD
A headboard is not only useful for late-night reading, but also a fantastic detail. It draws attention to the bed, making it the focal point of your bedroom. Go for tall fancy headboards or plush, brightly colored ones – it depends on your taste.
SIDE STORAGE
Sometimes, you don't need to store boxes under the bed. Many modern designs took the old tradition of drawers under the bed to the next level with a minimalist design that's both useful and sleek.
TEXTURE
When choosing your pillows, linens, and blankets, go for color and texture. What differentiates a plain bed from a resting paradise is a play of layers and sensations. You'll really feel the difference once you start using it. Depending on what size your bed is, you will also need the perfect bedding sets.
Final Thoughts
We hope this inspired you to start a little project of your own. With a bit of effort, you can make your bedroom that much more comfortable.  Plus, imagine how well you'll sleep knowing you made it with your own two hands.
If you're still far from embarking on such a journey, though, many stores offer customizable bed designs. You could check them out for information. Who knows, you may even manage to put together the piece of furniture of your dreams.