Productivity is something that most businesses aim for. It leads to the realization of a company's bottom line, which is to generate revenue. Due to the critical requirement for productivity, entrepreneurs created solutions to assist organizations with labor-intensive operations in meeting their bottom line. Lifting equipment is one of these systems. This equipment helps in moving heavy loads from one location to another, thus accelerating task execution. As a result, productivity increases.
Although lifting equipment is quite beneficial, safety is a significant concern. As a result, business owners must exercise caution when utilizing these innovations. Furthermore, as a business owner who uses shackles, how can you ensure safety before use?
However, before delving into the article's focus, let's define what a shackle is. A shackle is a metallic lifting equipment, often u-shaped, that connects a chain or rope to something else. It utilizes a locking system with a pin or bolt to secure the chain.
Now, to ensure proper safety before using a shackle, here are some safety tips to follow:
Inspect Before Use
Routine maintenance of lifting equipment is a standard part of effective practices when using this gear. However, there is no guarantee that your shackle is safe even if it has been properly maintained. For that reason, it's recommended that you check your shackle thoroughly before using it.
During the inspection, ensure that all of the parts are intact. To thoroughly know how to check these specific parts, learn from the article.
Consider moving the shackle around without any load, and confirming that all pieces are intact. You want to ensure that it operates smoothly and without difficulty. This avoids scenarios in which your shackle malfunctions mid-operation.
Ensure that your maintenance professionals and operator are present during the inspection, since they are in a better position to detect problems.
Check The Loading
The operating loads of various lifting equipment differ significantly. The maximum load the tool can lift without buckling or malfunctioning is referred to as the working load. The working load on your shackle is the same. As a result, weigh your load before attaching it to the shackle.
Remember that different shackles have different working loads. Make sure to select the suitable shackle for the weight of your loads.
Also, be cautious about how you position your load. It's always a good idea to check that it's balanced on the shackle. It must not bend on the side. Bends in the lifting process can cause your cargo to topple and fall. This can result in significant losses and injuries.
Personal Protective Equipment (PPE) plays a vital role in industries, plants, warehouses, and many other workplaces. They aim to ensure workers' safety in your workplace in case of accidents. In addition, with everyone protected, you'll reduce the costs you incur to take workman's compensation insurance covers since there'll be reduced risks.
Before using your shackle, ensure that those working with the lifting equipment are in the right PPEs. The operator should have appropriate shoes to enable them to handle the brakes and other pedals of the lifting equipment handling the shackle. Moreover, working gloves should also be compulsory for effectively gripping the gear stick, steering, and other moving parts.
Also, even if workers won't be around the working circumference, ensure those nearby and in the warehouse or plant are also adequately geared. Ensure they all have helmets and reflective jackets. The helmets will prevent head injury should any bolt or pin from the shackle disassemble and fall. You don't want them to land on your workers' bare heads.
On the other hand, the reflective jackets ensure that the operator sees everybody as they operate the lifting equipment. Should there be an emergency, they'll direct the load away from where the workers are. Without the reflective jackets, visibility might be an issue and lead to unwanted accidents.
Clear The Lifting Area
The lifting area, in this context, refers to where the shackle will be lifting your loads. You've undoubtedly taken all the required precautions to ensure that your shackle works properly when lifting heavy items. Regardless of this, anything can go wrong, even with all the safeguards in place. It's best to be ready for such possibilities.
During the lifting process, it's helpful to clear the area around this circumference of anything that might be in the way. Workers in the immediate area are also included. Free-falling loads won't damage any materials or other equipment when they hit the earth. In addition, workers won't be in harm's way because they won't be in the immediate vicinity.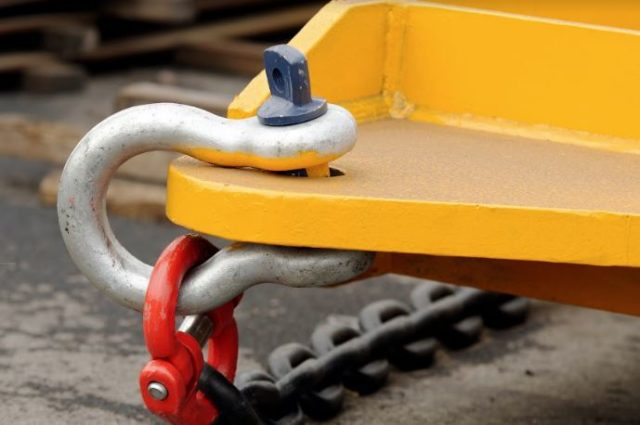 Use A Qualified Operator
Handling lifting equipment is a risky endeavor. Heavy loads are moving from one point to another at elevated heights; a minor mishap could cause catastrophic losses. You can only manage risk by ensuring you work with a qualified operator.
If the operator is in-house, ensure you properly train them on using the cranes and other equipment that will use the shackles. They should balance the shackle and the load properly before lifting.
Additionally, this is a situation when experience is crucial. If you're lifting huge or unusually designed loads, make sure the person doing the lifting has a lot of expertise. Since safety is a priority, you're looking for excellent results rather than a trial-and-error approach.
Conclusion
Ensuring safety before using a shackle isn't challenging as you might have imagined. The discussion has shed light on tips you can adopt to ensure safety. Be sure to implement them, and you'll safeguard your workers and business in the long run.