Concrete driveways are ideal to have for homes. They're not just aesthetically pleasing to enhance your façade's look, but they're also practical and functional. Your parking area can be spared from too much mud and mess when the driveway is made of concrete. With the wear and tear and load your concrete driveway deals with daily, it is not surprising how it'll have that much-needed makeover in time.
A concrete driveway can be one of your yard's best features, but only if it's well-maintained. Broken driveways are a nuisance while also becoming a safety risk or hazard. Fortunately for homeowners, revamping your concrete driveway can be done in various ways, from simple ways to a complete renovation project.
Let's explore a few options below.
Consider Resurfacing
One of the best ways to spruce up a concrete driveway is through resurfacing. This refers to applying a coating directly on the concrete surface without demolishing anything. Resurfacing is, therefore, an efficient, cost-effective, and labor-friendly process.
While it's possible to get your elbows dirty and perform a DIY, concrete resurfacing is still best left to the expert concrete contractors Albuquerque. Proper application is a must, or else you risk issues like bubbling and chipping.
Apply Sealcoating On Your Concrete Driveway
Sealcoating is a proactive measure to protect your driveway against future damage. It doesn't necessarily restore a damaged driveway. Thus, you may have to repair the damages before you begin sealcoating. Once that's done, you can apply the sealcoat on your concrete driveway.
Sealcoating a driveway brings in the following effects:
It protects the asphalt from outdoor weather elements, like the sun.
It fills in minor imperfections in the driveway.
By applying a sealcoat, you may be able to effectively increase your driveway's lifespan, especially if you live in a place where the temperature can get too hot or if you have several vehicles going in and out of your parking area during the day.
Decorate With Plants
Plants bring a lot of life to indoor and outdoor spaces. They're an effective way to improve your driveway's appeal, especially if it looks bare. You can do this on your own or take it a step higher by working with landscapers.
Going with the latter option is a good idea, as they're also equipped with experience in determining what plants can thrive best, given the conditions in your concrete driveway. These include sun exposure and soil quality, to name a few. However, they will add to the costs of your concrete revamp.
Pressure Wash The Driveway
Sometimes all your driveway needs is a good bath. You can go the old-fashioned route of brushing, soaping, and scrubbing if the area is small. On the other hand, bigger driveways need something more efficient and powerful, like a pressure wash.
If you don't have one, you may consider investing in one. You won't be limited to using it for your driveway, but you can also wash other exterior elements of your home, like the walls, roof, fence, and even your vehicle. The high-powered stream of water helps remove any stubborn dirt and debris stuck in the tiny nooks and crannies, along with broken or chipped parts.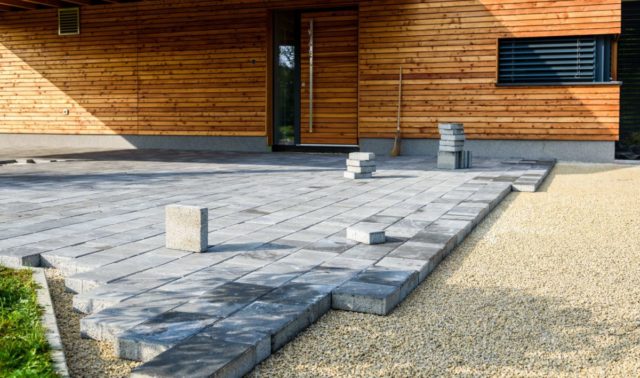 Stain Your Driveway
Staining is a driveway improvement project available only to concrete driveways in the best condition. This means your driveway must be clean and free from chips, cracks, grease, oil, and other coatings.
Unlike paint, staining permeates through the concrete, creating a rich and translucent color for your driveway. If you let an expert do this, they can make any of your desired special effects to create the look of natural wood, stone, or marble.
Repair Any Broken Pavers And Bricks
When you first constructed your driveway, your builder likely told you to keep at least a few spares of tiles, bricks, and pavers used around your home. If a replacement needs to be done and such variation is already out of stock, you have a few left to cover the need. Hence, as soon as a paver or brick gets broken or lost, don't just put it off for later. Repair it or replace it immediately with a new one.
Repairing a single paver makes a big difference in making your entire driveway look great. It can also prevent the 'spread' of other broken parts when the surrounding pavers crack or loosen up because of the bare space.
The Bottomline
A concrete driveway takes quite a beating, so over time, it'll crack, chip, or get stained from years of vehicles passing through. Fortunately, revamping your concrete driveway isn't limited only to major projects.
Depending on its current state, there are minor improvements with just as significant of an impact as well. Examine how your driveway looks at the moment. If it's looking so dire that it's almost impossible to tolerate, that should be your go-signal to work on your concrete driveway as one of your home repair projects for the year.