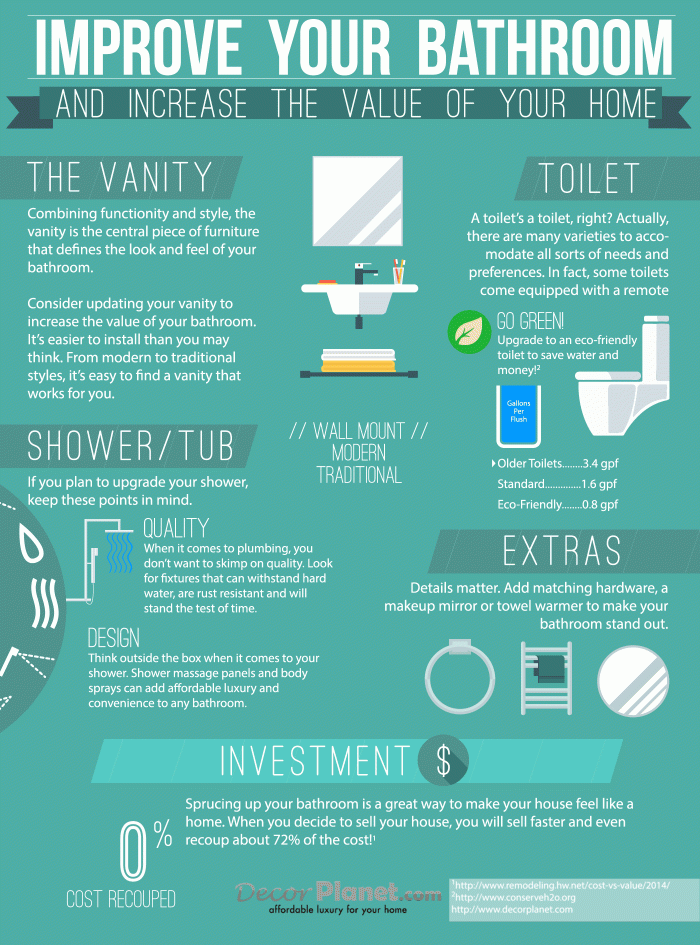 Whether you are planning to sell your home or simply want to improve the value, one room you may have overlooked is the bathroom. Many people consider the bathroom as simply something that is required and not one of the rooms that add to the beauty or attraction of the home. However, as experts at Décor Planet explain, not only do improvements to your bathroom increase the home's value, but you can actually recoup up to 72 percent of the cost of renovations if you do decide to sell.
The Toilet
Although it is often not given the credit it deserves, the toilet is an important feature in any bathroom. Most people look at a toilet as just that – a toilet. The fact is toilet's today come in a wide variety of styles and preferences. There are toilets designed for people with disabilities and some interesting design styles that can add to the attraction of your bathroom. Upgrading your toilet can also help you reduce your impact on the environment. If you have an older home with an older toilet, you may be using more than three gallons each time you flush. Today's standard toilets use under two gallons, but you can also choose eco-friendly versions that use as little as eight-tenths of a gallon.
Vanity Options
The vanity is one of the central features in a bathroom and is not only a functional part of the room, but can be the best demonstration of your style. This part of the bathroom gives the room the look and feel you are searching for. The best part about vanities is that they are easy to install so that the average homeowner can remove an old vanity and install a new one with little difficulty. You could actually purchase a new vanity in the morning and have it installed by that night, giving the bathroom a completely new, updated look.
Shower and Tub
The shower and tub are also an integral part of your bathroom's look. But there are few things to keep in mind when upgrading those features. Never skimp on quality when it comes to plumbing. You want fixtures that can withstand any type of water, including hard water which can be damaging to plumbing. You also want to be sure the features are rust resistant and that they will last quite some time so that you are not replacing them every few years. Be creative when you choose your tub and shower. Today, showers offer such innovative features as massage panels and multi-level sprays to give you a spa feeling each time you shower. You can also choose from a wide variety of tubs, from antique-style claw foot tubs to modern, low-side tubs for those who have difficulty stepping into higher tubs.
Modern Conveniences
There are many modern conveniences you can add to your bathroom that will improve value as well. A towel warmer provides added comfort with a nice, warm towel after your shower or bath. Robe hooks provide a nice amenity for guests and for family members. You can even choose from a wide range of common features in bathrooms, such as toilet paper holders, towel rings and soap dishes that can create a unique look for your bathroom.
Décor Planet has everything you need to create that unique, interesting bathroom that will help you improve the value of your home. From bathroom faucets, sinks and mirrors, as well as vanities, toilets and bathtubs, Décor Planet has what you need for your bathroom renovation.