Furniture fixtures are very useful. Homeowners in Canada and beyond can take advantage of different furniture pieces: sofas in living rooms can be used to sit on and relax while watching TV, dining tables and chairs provide comfort during meals, and so on. Alas, furniture can be worn down and become broken because of sustained use over time.
Do you have broken pieces of furniture at home and don't have any idea how you can dispose of them? There are various methods you can consider when disposing of broken furniture if you're from Ontario and beyond. One of them is through a dumpster bin rental in Caledon or in the town you're living in.
With the dumpster bin rental method, you select the size of dumpsters you want to use in getting rid of your broken furniture. Then, the provider will deliver them to your doorstep. Once you fill the dumpsters with broken pieces of furniture, the dumpster bin rental company will come to pick up the dumpsters with your junk and do the proper disposal for you.
Is Dumpster Bin Rentals A Good Method For Getting Rid Of Broken Furniture
Dumping your broken furniture can be difficult. Depending on your location, there are different waste disposal rules you need to follow. Furthermore, various disposal methods are available that you can choose from – one of them being dumpster bin rental in Caledon.
Although widely accepted and popular amongst homeowners, is dumpster bin rental the best method you can use in getting rid of your old and broken furniture pieces?
This post explains some of the advantages and disadvantages of dumpster bin rentals. Understanding them will help you decide whether it's a viable method you can avail yourself of. Keep on reading below to find out more.
Pros Of Dumpster Bin Rentals
There are several benefits of dumpsite bin rentals when removing broken furniture. They include the following:
1. Dumpster Bin Rentals Offer Convenience
One of the benefits of hiring dumpster rentals when disposing of broken furniture is convenience. With this method, you won't be worried about removing the items from their current location. The dumpster service provider will drop off the bins in your place. Once you fill the dumpster bins with the broken furniture, the dumpster bin company will come and pick them up.
2. You're Sure That Your Broken Furniture Is Disposed Of Properly
Every state has set its regulation on how the various types of waste are to be disposed of. One of the main reasons behind that is to protect the environment and the health of citizens. If you dispose of your broken furniture incorrectly, you'll be doing injustice to the environment and people near you.
Apart from that, you'll be penalized and fined if you fail to follow the waste management regulations set by the state. The right dumpster bin rental service will ensure you properly dispose of your old furniture.
This way, you'll protect the environment from pollutants and avoid costly fines. The company can even help recycle some of the furniture to reduce waste that goes to landfills.
3. Dealing With Broken Furniture Is Much Safer With Dumpster Bin Rentals
One of the reasons you'd want to use dumpster bin rental in Caledon is to ensure you maintain your safety. You'll only have to put the broken furniture in the dumpster. This eliminates the need to carry heavy and sharp items to a landfill. So, you won't be worried about sustaining injuries or suffering from other conditions like joint and back pains.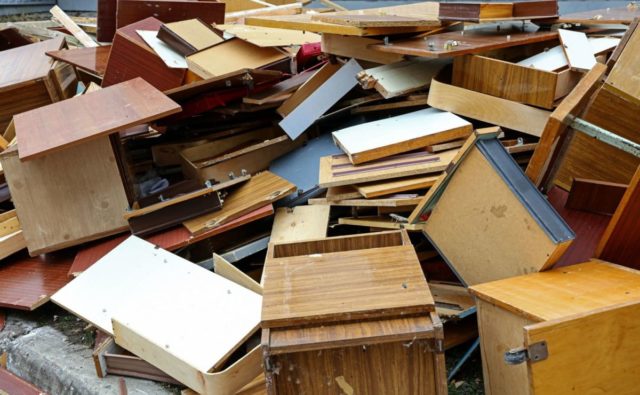 Cons Of Dumpsters Bin Rental Services
Although there are several benefits of using a dumpster bin rental when disposing of your broken furniture, it also has its other side of the coin. Here are two major disadvantages of this method.
1. There's Limited Personnel Support When Using Dumpster Bin Rentals
With dumpster bin rentals, you must fill the dumpsters yourself since there's very limited personnel support. You'll have to carry the broken furniture from your home or office to the dumpster bins. This can be daunting, especially if you've got many items to collect.
2. Your Local HOA Or Landlord May Not Allow For Dumpster Bins
Although using dumpster bin rental can be a great way to dispose of broken furniture, your local homeowners' association (HOA) or landlord may not allow the use of dumpster bins. Hence, before you go for this option, you must first confirm whether these two will permit the renting of dumpster bins or not.
Takeaway
One big decision when removing broken furniture in your office or home is which method to use. Among the ways to consider is dumpster bin rentals. As you've seen in this post, the benefits of using dumpster bin rentals outweigh the disadvantages. Thus, it can be a great way to dispose of your broken furniture. Make sure that you find and work with the best dumpster bin rental in Caledon or where you live.