When designing our home, we often get so caught up with the interior that we forget about the outside look of our living space. The exterior is just as important as the interior. After all, this is the first thing that any guest sees. Modern landscape is often preferred for its practicality and easy maintenance. Plus it can be easily achieved!
A Starting Point
Think what will suit your lifestyle and needs. Maybe you love working outdoors and you will take pleasure in taking care of a beautiful garden. Or you have neither the time nor the will to maintain sophisticated landscape with a lot of plants. Then you will definitely fall in love with the modern exterior. If you have pets, it is better to consider a vast yard. On the other hand, your children will enjoy a swimming pool and a playground.
You should take a practical approach to your landscape. This is the place where you will spend some relaxing time with your friends and loved ones, so you need to make it as comfortable as possible. Furthermore, a well managed exterior will surely add to the value of the estate, if one day you decide to move out.
Look for inspiration but work with your own space, instead of copying the design from the pages of a magazine.
Simplicity is Everything
Modern design's focus is on simplicity and organization. Clear forms, geometrical shapes, curves, edges and angles are some typical characteristics. Play with your landscape and create different figures for a unique and bold look. Wood, as well as industrial materials such as concrete, glass and chrome are usually incorporated in the exterior. Well structured and minimalistic space is what you should aim for.
Green Addition
Leave the rich and pompous gardens for more conventional homes. Instead, choose more simple greenery, that doesn't require a lot of maintenance. Rye grass and cacti are classic option when it comes to contemporary exterior design. Combine stone and plants for contrast. The juxtaposition will make each item in your garden to stand out. For instance, use ceramic or marble pots to place your plants. Metallic planters are extremely trendy. Replace the regular soil with gravel. Interchange rye grass sections with stepping stone pathway.
Limited Space
For smaller spaces, you can use wood as your ground cover. Then surround it with flower beds and place a table and chairs at the centre. In this way the space will not feel overcrowded with many plants, but it will remain cosy and intimate. The main principle behind contemporary design is form follows function. A terraced landscape will give dramatic effect to your modern garden. If you have stairs that lead to your outdoor space, let the tall plants and flowers follow their slope. Have a counter point. This will visually enlarge the space. Make your bold plants the centre of your garden.
Outdoor Accommodation
Durable, comfortable and simple seating will do the job. Since the standard contemporary exterior doesn't involve a lot of greenery, the chairs and tables will be the centrepiece of the design. Choose furniture made of wood or metal. Combine funky geometrical forms for a truly modern setting.
Modern design works well for both small and large landscapes. The most important thing to remember when creating your contemporary exterior is to keep everything simple and in order.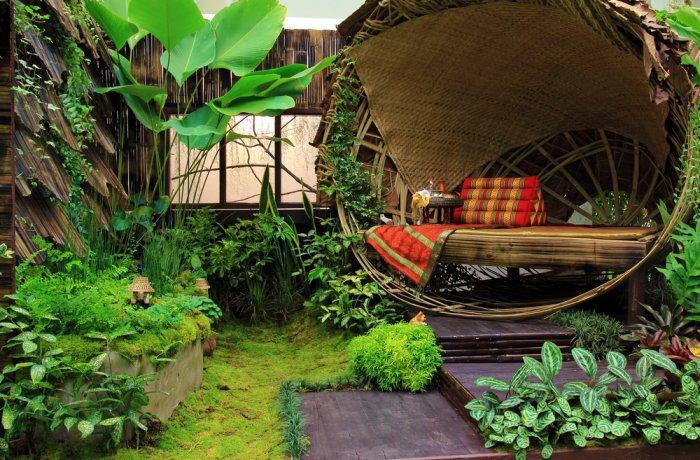 Landscaping tip 1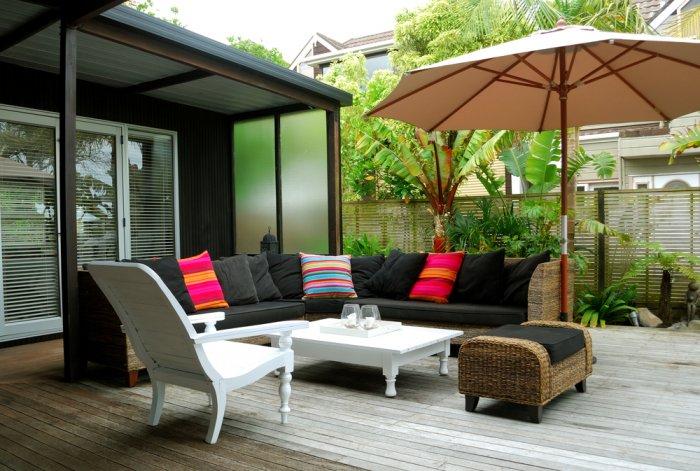 Landscaping tip 2