It seems as though the idea of an open concept kitchen has been trending forever along with an indoor electric smoker. For quite some time, this type of kitchen was all the rage. Now, however, there's a new trend on the block. The idea of an open concept kitchen sounds great in theory; however, this layout definitely has some drawbacks. And it's because of these drawbacks that the "Messy Kitchen" was born.
What is a messy kitchen, you ask? You may have to renovate your home… Well, the answer is NO… It's an open concept kitchen… plus a secret hideaway! Yes, a secret hideaway. Up front, the messy kitchen allows for that gorgeous island kitchen you've always longed for. In back, however, a separate kitchen/pantry area where you can keep the coffeemaker out, stash the takeout boxes, prep the party trays… even left the greasy grill (like these) indoors and get as messy as you like. Just shut the door, it's your little secret. Your fabulous kitchen is party-ready and nobody has to know what went on behind closed doors. As the saying goes, "business up front, party in the back." Who knew we'd ever be able to use the same phrase for a mullet and a gorgeous, practical kitchen layout!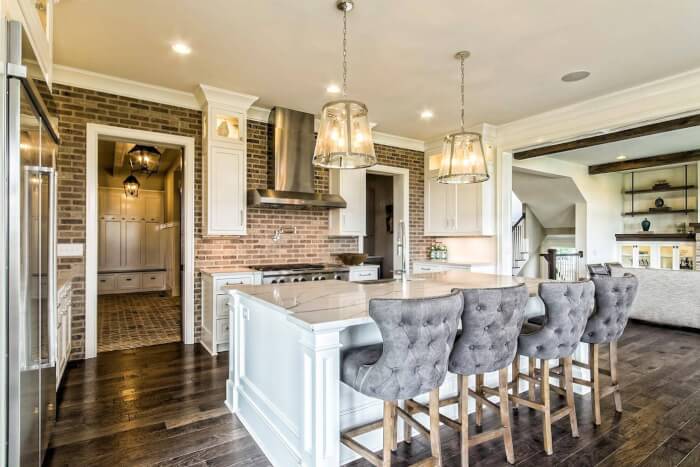 As we mentioned, people love the idea of an open concept kitchen. In theory. In reality, however, this layout just isn't that practical. The problem that so many people have with the open kitchen layout is that with everything out in the open, well, everything is out in the open. Your everyday messes are literally on display for the world to see and even smell. If you're living in your dream luxury home, sure it sounds great to have your gorgeous kitchen totally out in the open, but in reality, sometimes you may just need a little privacy and a little room to yourself.
As the saying goes, the kitchen is the heart of the home. It's where the magic happens. It's where friends and families gather, catch up, eat, drink, and spend their time. A kitchen isn't meant to be perfect; it's meant to be real and cozy. That concept, however, doesn't quite mesh with the idea of the open kitchen, as there's too much pressure to keep everything looking perfect when all is on display.
There is also the fact that a disordered kitchen can also take away from the décor you may have painstakingly chosen. For instance, it can be a little difficult to show off your gorgeous Amish Furniture if its surfaces are covered in dirty pans and sauce stains.
This is where the idea of a messy kitchen comes into play and truly shines. Located either directly behind, or adjacent to, the open concept island kitchen, the messy kitchen is convenient and practical. People love the idea of being able to literally close the door to keep messes and clutter out of sight. You can have that picture-perfect kitchen without actually having to feel like you have to be picture perfect all the time. You can do your thing and make a mess, and then just shut the door and no one will be any wiser!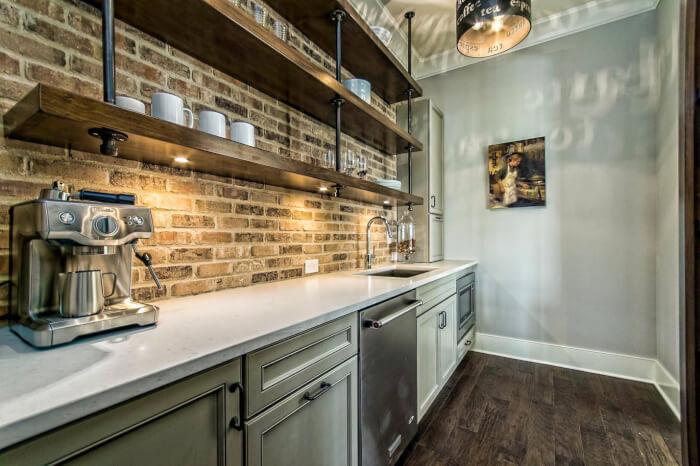 The best part is that messy kitchens can be completely customizable. You can design your messy kitchen with all the storage and convenience you need to keep every day necessities handy, yet out of sight. Add pantry shelves for food storage, cabinetry and drawers for oversized pots, trays and serve ware … and don't forget plenty of countertops; you can choose from different brands like Corian, Zodiaq, Formica, and Cambria, which costs around $28 to $90 per squarefoot; or maybe even a prep sink and second dishwasher. Think about how you want to use your Messy Kitchen on a daily basis, and then design your space around it.
For anyone who has ever dreamed of having a beautiful home with a huge open kitchen, well, not only can your dream be a reality, you can have all of that plus your own little kitchen hideaway, just a few steps and a closed door away! You can literally have your cake and eat it too.
Written by Meghan Hale, a content writer at Plant Sumo and editing machine. You'll find me yelling at my dog to stop barking, whether it be at the neighbours or on a long afternoon walk