Minimalist design when used for garden decoration and arrangement goes beyond the traditional features that take place in the minimalist interior design. When it is up to create an interior of simple design designers nowadays usually stick to clean and raw shapes that appear luxury and elegant.
But when we are taking in mind our gardens and want to make them in minimalist style, we have to admit that the garden design these days follow the modernist lines of the 20th century architecture. It also copies some of the most common ideas from the famous Zen gardens of Japan.
A big advantage of the minimalist gardens is their low-maintenance because of the simplicity of its designs. Usually they include only a few clean pieces of furniture with not many ornaments and details and that's it. Now, let's have a look at this gorgeous examples of gardens and how the designers took advantage of space and arranged everything in order.
 A Doorway to Minimalism
This minimalist garden built in 1960 allows us to see how the interior and exterior are combined. The big Bifold glass doors allow this to happen as they pass the visitors in it. The illusion is that the garden is part of the house and the outdoor space is integrated into the house. Using same materials for both spaces plays the key role.
The Zen gardens of Japan
Japan and its Zen gardens are an ideal sample for minimalist garden designs as we already outlined. Their original purpose is to achieve a spiritual balance but in the western world their functions are transformed and they has become a fashion for garden design. Using specific materials on exact locations is fairly typical for the Japanese culture.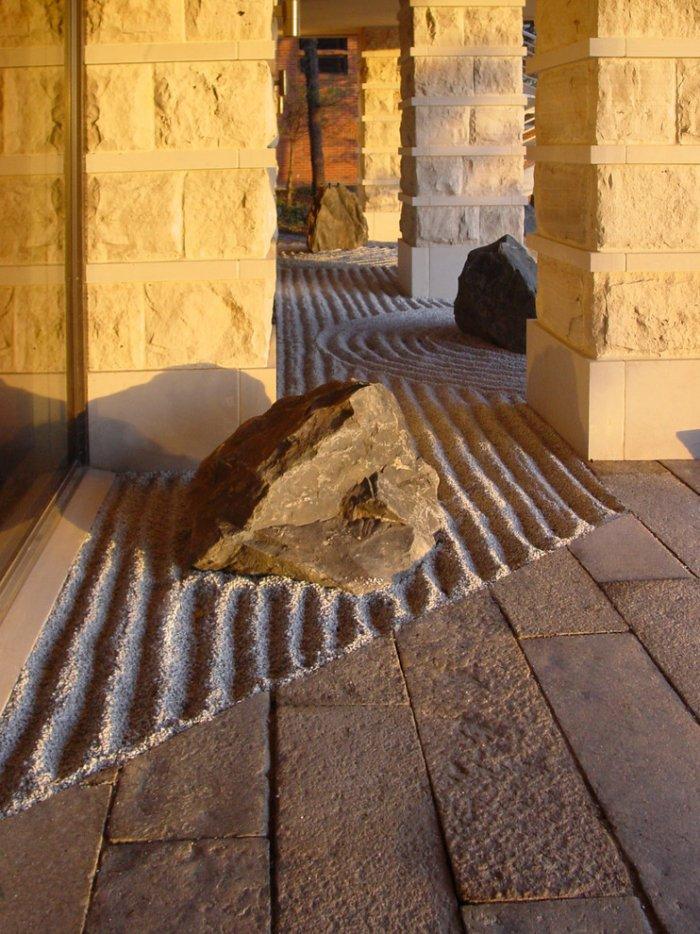 The Use of Space
Minimalist vision can be also applied in small spaces. This way different areas come together in a convenient and modern way. Exactly this kind of furniture (minimalist) is able to save space because of its simple lines.
Image 4:
On this image you can see that the exterior is very clean with a symbolical focus on the view. Amir Schlezinger is the designer of this fantastic London garden. The maintenance is easy because of the minimal use of decoration and plants and each zone is well distributed perfectly separating the dining and relaxing area.
Striving for Paving Perfection
The paving stones are an important part of the design of a minimalist garden. They should be in simple colors and need to be well located. We can see how they are combined with different types of gravel. Limestone or pale sandstone materials are often used by designers because of the clean and elegant look and how they fit in the minimalist setting as a whole.
Maintenance tip
Dirt can easily be removed by limestone and sand stone flooring. They will collect algae, trash and dirt. Usually they are placed in 3 mm distance between each other and this prevents the dirt to slip between the gaps.
Where Fewer Plants Can Be More
Here the plants are selected to mitigate the lines of the design. They must be well-chosen and paying attention to the different types that are used. They must be carefully chosen to achieve the desired effect.
Maintenance tip
Flowers in minimalist design are easy to maintain. You will need water-retention granules to planting composts and automatic irrigation system on a timer – this will help you a lot.
The tropical look of this terrace is located on the River Thames in London. The exterior is extremely clean and stylish.
Hostas, Ligularias, bamboos and tree ferns have all been planted in repetitive groups.
Creating a Reflective Atmosphere
This example shows how to use water spaces in a modern and stylish way. The true minimalist design is noticeable at first glance. It is extremely important to be careful with the proper placement of each water space and the color used. The materials also play a key role, so have them in mind also. Linking all spatial areas of the garden in a mosaic pool – this is a true creative and effective decision. Everything must be in perfect symmetry in order to achieve the desired minimalist appearance.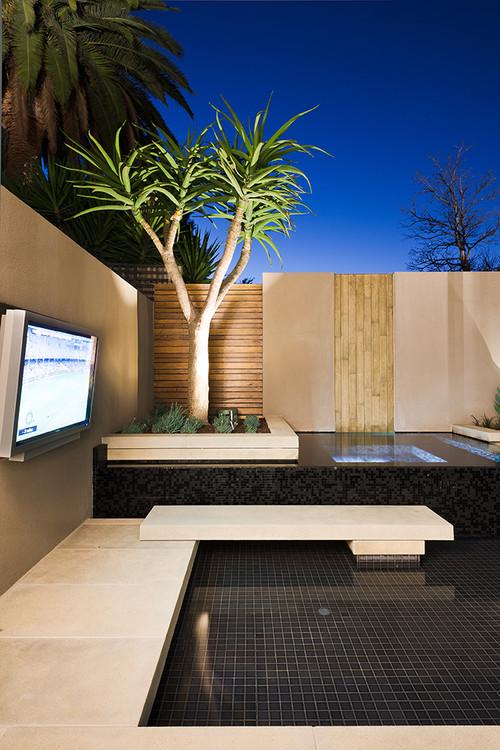 Image 10:
Here is another example of exterior and interior united. This creates the illusion that the water space comes out of the house. Black paint can be used to paint the base of the pool. This will prevent it from algae. Keeping your place clean should be considered of utmost importance
Image 11:
In this garden we can find a lot of Zen inspiration. Everything here is easy for cleaning and the designer lines are neat with nice colors mixed perfectly with the dining area.