CAN YOU HEAR THE GRASS GROWING?
German studio Kadawittfeldarchitektur designed an unusual kindergarten in Sighartstein, near Salzburg, Austria. Located amidst green meadows, the cube building fits in the landscape like a chameleon. All the facades on the second level are decorated with a green metal lattice designed as huge strokes of grass and evoking the felling this Is a place for games and fun. The aluminum grass nicely contrasts to the grey big-windowed walls below.
The design of the building focuses on the creation of two graphically independent horizontal layers – the first and the second floor, which encompass the central hall and the garden. Two L and U-shaped inner levels comprise an open multi-layered structure, which is simultaneously a floor, a ceiling, a roof and a gallery to the children's rooms, and a balcony and a playground platform. The central hall is multi functional, and the balcony and the dining room can be opened to let the outside atmosphere inside. Furnished in pale green and white, the interior brings calmness and feeling that Nature is really.
The modern look of the Kindergarten is just fabulous.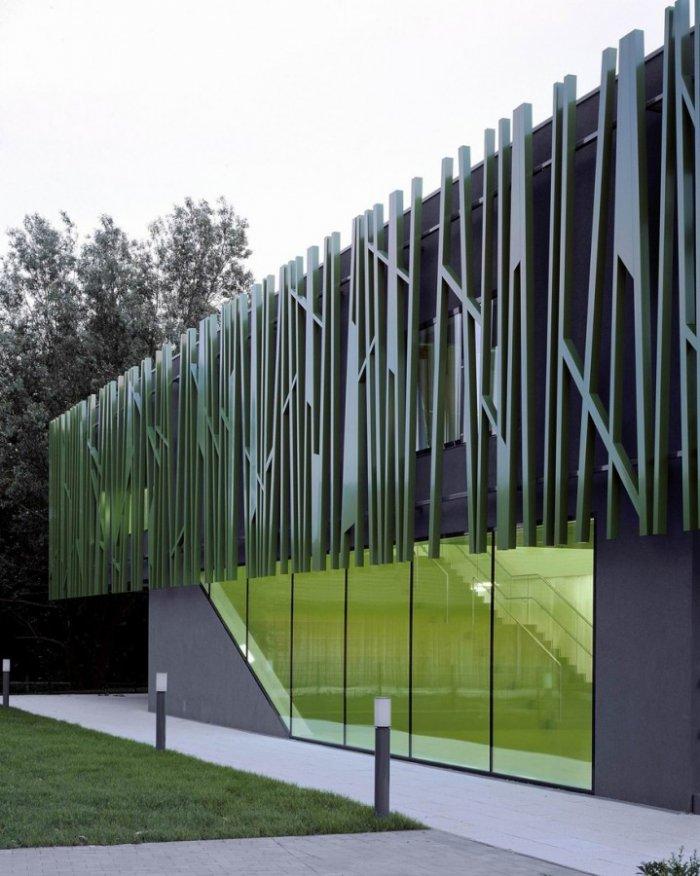 Huge windows in the architecture plan provide a lot of light into the interior.
Sunshine, modern design and creativity. This is the environment the kids are growing in.
Look at this fantastic place. Spacious and full of light. It is modern and in minimal style. Maybe the interior is a little bit more raw, but this is the contemporary outlook.