Meta Description: Interested in taking care of your own plumbing issues? Many projects can be DIY. Here are four that cover most needs, along with when to call a pro.
Are you interested in rolling up your sleeves and take care of your own plumbing? You can not only save money but also get a sense of pride in being able to repair your own home. Of course, that only applies if you do things correctly – making mistakes can lead to leaks, broken pipes, and serious water damage.
This guide will give you an idea of what projects you can do yourself and how to do things correctly so you get the results you want.
Step 1: Know When You Need the Pros
If you're a beginner, you can probably do most of these projects. However, don't let your pride stop you from calling a professional if you need the help. Not everyone is cut out to be a DIYer at home.
If you have a project that is beyond your capability or something that just isn't cut out for DIY, be sure to reach out to the best plumbers in Toronto. They can help you handle the issue quickly and easily.
Step 2: Shut Off the Water to the Fixture
Before you get involved in a DIY plumbing project, be sure you've turned off the water to whatever fixture you're working with. Know where the shutoffs are for each of the fixtures in your home.
While you're at it, it pays to know where the main water shutoff valve is as well. You never know when that will come in handy, even if you don't need it during a DIY project.
Step 3: Have the Right Tools and Replacement Parts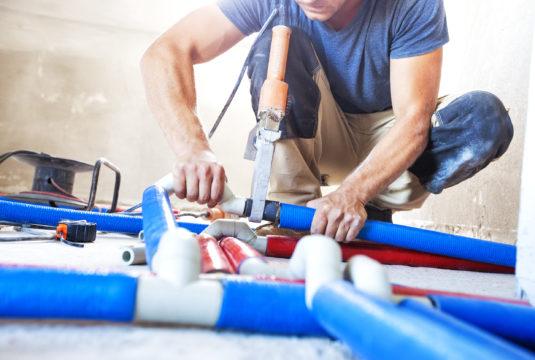 Image by Free-Photos from Pixabay
Make sure that you have everything you need before you get started. You'll need tools like a plumber's or pipe wrench, basin wrench, seat wrench, water meter key, or drain snake. Also, check to see if you'll need gaskets, O-rings, plumber's putty, and thread tape.
When you have the right tools for the job, you won't have to stop in the middle or take risky shortcuts.
Project 1: Install a Shower Head
This is one of the easiest projects available. Simply unscrew the old shower head from the pipe coming out of the wall, clean off the threads, and wrap the threads in thread tape. Be sure to wrap clockwise so it doesn't come off when you screw on the new head.
Read the installation instructions on the new shower head, but most of them simply screw it onto the pipe. Easy as can be.
Project 2: Fixing a Leaky Faucet
Faucets leak around the handle or drip from the water spout. Both problems come from the handle of the faucet.
A single-handled faucet will work with either a rotating ball valve, cartridge, or ceramic disc. A double-handle faucet uses either a cartridge, ceramic disc, or compression from rubber washers.
Be sure to understand which type of faucet you have before you attempt a repair. You'll need to remove the handle, remove the mechanism, and replace it along with the surrounding seals. If you don't know what exactly is causing the problem, a faucet repair kit for your faucet will have all the parts you need.
Project 3: Replacing a Sink Faucet
If you're ready to have a new look in your bathroom or kitchen, or you're just tired of repairing an old unit, it may be time to replace your sink faucet. Be sure you buy the right kind, depending on how many holes there are for the faucet and handles.
A one-hole sink has a faucet coming up through a single hole. A two-hole sink has that plus a hole for an accessory like a soap dispenser or sprayer. A three-hole sink has a hole for the faucet and one for each handle. Finally, a four-hole sink has the three holes just described plus one for a dispenser or sprayer.
You can see the number of holes from underneath. Buy a faucet that fits the holes you have, and be sure to read the instructions carefully.
Project 4: Fix a Running Toilet
A running toilet can cost you hundreds a year in extra water bills. The tank stores water, a filler valve controls water into the tanks and ensures it stops when it's full. The flush valve, or flapper, controls water going into the tank from the bowl.
A running toilet happens when the flush valve isn't closing all the way or has leaks, the water on the tank is too high, or the flush valve needs to be replaced. There are videos to show you how to fix all three problems.
If you love to DIY, these four projects will cover the most common plumbing needs. Again, don't be afraid to call a professional for more serious problems. You will save both time and money overall.