Design in Amsterdam
It is more practical to combine the sitting and the dining areas in one big room with a lot of open space and light. It is good to know how to allocate the space in the house to achieve the best effect in furnishing. Chantal Dussouchaud knows how to make the interior comfortable for all of us because of his knowledge and professional skills
One of the favorite pieces of Dussouchaud is painted in green room which she saw from a medical cabinet of a client in California. She knows how to save you space in a comfortable way by using small chairs, for example. The coffee table is a wonderful place to drink a coffee in the morning before work or read a book in the evening when you come back.
The designer also saves us money by teaching us that the old furniture can be turned into a new one. These wooden basket has been found in antiques store in Los Angeles. A little work on restoration and some flashes of imagination and you can comfortably sit on the new sofa and enjoy the creative achievement. If you are looking for the traditional contemporary luxury interior design, this is not your place. The interior may have the appearance of a luxury place, but actually it is not so expensive.
One of the good advices that you can take before going shopping new furniture is that our home can look much better if there is a lamp in it. The lamp has almost the same effect as putting new wallpapers. Dussouchaud used contemporary lighting to change the view in order to achieve French provincial aesthetics.
The two school desks have an old history and the designer found a way to fit it in the interior. The childhood emotions can be recalled with a simple glance. The bookcase in the dining room has been decorated with old chess and antique luggage. We can also be creative as Dussouchaud when we are talking about the most used spaces in our home. What she did is turning the dining room into a working place.
Chalkboard panels are used for barn door in the hallway. We can add the desired character to our apartment when we are creative and take the advices of professionalists.
The bedroom has a unique chair which was also found on the street. Dussouchaud has created a little space in the room separated as a home office. This is a practical decision especially for the limited space in the small apartments.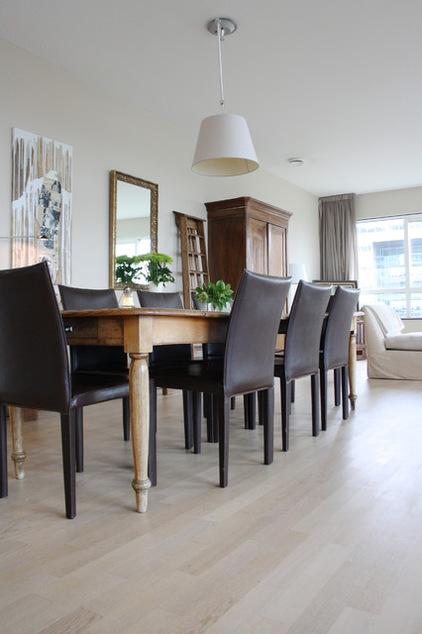 See the other images of the project by clicking them below:
[lg_folder folder="Small Eclectic Apartment Interior Design in Amsterdam-Gallery/"]