By the time when the project had been developed, on the location where the building was about to be constructed there was not a single tree to provide any kind of wind protection, so the architects needed to cope with the hard circumstances.
One of the fundamental decisions that were taken in the past was to face the facade of the house towards the most sunny part of the horizon, while the back of the house meets the strong winds and storms. On the other hand, this situation of the construction provides more privacy from the other house in the neighborhood. Another clever solution was to lift the entire house with 17.7 inches so that it couldn't be flooded accidentally.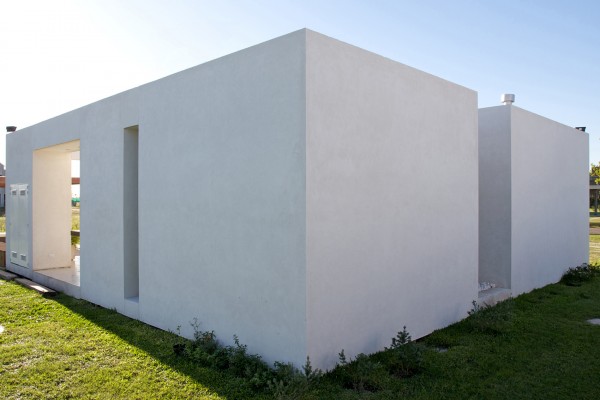 The result of the carefully planned project is a gorgeous contemporary house with open-plan living areas. The small house nests a living room, dining room, barbecue area and bedroom. The BBQ area functions not only as a meal preparation station but it also socializes the occupants and their guests.
The shape of the construction is a firm and solid cube on the ground that accommodates functional small spaces in creates a modern feeling when being inside or just staring at it from outside.
In order to break the straight constructional elements in the sight, the architects planned an outdoor pool that creates dynamics in the visual perception of the place. It perfectly blends with the exterior as well as it enriches the views from inside.