After the March vagaries of the weather, spring increasingly gives full vent to its feelings and fill everything around with greenery and flower gardens. The beauty of this natural resurgence is so waited, but inevitable prelude to the summer, when in fact the gardens will reveal its full beauty.
Sun porches and balconies gradually become the most favorite place for morning or afternoon coffee, all day bliss weekends or holidays. Couches changed its location from the dark corners of the attic, basement, or garage; they already are visitors of the garden, turned eagerly to the first truly flattering sunlight.
And how to be otherwise, there is no more bliss than to lay in warm afternoon on the porch and let to your dreams, with eyes closed, and from the surrounding blossom trees to blow cool and tempting sensed aromas?
Actually, maybe there is… The next step towards the best lazy contemplation is swaying, sun-kissed from the breeze… in the hammock!
Do you know that the original home of the swing bed is Colombia, where the traditional style of construction suggests tangling the threads at the end of hand-woven cotton fabric in beautiful colored pigtails called "kadeyos"?
Thus achieving optimal weight distribution on each thread of the hammock and thus much greater strength between the fabric and ropes.
After time the sailors, also assess the qualities of the hammock, and began to use it instead of bunks on the board. In addition, the first American settlers were used hammocks as a cheap and easy way to provide a place to sleep.
After a while its later appearance in Europe, the hammock quickly gained popularity, but performed more decorative function – as a place for siesta, but not for the main bed.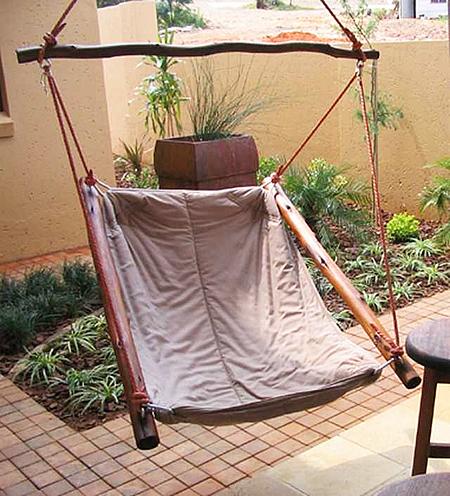 The hammock is a wonderful and cozy place to rest and very easily can decorate not only the garden or the courtyard of the house, but also the balcony and porch, as long as there is enough space.
Relax this rocking bed can be seen as an alternative to the chair or chaise. Compared to its design hammocks are several types – from network fabric with wooden slats or not, with one seat or many.
In garden centers and furniture stores can be found different models, but it is not impossible people with talent and skillful hands to develop and own such a "device" for a full and pleasant relaxation!