Build and design services, also known as design-build services, are gaining popularity in the construction and architecture industries. Essentially, these services combine a project's design and construction phases under a single entity, streamlining the process and offering many benefits.
In this article, we'll explore the advantages of build and design services, ranging from single-source responsibility to sustainability and environmental considerations, to help you decide if it's the right choice for your project. Read on.
1. Single-Source Responsibility
When hiring a build and design service, you'll work with one company to handle the entire process. Your project will have only one point of contact, and that single entity will be responsible for all aspects of your project—from building design services through construction while offering these advantages:
Simplified communication and decision-making: Single-source responsibility simplifies communication and decision-making for clients. Instead of working with multiple parties, such as architects, designers, and contractors, clients have a single point of contact, which can help eliminate confusion, reduce misunderstandings, and help ensure everyone is on the same page throughout the project.
Streamlined project management: Clients can expect a more organized approach as the design and construction teams work together under one roof. This collaboration allows for better coordination, reduced risk of errors, and ultimately, a more successful project outcome.
With all these in mind, a single-source responsibility can be advantageous, especially if you have limited time or resources to manage your project.
2. Cost Savings
Budget is a significant factor in a construction project. Therefore, maximizing your resources is crucial. Hiring design and build services can help you save through the following:
Accurate project estimation: The integrated approach to design and construction allows for more precise project estimation. With a clear understanding of design and construction requirements, the team can provide a more accurate budget estimate, minimizing the risk of unexpected costs during the construction phase.
Value engineering: This process involves optimizing the design and construction of a project to maximize value while minimizing costs. By working together, the design and construction teams can identify cost-effective solutions and innovative approaches, ensuring the client receives the best possible outcome without compromising quality.
By utilizing exceptional design and build services, you can achieve high-quality results while saving on resources.
3. Time Efficiency
In any construction project, ensuring time efficiency is essential. A reliable design and build company can help you meet your expected timeline by implementing effective strategies such as:
Design and construction team collaboration: Build and design services offer increased time efficiency through close collaboration between the design and construction teams. This partnership allows for seamless communication, quicker problem-solving, and reduced delays, ultimately saving valuable time.
Accelerated project schedules: By overlapping the design and construction phases, these services can significantly reduce the overall timeline of a project. This can result in faster completion and allows clients to start enjoying their new space sooner.
By combining the skills and expertise of trusted builders, these services help ensure that your project is completed on time, with the highest possible standards for quality control.
4. Improved Quality And Performance
Design and build companies are known for their ability to enhance the overall quality of construction projects. They achieve this by implementing various techniques that ensure the project meets the highest standards. These include the following:
An integrated approach to design and construction: Build and design services contribute to improved quality and performance through an integrated approach to design and construction. This collaborative method ensures that all aspects of the project are considered, from the initial concept to the final touches. This can result in a more cohesive and high-performing end product.
Expertise in materials and construction techniques: Another advantage of build and design services is their materials and construction techniques expertise. This ensures a high-quality outcome and reduces the risk of errors or setbacks during construction.
With a comprehensive understanding of the latest innovations and best practices, these professionals can provide high-quality results.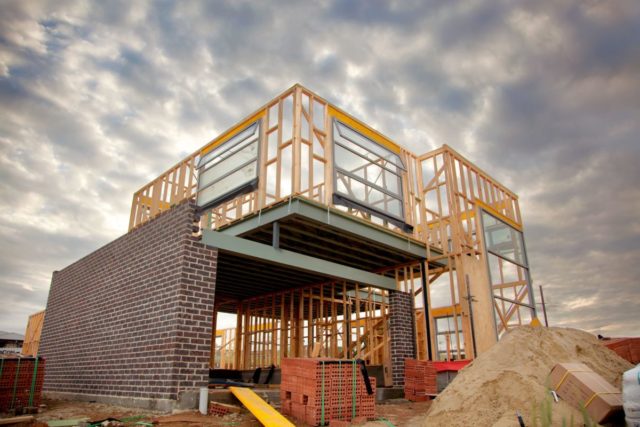 5. Customized Solutions
Build and design services are renowned for providing customized solutions that address the client's specific needs. This is made possible through the following benefits:
Tailored design to client needs and preferences: By working closely with clients throughout the design and construction process, these professionals can create a space that reflects the client's vision while incorporating functional and aesthetic considerations.
Flexibility in project execution: As a single entity overseeing design and construction, these teams can quickly adapt to changes or unforeseen challenges. This agility can help keep projects on track and ensures a more satisfactory outcome for the client.
A reliable design and build company can help you make your custom dream home a reality. They can offer creative solutions to challenges and help you identify suitable materials and design features.
6. Sustainability And Environmental Considerations
Sustainability and environmental considerations are becoming increasingly important in the construction and architecture industries. They achieve these goals through the following strategies:
Using eco-friendly building materials and practices: Using eco-friendly building materials and practices is an important strategy in the construction and architecture industries to promote sustainability and reduce environmental impact. Eco-friendly materials are made from renewable resources, have a low carbon footprint, and can be recycled or reused. Examples of such materials include bamboo, recycled steel, and reclaimed wood.
Leveraging energy-efficient design and technologies: Build and design services can incorporate energy-efficient design and technologies throughout the project. By working with sustainability experts and staying up-to-date on the latest green technologies, these teams can create environmentally responsible and energy-efficient structures. Besides the environmental benefits, this can result in long-term cost savings for clients through reduced energy bills.
Working with a design and build company can help you achieve your sustainability goals and reduce the negative impact of your projects on the environment.
Conclusion
Build and design services offer numerous advantages. And as the industry evolves, the demand for these services will likely grow, providing clients with a more streamlined, efficient, and environmentally conscious approach to construction and architecture.