It is important that your home has proper ventilation so that the house is an enjoyable place to spend time in. The correct air circulation is especially important in the summer months when temperatures start to climb and the house can potentially become extremely warm. Keeping the air circulated can be achieved in a variety of ways that are both hassle-free and also extremely cost-effective.
Install Fly Screens
One of the simplest ways to ensure that the house is properly ventilated during the summer is to open the front and back doors. This will allow air to flow through the rooms in your home and get rid of any stuffiness.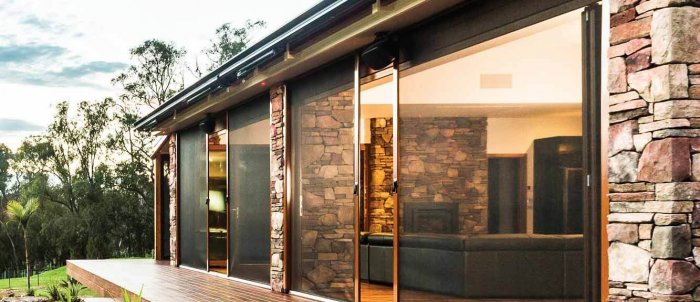 source
Whilst you will certainly enjoy better ventilation if you do this, there are several things to watch out for. In order to stop flies from entering your home unnecessarily, it will be necessary to buy some retractable fly screens that can be pulled down with ease when it is time to leave the doors wide open.
Make sure to research several different companies before making a final decision. There are several key points to discover. The screens must be able to cover the entirety of the door frame without leaving any gaps for the flies to get inside. The fly screens need to be durable so that they can withstand some wear and tear whilst continuing to work effectively. The cost of the screens also needs to be considered. Don't just opt for the cheapest ones because they could be poor quality.
Fly screens by Freedom Retractable Screens are dependable.
Install Air-Conditioning
Fresh, cool air is something that is not easy to come by during the hot summer months. The house will start to feel extremely stuffy and uncomfortable. People who work at home from an office or study might find it very hard to concentrate at their notepad or computer if they are sweating all the time and they are constantly having to get up and go to the fridge for a cold drink. Installing a few fans around the room can be extremely effective for a very short space of time. However, when the temperatures soar, these fans might prove to be ineffective. This is because the fans may just end up pushing around a large amount of hot air, which will not make the room feel any cooler for the person who happens to be working inside.
Instead, homeowners should consider installing some high-quality air-conditioning in several rooms throughout their house. These units can be set to the right temperature in order to ensure that there is a constant supply of cool air circulating throughout every part of the home. Then people will be able to get on with their work without being distracted by the heat.
Research several different units before installing, because some models will be more energy efficient than others. This is especially true for newer brands because companies are under strict guidelines to build air-conditioning units that do not damage the environment in any way.
Once the units have been installed, then people will notice how the ventilation in their house has improved dramatically.
Use this guide to improve ventilation.