Details. Its all about details in the traditional interior design of a kitchen. Details, especially when we are talking about eye-catching ones, are not as simple as putting legs on a kitchen island. No matter what's the influence in the interior design – Mediterranean, Old World or other, there are several typical elements which are universal and essential for traditional design and which can be found in these types of cooking areas. So, let's have a closer look at them
Architectural details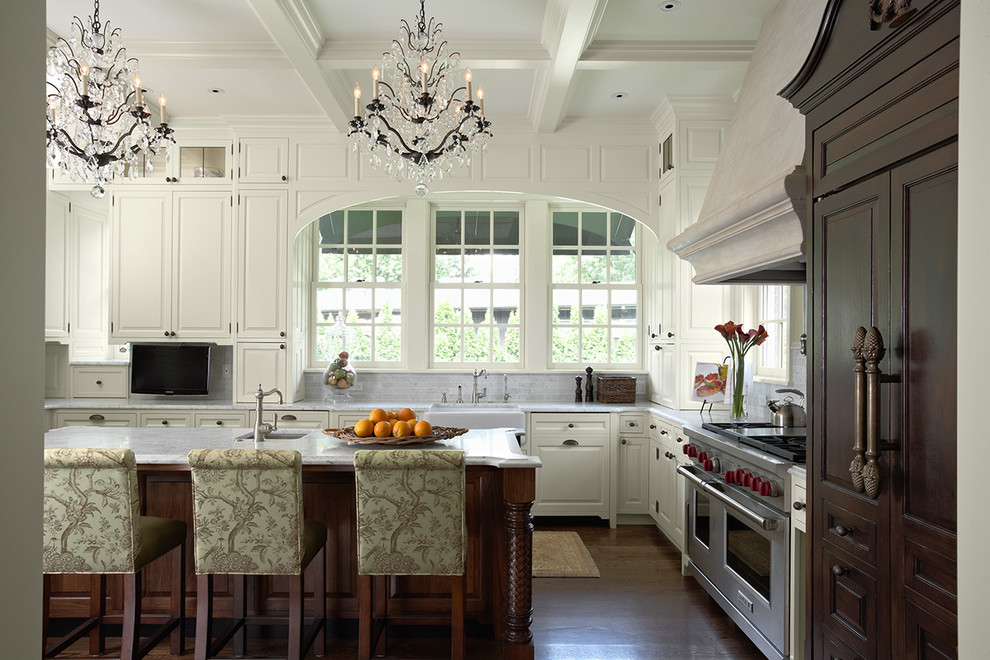 Traditional kitchen in white
The most important thing – a traditional kitchen looks layered rather than overbearing. As we have already said the focus should be on details. This means that wherever the eye turns it should meet various embellishment or adornment. In the image above you can find all the essential elements – arches, beam ceilings, moldings, raised-panel cabinets, kitchen island legs, etc. If you watch carefully you will notice that every single element here has its own detail – from the island's legs to the dark paneled wood. Look also at the custom hood surround. Did you notice the shape and the molding?
Flush inset or framed cabinetry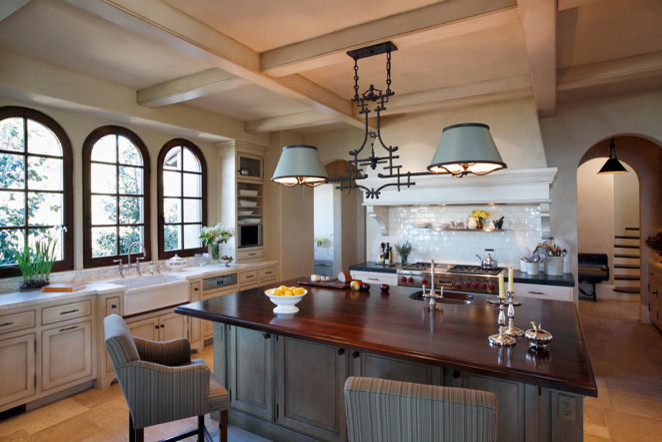 Traditional kitchen and framed cabinetry
If you want to change the way the kitchen looks, change its cabinet construction. This is probably the element that has the strongest impact on the atmosphere in the cooking area. It is very common these days to meet full overlay cabinets but you should know that they go better with modern and contemporary interiors. On the other hand, flush inset or framed cabinets are preferred for Old World kitchen designs. This means that you will be able to see the frame around the doors and what is more, the drawers and doors are set flush with the frame. There are some other elements that also remain exposed – these are the piano hinges, bronze and antique brass details.
Glazed and antique cabinet finishes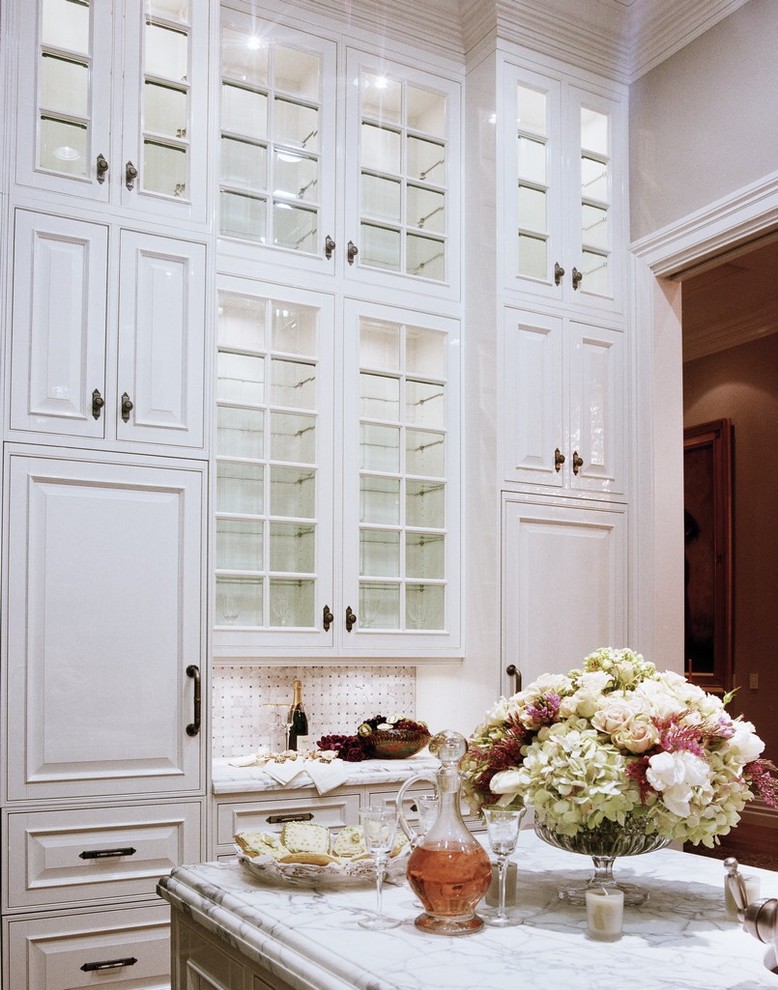 Traditional kitchen
Glazed cabinets is something that you will definitely find in a traditional kitchen. If you want to add some extra age and patina and make your interior more authentic, why don't you think of using antique white or a color similar to the one, sued for the kitchen island in the image above? If you are ordering your cabinets, make sure that your cabinetmaker can you show you some samples. This way you will be sure that the final result will just be what you exactly want.
Raised-panel doors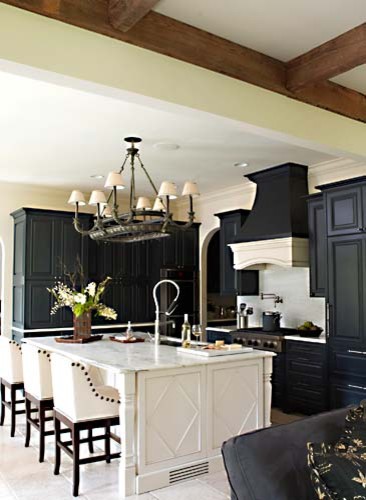 Kitchen with raised-panel doors
Details and ornamentation. Did you remember? Be brave and ensure ornamentation to your panel doors. For example, raised-panel doors are just perfect. One of the sweetest things is that they create shadows that give an unique signature to your traditional kitchen.
Mixed door styles and finishes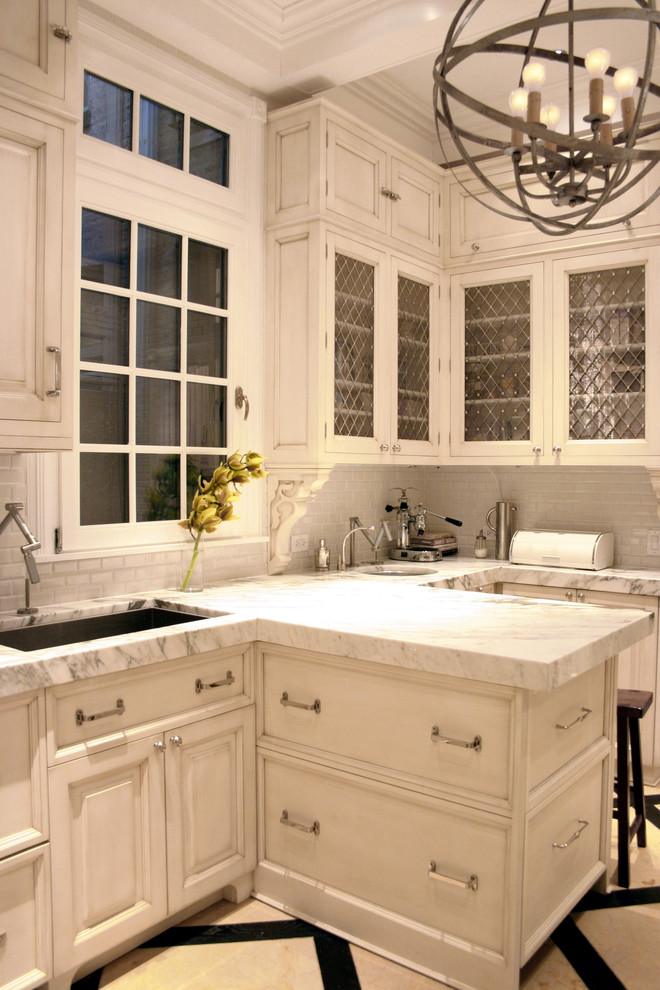 Kitchen with white marble
There are multiple finishes that can be found in a traditional kitchen these days. It is very common practice to paint the cabinets in one color and the surrounding wall in another. Well, it is not obligatory to frame your ideas and stick to the two-colored model. Experiment with your interior and add some extra colors. A great idea is to mix a tall cabinet and a natural stained-wood tone.
Decorative cabinet door inserts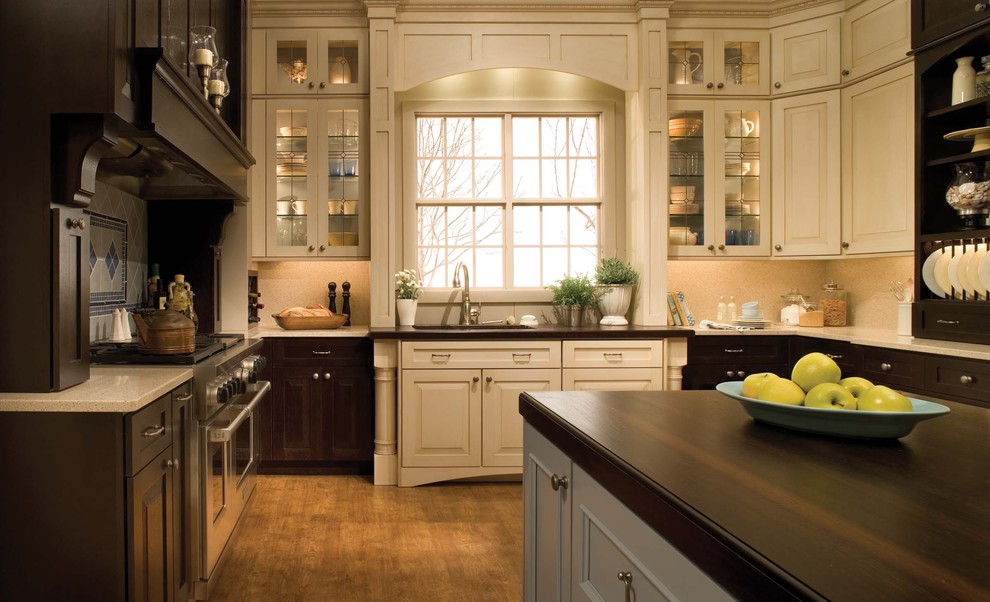 Kitchen with decorative cabinet
In a traditional interior you can't find any limits in the materials and ideas used. For example, antique glass, various arrangements of metal mesh inserts, wood mullions, etc. Its all about imagination and style, of course.
Decorative moldings and corbels
A professional idea: Additional ornamentation can be applied. Carved corbels, brackets and applied molding between cabinets is a fantastic way to make your kitchen look gorgeous.
Architectural details for cabinetry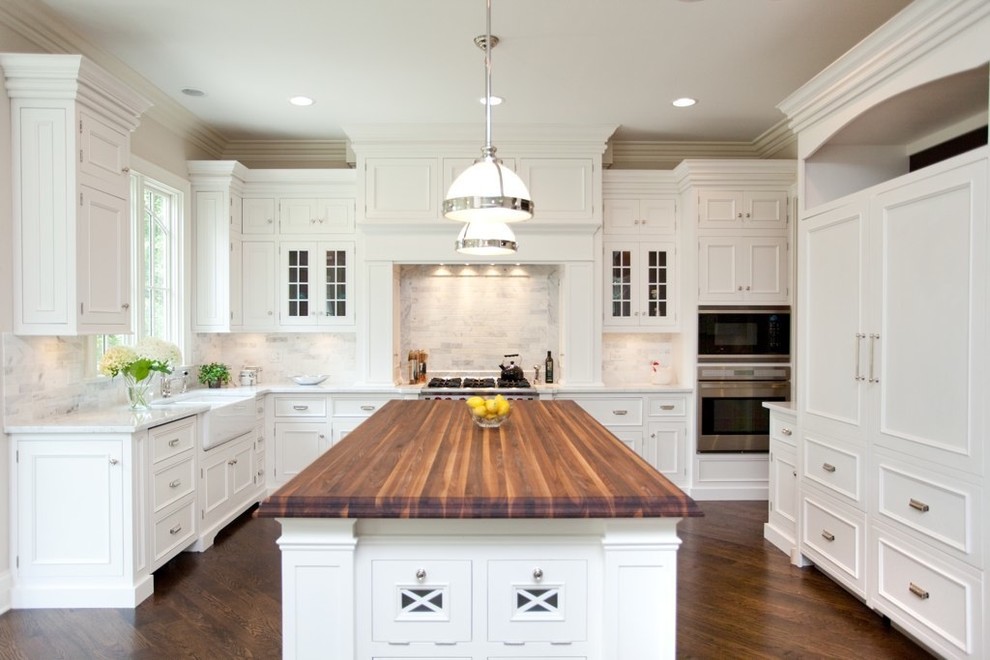 Traditional kitchen and island pilasters
Have a look at the image above. What you can see is the sink-wall base cabinets that grab the attention and function as a focal point in the room. There is also a dynamic in the architecture of the kitchen – notice the difference in depth for the different elements placed there. And because we are talking about architectural elements, pay special attention to the hearthlike hood surround, the furniture toe kick and the pilasters on the island.
Apron-front sinks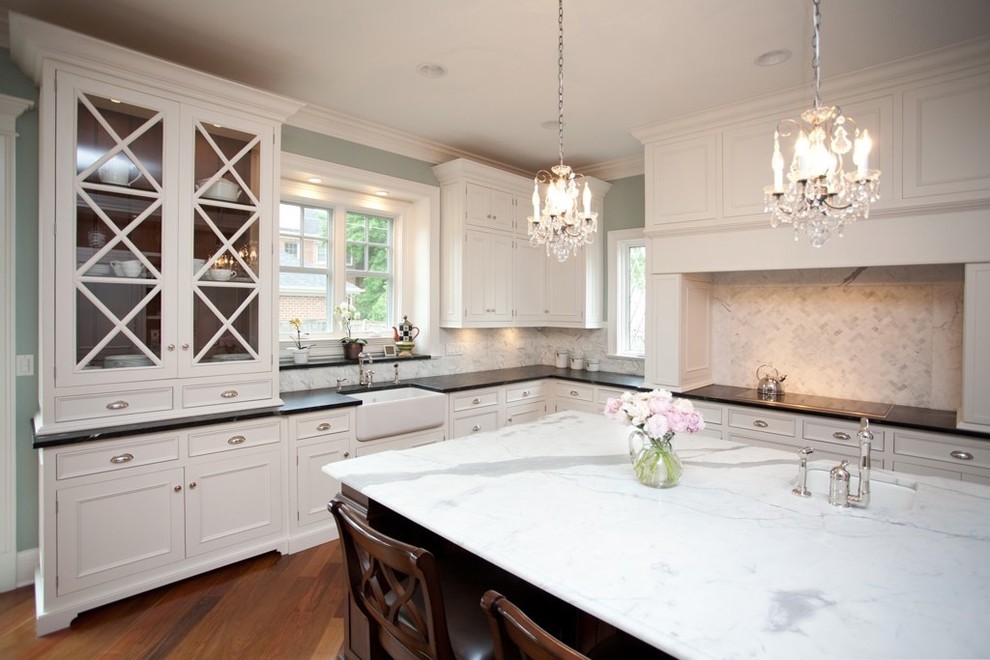 Traditional kitchen -front sink
Another typical and very common element is the farmhouse sinks. They are very popular among classic kitchen designs as well because of their charm, their lovely old-looking charisma and the pleasant atmosphere that they are able to create.
Luxury countertop materials
There are many materials that are well accepted and welcomed in the interior design style we are featuring today. According to a recent research, Statuary marble, light granites and quartzite are the most popular choices among American families. In our opinion, the marble takes the lead despite the fact that it is a little bit harder for maintaining. If you don't have plenty of time and your prefer easier to deal materials, stick to quartz.
Ornate and decorative lighting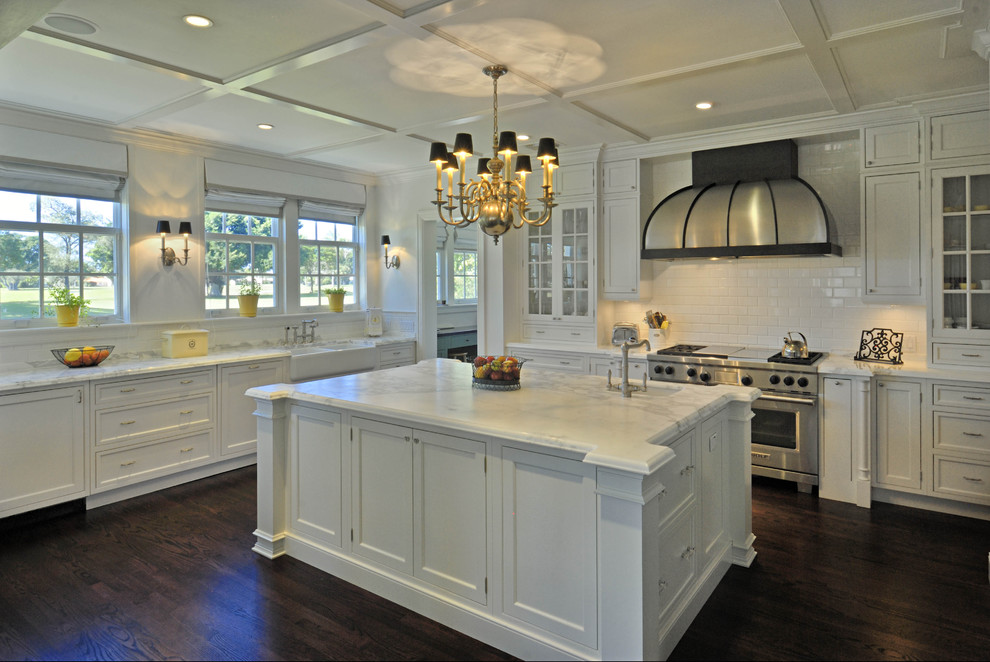 Traditional kitchen with kitchen island
Lighting fixtures are also an important part of the kitchen. Crystal chandeliers can add the desired formal look that traditional kitchen usually have. Of course, there are several differences between nowadays cooking areas and those in the past. Today we use them more like a blend of kitchen and dining room because of the open plan architecture of the buildings we live in.
Custom metal, plaster and stone hoods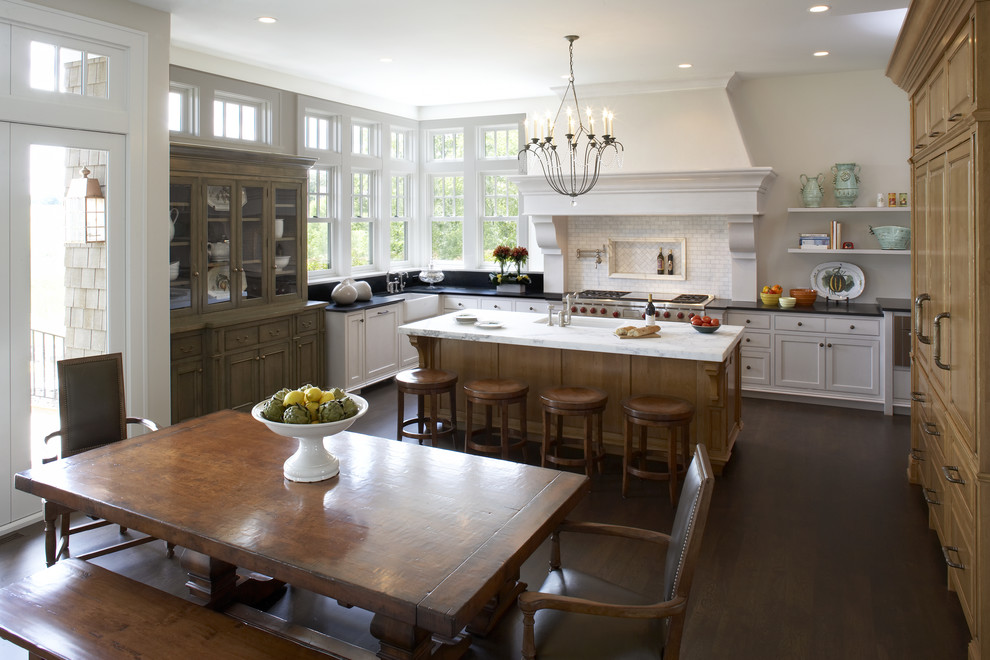 Ornate metal hoods are another famous element. Well, this is something like an alternative of wood hood or those that look like a fireplace. There is also an option to substitute the metal hoods with plastic one because of their lighter weight. If you are experiencing certain mount difficulties you'd better install the lighter material.
 Backsplash niches and ledges
Kitchen with backsplash niches
Having niches somewhere in your kitchen adds some extra space for storage of different goods, spices, kitchenware or decorations. They perfectly fit in a traditional interior.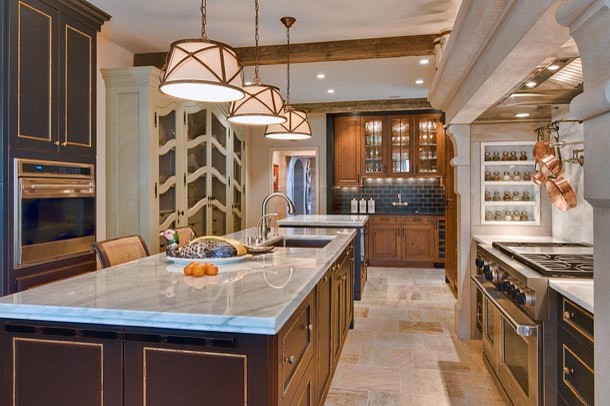 Kitchen with classic pendants
Furniture-style tall cabinets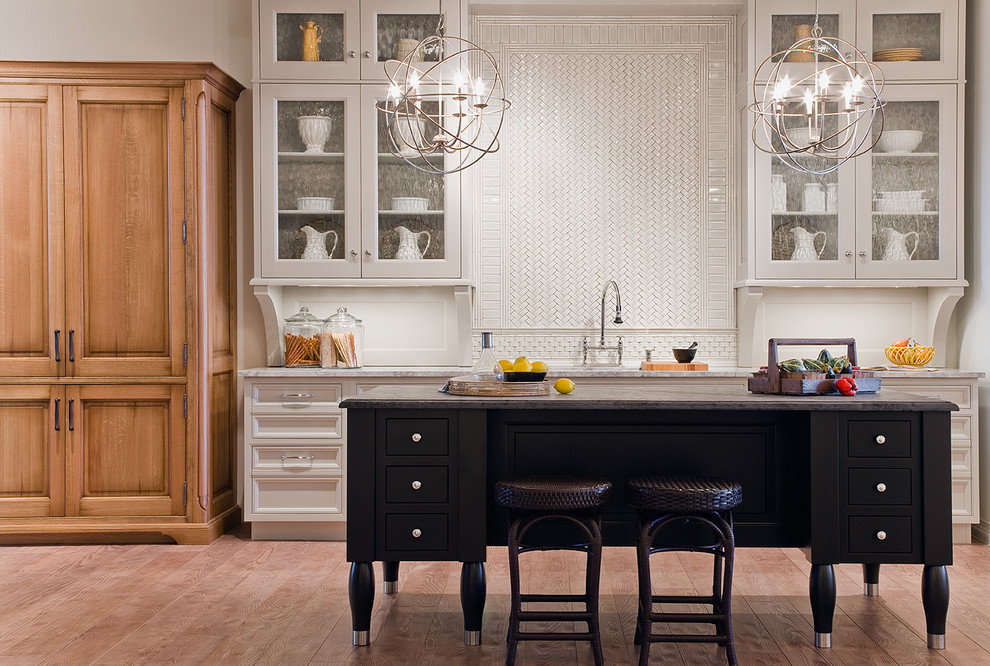 Traditional kitchen
As far as we know, today the biggest hit in traditional kitchens are the cabinets, that don't exactly look like cabinets. Think of creative designs in a traditional manner. Pay some attention to the wood cabinet on the left hand side in the image above. Maybe there is a hidden fridge behind it?
Hutch-style cabinets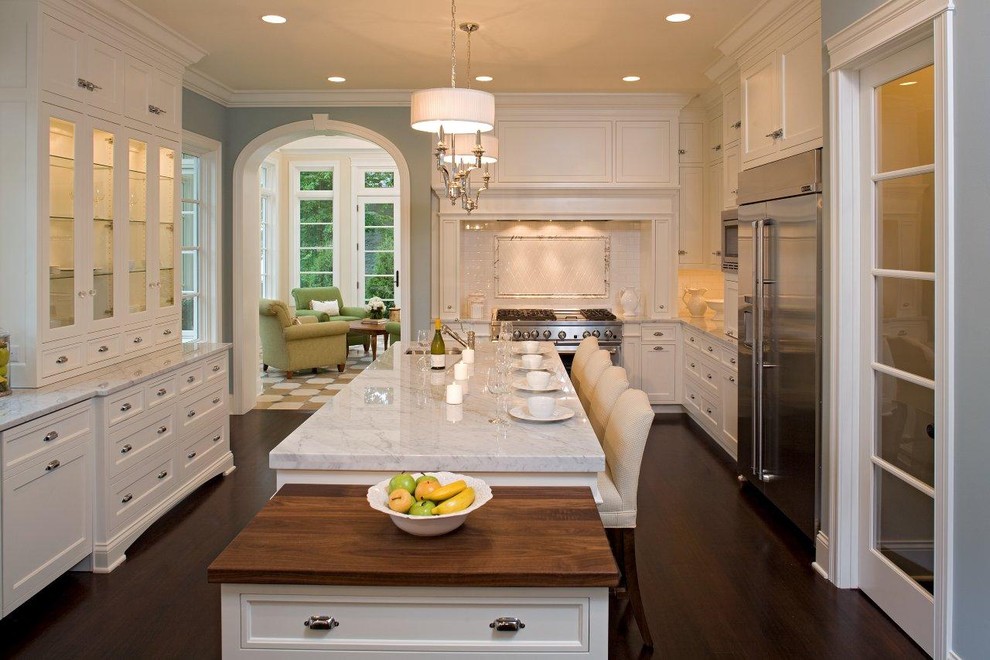 As we have already outlined, the boundary between a kitchen and dining room does not anymore present in house interiors. This is why you can find hutch cabinets (which are typically dining room furniture) more often inside a kitchen. The main advantage is that they provide additional storage for different stuff.
In the video below you can find some more inspiring traditional designs. You can also share your thoughts in the comments section below.