Tropical home in Bali
Image 1:
This home is called Lalaland and it's location is in Bali. And it has a lot of exotic colors and different shaped furniture as this interesting sun loungers. Valentina Audrito and Abhishake 'Abhi' Kumbhat are the owners and those who crated the extravagant and exotic luxury interior design for this home.We can see also a chill out space crated under high palm tree in the middle of the lawn.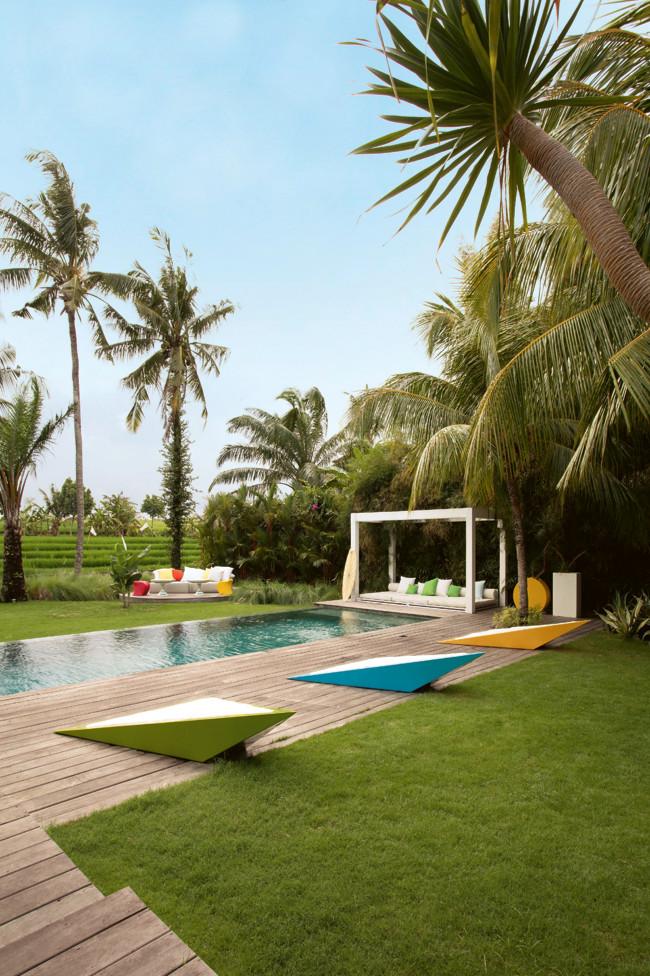 Image 2:
This living room has brought the tropical sense inside the house including the fresh colors of the ocean. Javanese joglos is the name of this unusual small roof which distinguishes the space. The room can be part of the outdoor and indoor space at the same time.This living room was made of only two Javanese joglos which were upgraded and reworked and has become what is now this cozy and tropical room.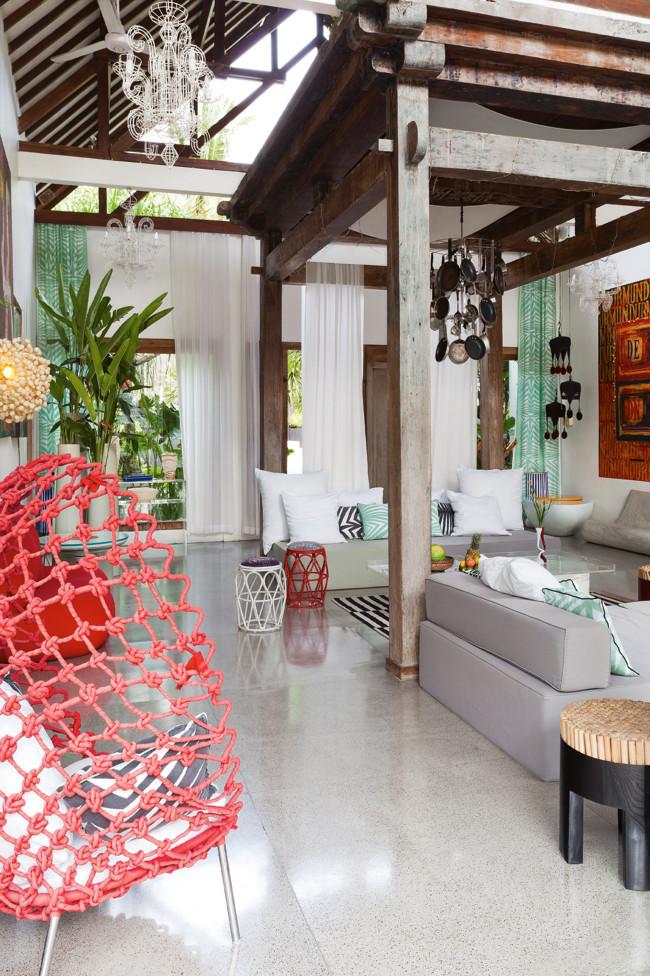 Image 3:
That art on wall is made by Farid Stevy and give the space a stylish look.The novelty in this room is reinforced by the unusual yolk lid table.The room has kept the tropical colors.
Image 4:
The space under the staircase is decorated with black and white pictures and the stairs themself are interesting and unique. There are little rocks all around that create a Zen sense in the atmosphere.
Image 5:
Colorful and comfortable is our first association of this relaxation spot. What a fantastic view can be seen over when you stand in the middle of the palm trees and the green grass. This outdoor area is great for pool parties and weekends with a pleasant company.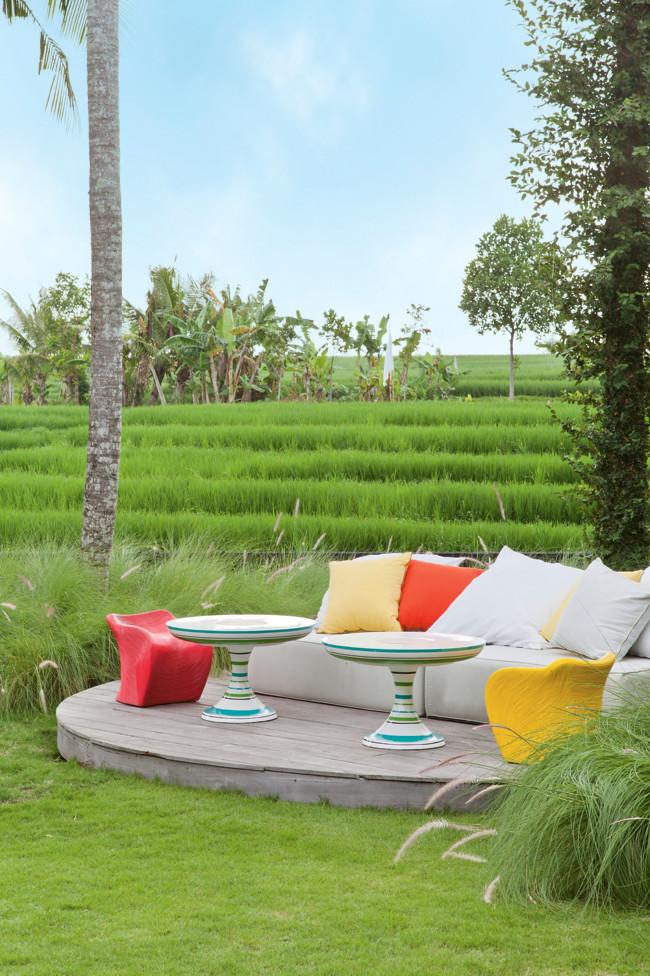 Image 6:
This funny and interesting sofa is called "Don't Break My Eggs" and is very comfortable, by the way. This outdoor furniture is unique and creates a great tropical place for relaxation.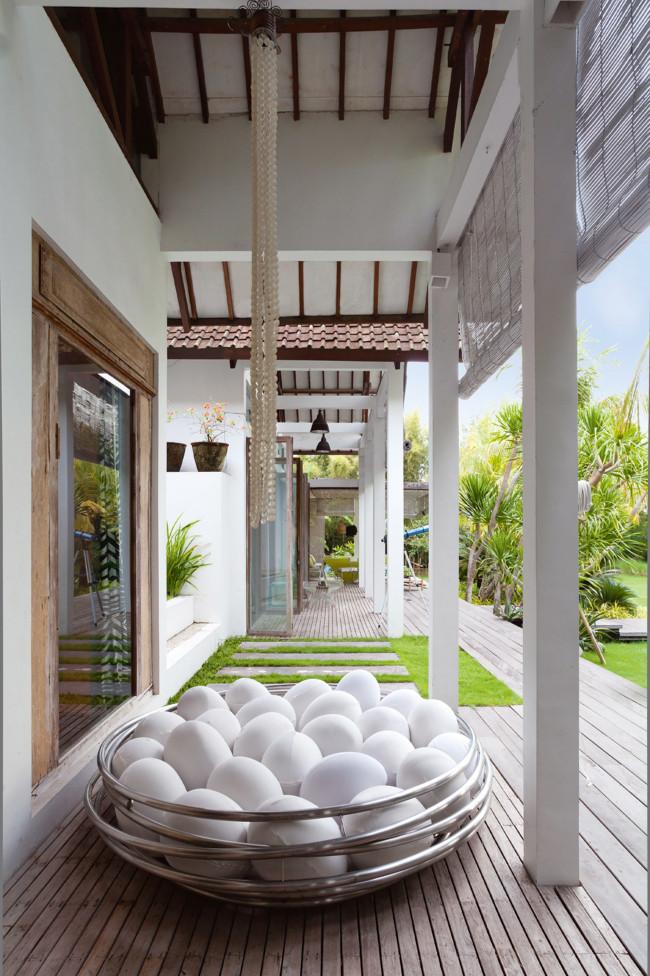 Image 7:
The privacy in this bathroom hasn't gone. Its roof is open and the tropical sense is still in the interior. The walls are in absolutely amazing color and are well matched with the floor tiles.
Image 8:
This children room has really intriguing furniture for kids. Artwork by Keith Haring is standing at the right place and brings and accent of colorfulness and freshness.
Image 9:
The main bedroom is also a space where the owners can hang out. Another artwork made of images from their lives hangs on the wall above the bed. Once you take your eye away of the bedroom set and you will spot throught the huge windows the beautiful bamboos from outside that create and add uniqueness of the interior inside.