When the late summer sunshine and crisp autumn days keep us outdoors, the last thing we want to think about is winter with its short days and dark nights. And even if we do give the colder months some thought, our focus is probably on ways to keep heating bills down this year. But are you making an even costlier oversight?
Do you have secure windows and doors? Do you need to make the security of your home a priority over the next few months to make sure winter doesn't bring the cold hard reality of home invasion?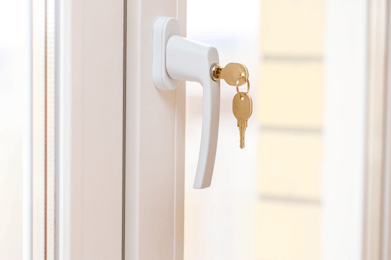 Burglaries rise substantially in winter
The number of home burglaries in the UK increases by 20% in the winter months – that means you are one in five times more likely to suffer the effects of a break in. Increasing wind, rain and even snow don't deter the professional criminals; in fact, they use the cover of darker evenings for their misdoings.
Summer bad habits can be winter nightmares
This means summer and early autumn are the perfect time to do a thorough audit of your home security ready to foil any attempts at a break-in. To get you started, consider the following questions. Are your window and door locks still working well? Are all keys still present and correct after a summer of swinging your windows open to ventilate your home?
It's amazing how quickly people get out of the habit of locking windows and doors too after a spell of hot weather. Or keys are left in window locks ready for use, providing burglars with the opportunity to break the glass and turn the key. Don't forget the shed and outbuildings too. You may have been in and out during the warmer months to get garden furniture or equipment, but as winter approaches, it's vital to do a quick check of security systems and build back up good security habits.
Burglars find weaknesses
Sadly, these days opportunistic crimes when windows and doors are left open are all too common. However, there are also career criminals who identify a weak spot on a property from some distance, and they will know which doors and windows are least resistant to their entry techniques.
This is not just about locks either, and you should consider whether your windows are fitted in such a way that there is no gap available to lever them open? Are your doors durable enough to withstand forced entry?
If the answer is no – or you have other worries about the integrity of your windows and doors – hesitation could prove an expensive and heart-breaking mistake.
Getting the right solution to foil burglaries
Sometimes a flashy, advanced home security system in place can imply that there are lots of things to protect and throws down a challenge to professional thieves. As such finding a solution that marries together discrete and unobtrusive security features – offering the maximum level of protection – can also mean enjoying great style and design for everyday living too!
Ultimately, when it comes to home security, you shouldn't take any chances and you should make sure that you have everything in place to protect your home from invasion at all times. There are a number of simple ways to improve your home's security, but most of all, you should be more vigilant and sensible when it comes to ensuring your home is secure.