In many ways, the door of your home is a primary source of attraction. Aside from the fact that it's a tool for protection, a well-designed exterior door commands attention and exudes beauty. However, your doors and windows need to be energy efficient. One key to this is with the help of weatherstripping. According to the US Department of Energy, weatherstripping can help you reduce your heating and cooling costs by as much as 20%, saving you from unnecessary expenses.
Weatherstripping is the process that seals off doors and window opening to prevent weather conditions from entering. It helps to seals leaks in openings that allow for excess airflow which may cause energy loss, presence ofpests, and dust. The process of weatherstripping involves the use of certain materials made from foam, plastic, vinyl or plastic fiber to weatherstrip your doors or windows.
Why You Should Weatherstrip Your Home
Helps to reduce drafts thereby helping you save on energy cost
Keep your home warm during winter
Prevent easy entry of pests or moths.
Acts as a protection against the entry of weather condition such as rain and moisture
It helps to improve the operational force (opening and closing) of doors and windows.
Types of Weatherstripping Materials
Weatherstrip materials are available in a variety of styles, designs, and prices. Installation of these types of materials is dependent on the type of door, situation, and location of the door. Some types of weatherstripping materials include;
These type of weatherstrip materials are the cheapest and least durable options. They are usually sold in rolls and may come in plain or reinforced with a metal strip. Felt is easy to install and made of cotton, wool or polyester. It can be installed around a door sash or window or pressed against a door jamb. It is important to note that felt can easily be damaged by moisture or water. Opt for the wool version as it is more durable.
Installation Technique: Cut to the required length with a multipurpose knife, then nail in place.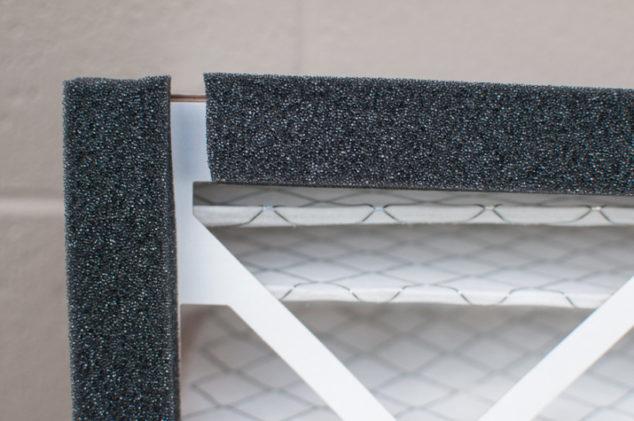 This a popular type of compression strip,and it's available as either reinforced or as tape. It is usually made of Polyurethane and Vinyl. Foam is an excellent choice for a Dutch door, metal and wood window casement, window stops, bottom of door and window sashes. Above all, it comes in various sizes and thickness which makes it the best for irregular-sized openings.
Installation Technique:Cut to the required length, and stick or glue to the needed areas.
Tension-Seal Weatherstripping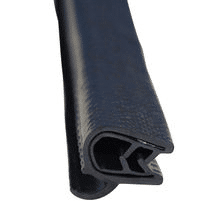 Popularly known as V-strip or V-channel weatherstrip, this type is a durableplastic or metalstrip tucked into a V-shape to secure the tops and sides of doors. V-strips are an excellent option for double-hung, sliding doors, and flat smooth surfaces. It is also important to note that aside from the fact that tension-seal strips are durable, they may be difficult to install and lead to operational (opening & closing) problems.
Installation Technique:Just cut to the desired length with scissors, peel, and adhere, or staple with nails.
Tubular Rubber, Vinyl or Silicone Weathering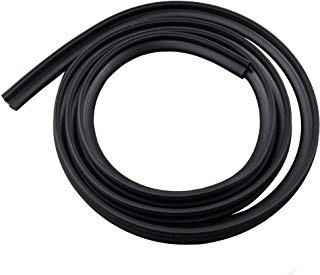 Rubber or Vinyl strip material comprises of a narrow sponge of rubber or vinyl tube that is attached to a wood or metal mounting strip. The silicone version of this type of strip is usually inserted into pulverized gloves. It is installed at the bottom or side of a door, between a door or its jamb.
When purchasing any of these strip materials, remember to request for an additional ten-percent in length.
Installation Technique:Peel and stick or fasten with a screw through the slot channel. For silicone seals, simply press into the holes you create with a router.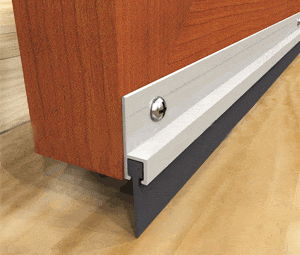 A door sweep is made from plastic or aluminum and is fitted with a sponge-like or vinyl strip that acts as a filler to seal the openings between the door and the bottom of the door frame (also known as threshold). This must be cut exactly to size of your door, so measure carefully before ordering or purchasing. This is ideal when you have a larger gab at the bottom of the door. It is extremely durable.
Installation Technique: Size to your door width and adhere with screws.
Just like we mentioned in the introductory part of this article, weatherstripping is vital for your doors, windows, security doors and home in general. Aside the money it saves you on utility bills, it allows you to contribute positively to your environment.