Today I have collected another inspiring portion of images for white kitchen interiors – simply adore them! My wife's dream is to make her a spacious white kitchen with a beautiful traditional window in front of the sink where she can enjoy looking our kids playing with the dogs outside in the backyard while the sunrays touch her gentle hands cleaning the dishes. Yes, that is her dream – to clean the dishes and the sink and enjoy her family! That's why this motivated me to start collection some very attractive ideas that I want to share with you now.
Countertops
Countertops are the surface that you use for the most furniture in the kitchen. Most people use some very typical materials when it is up to choosing the right one. Those are marble, quartz, granite, laminate, stainless steel, copper, wood and recycled – find more here: http://www.homedepot.com/b/Kitchen-Countertops-Backsplashes/N-5yc1vZbmf2. It is up to you which material you are going to choose. You need to know that some of them are easy to maintain while others are really hard to be seen in their original brilliant state. Of course, some of them are much more expensive than others while the cheapest ones are usually a bidget solution. Personally, I really like copper surfaces because they can be combined with several vintage appliances and the result can be pretty amazing. However, as I have already said, my wife prefers white interiors. That's why for this spefic case I would use quartz or marble materials – they are white and they look gorgeous!
Classic white countertops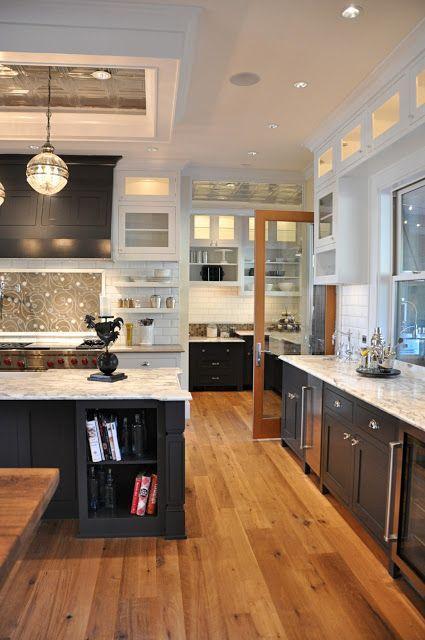 Marble countertops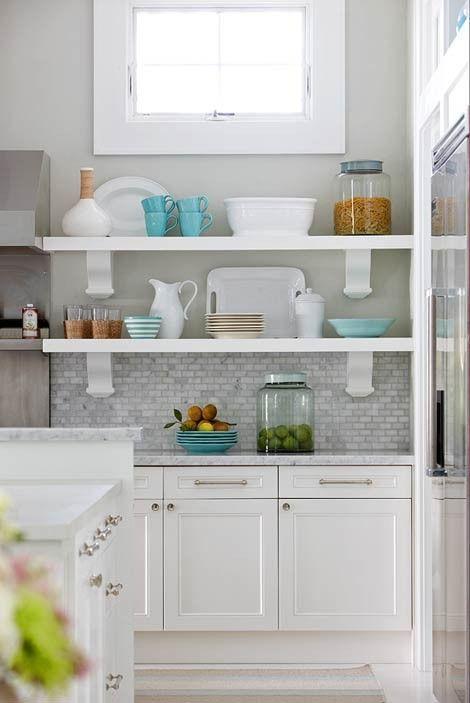 Simple white countertops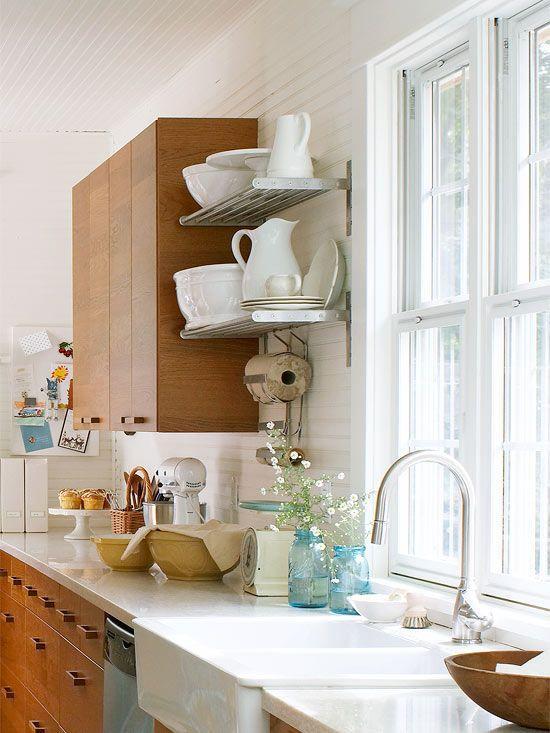 Simple white countertops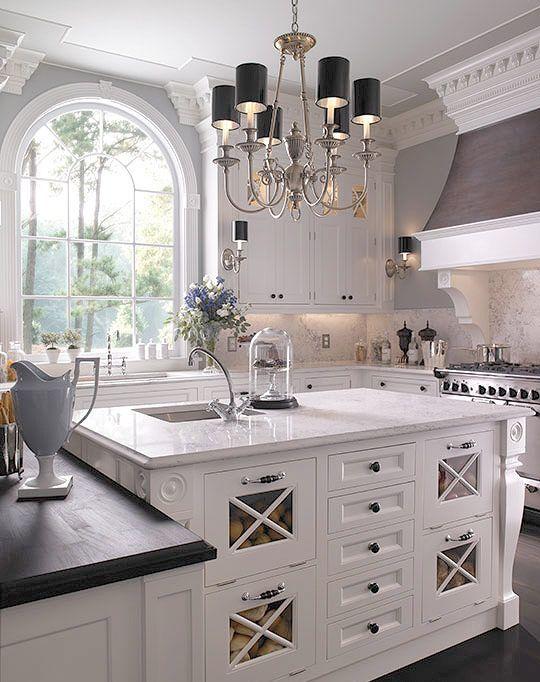 Traditional white countertops
Vintage countertops
White island countertop
Wide countertops
Cabinets
While the countertops set the atmosphere, the design of the cabinets complete the overall impression of the kitchen interior. And because they are built-in furniture what matters most is their front panels. They can be various – with or without frames, with clean lines or richly ornated. I really like manufacturers that cover a lot of styles, like this one: http://www.kraftmaid.com/. It is very imprtant to know exactly what type your interior is before you decide to buy cabinets for the cooking area. For example, if you have a modern home with contemporary lines, you'd better stick to the minimalist shapes and modern looking cabinets. On the other hand, classic and traditional interiors demand ornated cabinets made of massive wood. Of course, if you desire to achieve an eclectic touch you can always do the following.
Modern cutting-edge appliaces with minimalist countertops, classic crystal changelier and kitchen cabinets. The dining table can be rustic for example and this will definitely win you the prize for most attractive eclectic home. Now, let's stop imagining and have a look at those lovely designs that I have collected in order to inspire your. Farewell!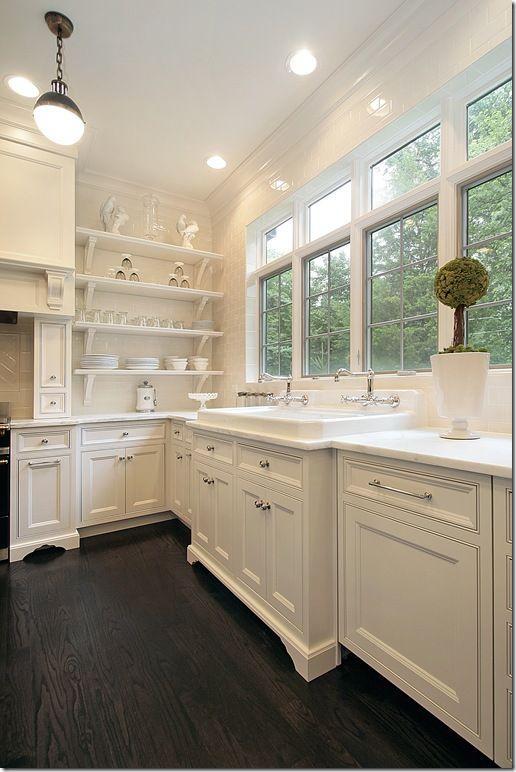 Cabinets, sink and windows
Luxurious cabinets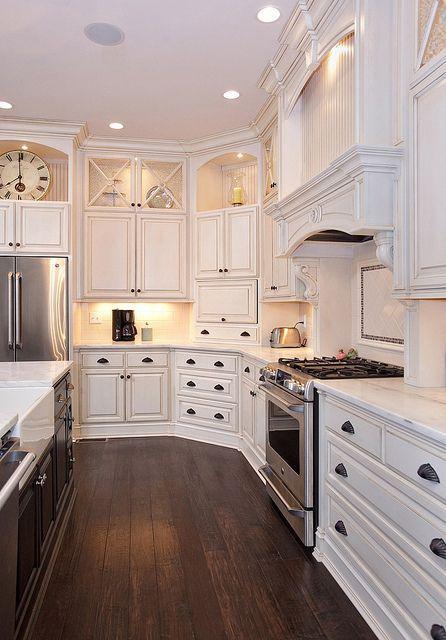 Modern traditional cabinets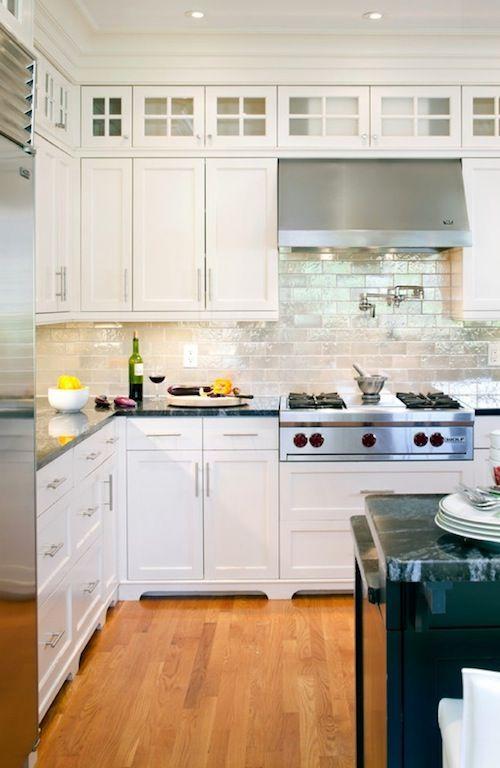 Modern white cabinets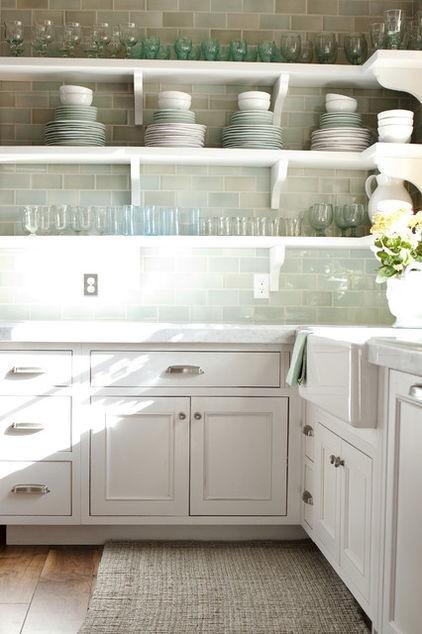 Simple white cabinets
Traditional cabinets
White kitchen
The following video can give you an idea how to install countertops.