Let us say that you have decided to do some changes around the house. You are tired of the same interior you have been staring at for years. Some people when they want to do some remodeling to enhance the appearance of their rooms they buy new furniture, do some feng shui, and most importantly, they decide to repaint their walls.
Are you aware of how much of a difference does a new color on your wall makes? Over the years, our walls tend to get darker due to dust, smoking cigarettes, improper maintenance, and other factors. So, it is natural that you will want them repainted with a fresh color to enhance the overall look of the rooms.
While it can be fun to start painting, perhaps this entire project should be left in the hands of qualified experts. If you plan to change the entire interior as well as the exterior of your home, you need professionals because you cannot do it on your own for a lot of reasons.
Lacking the necessary experience can sometimes make matters worse for a lot of homeowners. Instead, you should save yourself the headache and start looking for experts. Here is why:
Professionalism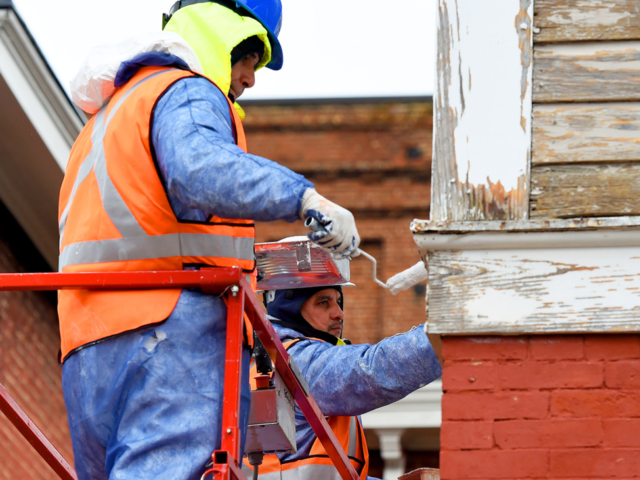 By assigning your painting project to a professional painter, you will avoid having to worry about it or shoulder any of the obligations that come along with it. Because interior painting specialists are continually aware of the procedures that must be performed to prepare your space, you may spend more time doing other things rather than stressing over your painting project.
The knowledge you want about the painting method may be obtained from professional painters at no cost to you. They will aid you in picking the suitable colors for both interiors and exteriors, and they will keep you updated throughout the duration of the painting job. Discover more interesting information on this page.
The necessary supplies
Professional wall painters have a far more awareness of the painting supplies than the public has. Whenever they are working in a certain space, such as the kitchen, bathroom, or living room, they always utilize authentic as well as labeled materials and are aware of the products that should be used in each of these locations. The professionals are aware of the right finishing solution to use in any given circumstance when there is an issue with the wall's surface, so they can address it quickly.
Preparation
Being a professional in any sector needs more than a few weeks or even months of hard work and dedication to succeed. Painting services bring years of experience to the table while working on a project, and they take full responsibility for the result. To achieve a high-quality finish on the project, they must understand how to prepare the surface, how many layers of paint are necessary, and what measures must be taken during the process.
To provide professional painting services nowadays, a great variety of tools and equipment must be used in conjunction with them. Painting jobs often need the use of expensive pieces of equipment like a vacuum sending machine, a spray machine, and other similar items in order to execute them on a project site. The fact that experienced painters will come prepared with all the essential supplies and equipment for a wide range of activities eliminates the need for you to go out and obtain these goods on your own.
Painting projects can take anything from several days to several weeks to complete. Painting services begin their work by removing all the immovable items from the area to be painted before they begin painting. When the day is through, the experts are aware of their obligations, which include cleaning up after themselves, so you will not have to lift a finger. Once they start the job, the finish it thoroughly. Therefore, check out Brothers Colors Painting if you want to start your painting project.
The best outcome
The reputation of a professional painter is established on the ability to deliver a high-quality finish. Your walls will be smooth but also reflective, just as you anticipated, because they are aware of the aspects that lead to a high-quality finish. That is one of the things that sets them apart from their competitors.
Using professional painters, you can be assured that your painting project will be completed on schedule and with efficiency. They effectively manage their time so that they can finish the work on time and preserve their high-quality reputation in the process. They can spend an entire day to the work at hand if that is what is required.
An investment
Increasing the return on an investment is the ultimate objective of everybody who makes invests in any endeavor. As with any investment, hiring professional painters is an investment in your house or place of business, and you can be confident that you will obtain an end product that fulfills your expectations and leaves you with a high-quality appearance. Follow this page if you want to discover more helpful tips.
Save time
As mentioned above, a painting project can last a couple of weeks depending on whether you want to redo the interior as well as the exterior. Do you have all that free time to do it yourself? Probably not. What will your boss say? What if you do not have someone to help you right from the start? What if you have other chores and responsibilities that have to be finished in advance? Basically, you would have to drop everything to start the project yourself, and that in most cases is not possible for a lot of people around the world.
There are a lot of factors to consider, and it is best to hire professionals for a job like that. They will look after your walls and ensure they get painted professionally. The outcome of the entire project will definitely exceed your expectations. You will fall in love with your house once more!