Christmas seems oh so far away as I write this in early November, and though it may be the last thing on our minds right now, stores are already rolling out mounds of red and green holiday decorations. While it's tempting to reach for those colors, consider this: Christmas doesn't have to be a red and green holiday.
It might seem daring to opt for blue instead of green or to try out brown instead of red, but if you want to wow your guests this season, try experimenting with one of these alternative color combos.
We have decided that at the end of November it is time to write some lines about the forthcoming holidays. The Holy Night of Christmas have always charmed us with its coziness and family gatherings and when we want our homes to be prepared for all the guests or we simply want to make a comfortable atmosphere for us alone, we'd better have a look at some real inspirations. We have collected just the right examples of an impressive Christmas decoration ideas.
Usually, Christmas interiors consist of the traditional red and green colors. Why don't you think outside the box and find the richness of other colors that can recreate the amazing holiday spirit of Christmas? For example, blue and brown are a great substitution of the conventional palettes. You can also experiment a little and find the proper color balance for your home.
Blue and Red
Here it is! A gorgeous Christmas tree in blue colorful accents! Don't you love it? The vibrant blue nuances complete the traditional red ornaments, thus adding a fresh and unexpected touch in the interior.
Purple and Red
Not an usual combination, yet very stylish! Purple is know for its reference to royal class. The creative composition is pointedly attractive in interiors with a lot of wooden accents.
Brown and Green
Some of us love living in classic interiors. In case you are that type of person, you should definitely think about brown variations of your Christmas decorations. The earthy palette brings natural and elegant look that corresponds great with beige walls, for example.
Blue and Lime
Wow, what a tree! It may seem a little bit overloaded and because of its appearance it needs simplicity surrounding it. It should stand out as an only colorful accents, as a focal point in a room of simple lines and furniture. We bet, that you haven't recently seen a Christmas tree with feathers at the top. If you love to provoke, this is your style.
Red and Lime
You can convince yourself how confident these two colors complete each other's brilliance. In this example the red natural mantel decoration exist in a perfectly balanced harmony with the lime stockings beneath. A red stocking in the middle breaks the monotonous row and adds a splash of diversity.
Navy and Silver
The typical navy nuance is in the neutral spectrum. This means that it is a color, easy to be combined with almost every one. A fantastic and tasty combination of navy and silver reveals a real knowledge of refinement.
Pink
Who could ever suggest that pink could be the main colorful accent in a Christmas interior? Believe it or not, it is a great color! A great vibrant and joyful nuance that recalls positive emotions and funny moments. Look at this splendid explosion of colors…and monkeys….
Orange and Green
The next visual composition reminds of Christmas holidays in south and hot states, like Florida. Bring the fresh emotion right into your place by adding orange fruits at the Christmas tree and enjoy the tropical touch.
Turquoise and silver
This lovely pale nuances are welcomed on every holiday table. They are calm, relaxing, tender for the eye and pleasant for the soul. An interesting reference that they create is the recall of a coastal life.
Various Colors
Our next example consists of an exploding mixture of colors. The hues in the image are so intensive that they clearly make a contrast of what we have showed you above. The interesting part is that somehow such kind of vibrant colorful composition fit very well in classic interior design styles, for example. Well, it really depends on the main color scheme of the property but in case you have a pale one, the odds are in your favor.
Gold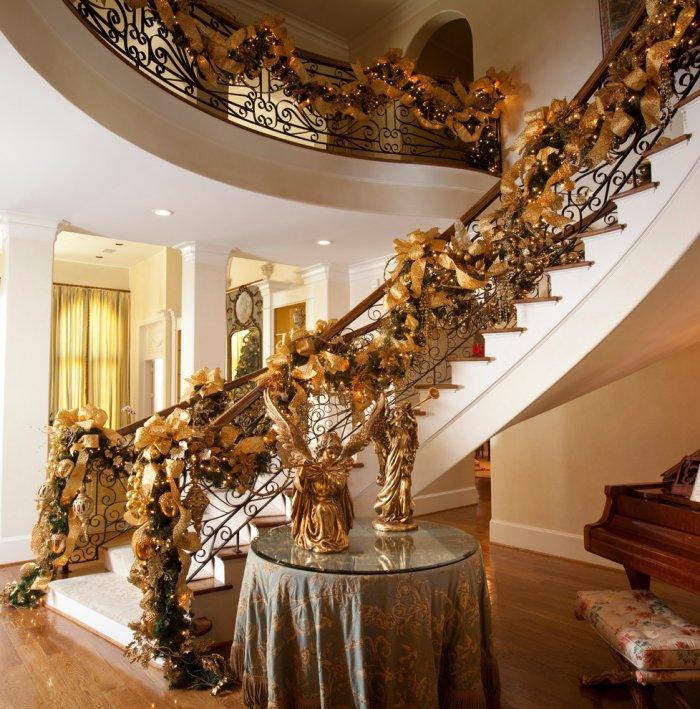 The color of rich interiors is here and it is ready to provoke us with its shiny perfection. When placed in a room it immediately adds a sophisticated look. Combined with different types of Christmas lights it creates a fantastic atmosphere to live in.
Pink and Gold
It looks girlish, doesn't it? Get the cozy feminine touch using a subtle and soft pink.
White and Silver
Some of us prefer to have a Christmas decoration that doesn't scream "It's Christmas!". Keeping the interior simple and elegant has a charm, we must admit. Take a look at this beautiful combination of classic colors like white and silver. They create a Christmas mood without hurting the eye.
Purple and White
Psssst, listen to this rumor… having a Christmas dinner table in light purple and white colors create a gorgeous romantic, sweet and elegant atmosphere. Try it at home if you are expecting "special" guests for the Holy Night!
Purple and Brown
Another great mix of colors, that we simply love! You can clearly see how the vibrant colors make a visual contrast with the pale snow white tree. A definite professional composition.
So, we would love to hear what you are planning for Christmas! Do you have an idea that you want to share with us? Do it in the comments section below!