How do you spend your evenings at home? Perhaps its is crawled up on a couch watching TV or maybe doing some sort of fun activity. For example, doing some sort of sport or reading a book. Perhaps you have been thinking about spending more time in your garden during the evenings or nights, make sure that you keep warm! What is an easy way of achieving this, besides wrapping up in blankets when the air cools down? One of them is to install a fire pit in your garden! If you have decided that you want one in your garden, check out the 20 modern outdoor fireplaces we have gathered. 
1. Coastal and Cool – Modern Outdoor Fireplaces
Do you live close to the seaside and would like to use your surroundings as inspiration for your garden design? Perhaps you have added a pool to your garden and would like to install a fireplace as well! If this is the case, then really look around at your environment and try incorporating its ambience into your fireplace. A great idea would be to have it created out of white stone or cement. This will channel the look of pale sand covering the beach. A fireplace such as this will fit right into a coastal environment and will elevate the vibes of your whole garden.
2. Wood and White – A Stunning Style
Use a combination of the colour white paired with wooden elements for any furniture in your garden. By this, we also mean using the same combination for your fireplace. It can be created out of white stone or concrete which is decorated with wooden details. If you have enough space, you can also leave a large gap somewhere next to the fireplace. This will create a perfect space for storing firewood. So, if you want your fireplace to be heated with wood, then building a place for storing wood is a necessity!

3. Great in Geometric Shapes – Unique and Innovative
If you would really love to bring a contemporary and modern atmosphere to your garden, then how about using geometric shapes in some sort of form? Geometric shapes have become popular to use in modern home and garden design, so this might also include your outdoor fire pit. Whether you use a square or a different shape, we're certain that it will look amazing! We would recommend trying out a triangle, as those will definitely bring a contemporary look to your backyard. You can add some benches around it, allowing you to sit down during the evenings next to the crackling fire.
4. Natural and Earthy – Looks Like a Log
Bring an earthy and natural vibe to your garden. If your garden is already all about embodying nature, then you might want your fire pit to incorporate this same sort of atmosphere. How can you accomplish this easily? Install a fire pit which looks exactly like a log or a tree trunk in your garden. It can be carved out of concrete or stone, then using fireproof paint, you can coat it in brownish shades to make it truly resemble a log. Then, carve out the middle of the log, as this is where your fire will be burning!
5. An Amazing Coffee Table – Outdoor Fire Pits
What is a type of furniture which will come in handy in any home or garden? Well, there's quite a few, but one is a coffee table! It's a great spot to rest your legs on while relaxing on your couch. Or if you have a mug you will be able to place it on your table. Take your coffee table to the next level though, by having a fire pit installed in the middle of it. Feel free to add some comfortable and cosy chairs all around this flaming coffee table!
6. An Upscale Fireplace – Modern Outdoor Fireplaces
How about you try constructing an upscale fireplace in your backyard? This means that the back of the fireplace will become taller than the rest of the sides of it. You can build one of these yourself, simply using bricks and stacking them on each other to create a circular and upscale fire pit. This is a perfect fire pit idea for anyone, who doesn't want anyone too fancy and would prefer to create their own one!
7. A Stylish Coffee Table – With a Fire
We have already discussed how amazing it is to install your fireplace in a coffee table in your garden. After all, it's combining two functions and turning them into one amazing piece of furniture! Depending on how your garden is designed, you should choose a fireplace coffee table which matches the whole ambience of it. For example, if your garden embodies a rustic style then stick to something rustic. If it is more about minimalism design, then make sure that your fireplace is designed in a minimalist style as well! Make sure to add some comfy couches around it though, to make your evening enjoyable!
8. Coffee Table and Fire Pit – Convert It Easily
Perhaps you have created a small retreat of relaxation in the back of your garden. Adding some cosy couches and seating to your garden will ensure that you can enjoy your time spent in the backyard in comfort! If you have decided on installing a fire pit in your garden in between your sofas, then how about you consider transforming it at any time into a coffee table? You can do this by creating a lid for your coffee table which is, in fact, a fire pit. Then when you aren't using the fire pit, then simply place the lid on it, to turn it into a table.
9. Beautiful and Sophisticated – Outdoor Fire Pits
Get ready to turn your garden into the pinnacle of style and beauty. If you have a garden wall surrounding your background, you will not only be given privacy from the outside world, but you'll be able to install a fireplace here. This will look amazing, once built into your garden wall. You can then place some seating around the fireplace, as well as a coffee table. It will be amazing to spend an evening sitting by the crackling fire!
10. A Barrel Table – With an Additional Fireplace
Are you in search of a design which is rustic for your fireplace? Well, how about you create a table out of wood, using a wooden barrel for the leg of it. You can use a wooden board to create the tabletop out of for an easy solution. Then, insert a metal bowl or disc into the top of the table, making sure that it is fireproof. Again, this as a fantastic option for anyone who would like to combine a table with a fire pit!
11. Trying Out a New Colour – Back in Black
While you may have already decided what sort of shape or material you want your outdoor fireplace to be built out of, one thing you may not have considered yet is what colour to give it. Depending on what your personal style is when it comes to home or garden design, make sure to pick a colour that is right for you! For example, you might want to add a burst of colour to your backyard. But if you would like to give your garden a more elegant look, then have your fireplace painted black!
12. Extreme Minimalism – Brilliant and Modern Outdoor Fireplaces
Maybe you have been in search of a minimalist fireplace for your backyard! This is a perfect choice for anyone who has designed the rest of their garden in a similar style. When we talk about minimalist fireplaces or fire pits, we mean simplicity at it's best. The fire bowl itself doesn't have to engulf the whole fireplace, it can be placed on one side of the construction. Use simple forms and try not to combine too many materials and colours for a clean ambience.
13. Seeing the Other Side – Elegant and Effortless
Here is a super stylish way of having a fireplace built in your garden. Use some see-through glass on the sides of your fireplace. You can use bricks for creating the base of the fireplace. This will allow you to see through to the other side, while also watching the flames of your fire dancing. A fireplace such as this will definitely become the centrepiece of any garden. It is different and unique in all the right ways.
14. For Your Balcony – Outdoor Fire Pits
Do you have a balcony in your home, which you have transformed partially into a garden but you have also made sure to add some seating space to it? If this is the case, you may also be considering adding a fireplace to the environment. Make sure that this fireplace or fire pit fits perfectly into its surroundings, only channelling the ambience of your balcony even more! You can add some comfortable couches in front of it or even some bean bags. This way, when the nights get chillier, you shall be able to huddle up next to the fire.
15. Include a Metal Bowl – Other Options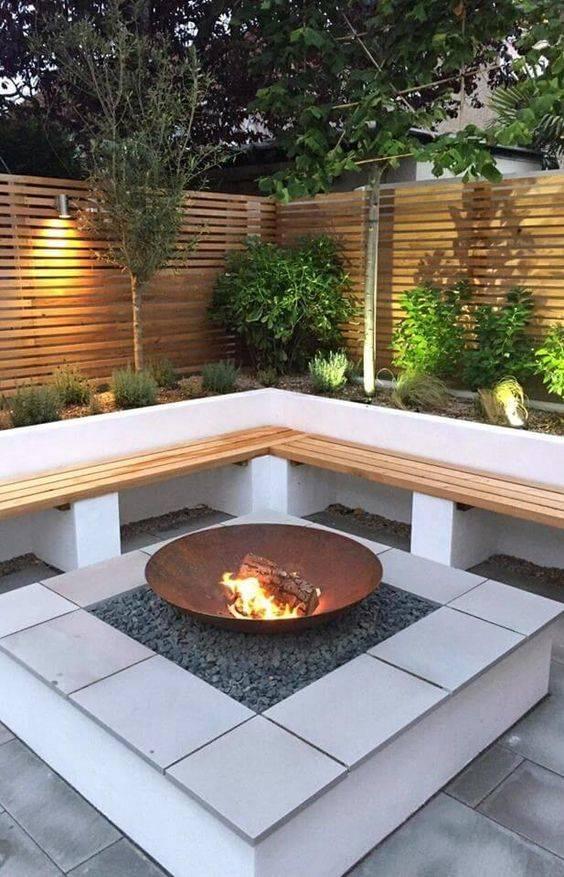 While we have mentioned a few different ways of creating a fire pit in your backyard, here is one other option! It's about creating a small platform in your garden, which you can line with stone, tiles or pebbles! Then place a steel or fireproof bowl in the middle of your platform. You will be able to arrange firewood inside of it and ignite it for a lovely fire. By using a metal bowl for burning wood, you will be able to clean your fireplace a lot more easily as well!
16. Lit by Gas – Modern Outdoor Fireplaces
If you don't want to light your fireplace with firewood, then why not try out a gas fire pit? You can hide the gas tank underneath the table you install the fireplace on, for a more aesthetic look. Using gas instead of burning firewood can sometimes come as a more practical choice! Especially when you run out of firewood and can't start burning a fire in your fireplace. With gas, all you will have to do is switch it on when you want a crackling fire and switch it off when you aren't using it.
17. Creating Storage Space – Simple and Practical
When you install a fireplace in your garden, you will have to decide whether it's powered by gas, electricity or firewood! If you choose using the old-fashioned mode of throwing firewood on the flames to keep you warm, then you might want to consider creating some storage space for the firewood! This might result in a few shelves or cabinets constructed underneath the fireplace itself. Thanks to a small storage space such as this, you won't have to go far to grab some firewood to place on the burning fire. It's an easy and practical solution!
18. A Rectangular Fire Pit – Outdoor Fire Pits
Check out this trendy and modern fireplace idea! It's a rectangular fireplace which is made out of concrete. Using simple lines and shapes, you will be able to turn your fireplace into a modern and unique centrepiece of your garden. If you really want to achieve that modern look, then keep things as simple as you can!
19. Time for Grilling – More Than One Function
Would you like your modern outdoor fireplace to be useable for more than just warming up? For example, you might decide on cooking and grilling food on it. You will have to create indents in order to fit in metal trays and sheets on which you can place food. This will be a great way to cook food for summer garden parties you may be hosting!
20. Easy and Simple – Outdoor Fire Pits
Here is another idea on how to create a fire pit, which will be perfect for grilling food on! You can just lay down bricks or stone, fixating them to one another. Create a circular shape out of them, above which you will be able to place steel trays of sheets to grill your food on. This is simple and easy, not to mention you will be able to put it together yourself!
We hope that this pick of ideas has helped you out in finding something amazing for your garden! For other home design ideas, such as kitchen cabinet lighting ideas or outdoor grill ideas, visit our website!