What is your favourite time of winter? Maybe it's when the snow starts to fall and you can build snowmen or make snow angels! Or when it's freezing outside and you can cuddle up on the sofa in a cocoon of blankets with a cup of tea or hot chocolate. Let's not forget Christmas either when it's time for the family and close-knit of friends to gather. If you don't have much space in your home, you may be in search of an alternative to a proper Christmas tree. A great example would be to add a wall hanging Christmas tree to one of the walls of your home. Check out our pick of 20 wall Christmas tree ideas for some inspiration!
1. Driftwood and Ornaments – A Beautiful Look
As you will know, it's a fantastic idea to add a wall Christmas tree to your home for the winter holidays. Especially if you are short on space! So, what kind of materials can you use to create a beautiful piece of wall decoration! All you'll need to do is find some pieces of driftwood, each one a bit smaller or larger than the one before it. Attach them to each other with yarn, from the smallest to the largest driftwood. This will create the base shape of your Christmas tree. Then all you'll have to do is hang ornaments from each piece of driftwood, thereby decorating the tree as well!
2. Wrapped Up – In Tinsel and Lights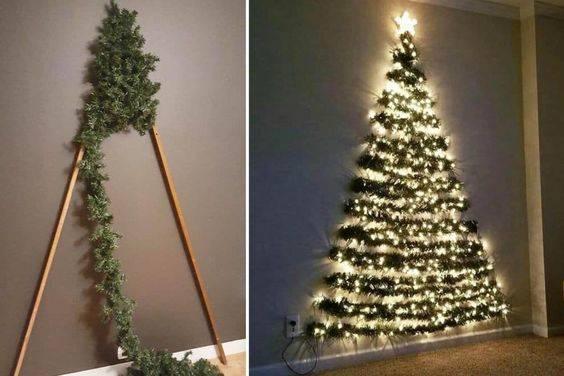 Are you unsure about how to create a wall Christmas tree? First of all, you'll need two thin pieces of wood. Attach them to the wall in order to create the shape of a triangle, along with the floor. Now you will have to wrap green tinsel or artificial fir around the two pieces of wood. Then, also twirl a long string of fairy lights around the wood, lighting up your wall Christmas tree in a warm glow!
3. An Abundance of Decorations – Wall Christmas Tree Ideas
If you don't want to create a base for your wall Christmas tree, you can try out another idea that is simple and easy! For this design, all you will have to do is attach ornaments to the wall of your choice. Try using tape for this idea, that won't tear off the paint from your walls! Lay the ornaments on the wall in the shape of a Christmas tree. It's completely up to you what sort of ornaments you end up using. They may be shaped in unique ways or you may have made some of them yourself! Naturally, feel free to add some strings of fairy lights to the arrangement as well.
4. Simplistic Branches – Placed Horizontally on the Wall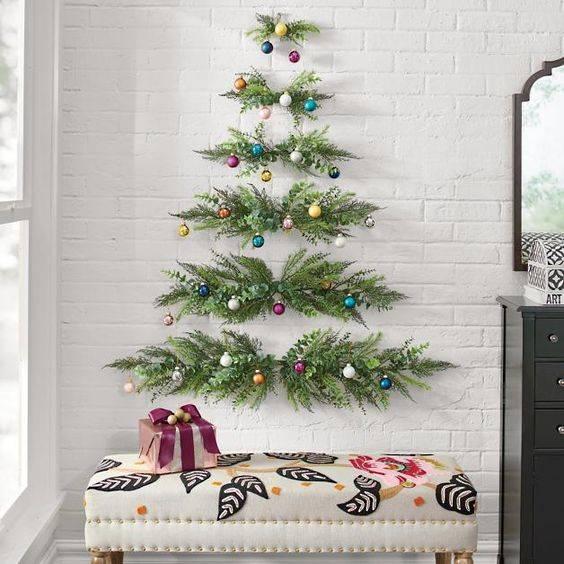 Perhaps you are in search of a more simplistic design for your wall hanging Christmas tree. If so, check out the idea above! It consists of fir branches placed on one of the walls of your home. Make sure that the branches are placed on the wall to create a symmetrical tree, resembling an actual fir tree. When you're finished with attaching them to the wall, it's time to decorate with some ball ornaments! This is guaranteed to bring a sense of Christmas into your home!
5. Creative and Cool – Wall Hanging Christmas Tree
Get creative for Christmas with a unique idea! If you have been in search of creative and interesting ways in which you can put together a wall Christmas tree, you may have just found some inspiration! We've already talked about fixating ornaments to your wall, and this design incorporates the same idea. Fixate your tree ornaments to your chosen wall, to create the shape of a fir tree. But use wooden letters that spell out Christmas to create the trunk of the tree. When you are finished, this is guaranteed to look amazing!
6. Recycle and Reimagine – Toilet Paper Rolls
You may have some toilet paper rolls piled up in your home, which you've been meaning to throw out. Instead of putting them in the recycling bin, recycle them in a different way! Turn them into Christmas decor! Coat each toilet paper roll in paint, you may even make some paper rolls of your own. Then start fixating them on a piece of fabric, canvas or wooden board, that you'll place on the wall of your living room. In the holes of your toilet paper rolls, you'll be able to place small ornaments of your choice. This is the way you'll be able to decorate this paper roll tree!
7. In a Corner – A Three-Dimensional Effect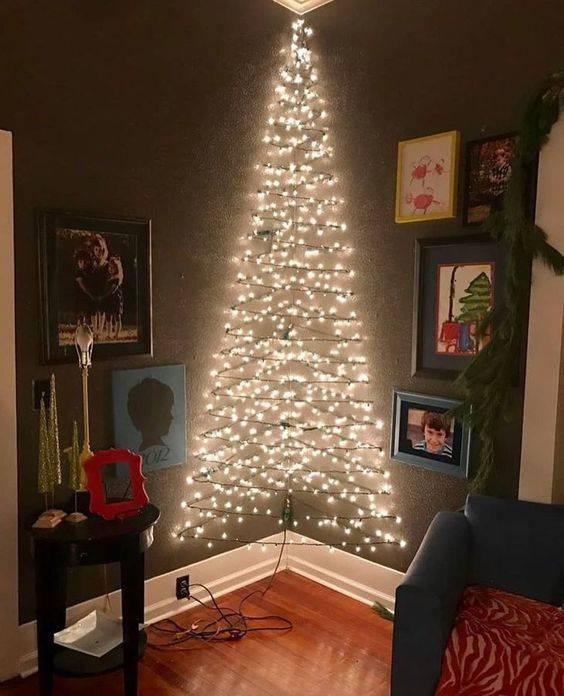 You don't have to go overboard when it comes to creating a wall Christmas tree! Find an available corner in one of your rooms to put together your tree. All you will need is a long string of fairy lights, which you attach to the two walls and the corner, creating a spiral of triangles. Each triangle should get somewhat smaller than the one below it. This will help in making a wall tree that has a three-dimensional effect to it!
8. An Outer Corner – Wall Christmas Tree Ideas
While we mentioned using an inner corner of your home, to create a three-dimensional wall Christmas tree in, you can also try out an outer corner! Fixate wooden panels on your wall in horizontal lines, with their sides cut in diagonal shapes, to bring that fir tree look truly alive! Place the same size of panels on the walls next to each other for perfect symmetry. When you're finished with placing these boards on your outer corner, it will be time to add some strings of fairy lights to it, to create a warm illumination for Christmas!
9. Weaving the Lights – Marvellous and Colourful
There are several techniques to try out if you're creating a wall Christmas tree out of a long string of fairy lights. For example, if you are putting together your light wall Christmas tree in a corner, then you don't necessarily have to pull the fairy lights back into the corner. Try finding online tutorials on how to weave your string of fairy lights to recreate the shape of a Christmas tree. Also, you don't need to use lights that only project one colour, find multi-coloured fairy lights!
10. Creating Triangular Frames – Wall Hanging Christmas Tree
How about you create some triangle-shaped frames out of thin wooden panels? Nail them together in order to create the base of your wall Christmas tree decor! Place some hook nails in the insides of your frames, from which you'll be able to lead tinsel or fairy lights from one hook to the other, creating the vibe of a Christmas tree! Hang some ornaments from the trail of lights or tinsel, for the essence of the winter holidays!
11. Vibrant Tinsel – A Merry and Joyous Atmosphere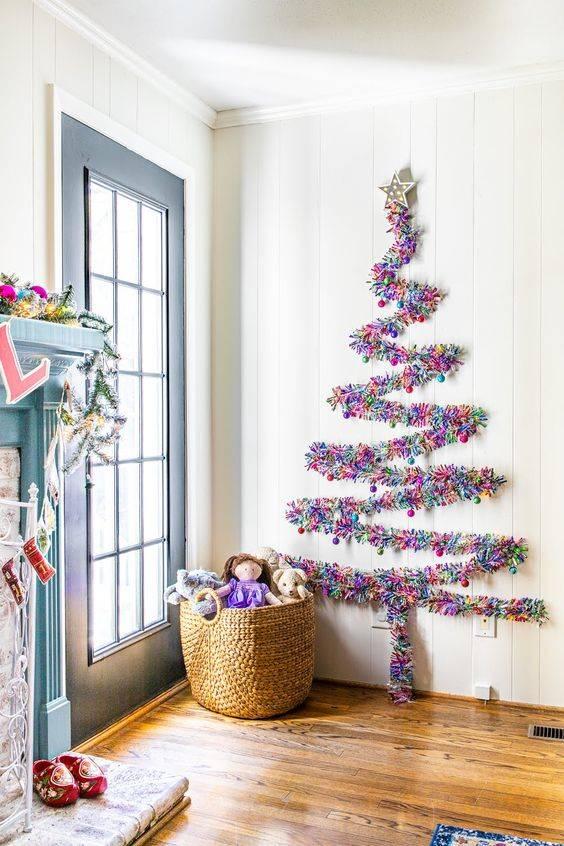 Do you love vibrance and an abundance of colours? Then how about you perk up your wall Christmas tree a bit! Instead of using green tinsel to create the shape of a fir tree, try out a long row of colourful tinsel! You may just create a trail of zigzags, each zag getting smaller than the one below, as you head upwards. When you are finished with putting together your wall tree, hang some vibrant ornaments from the branches of it and feel free to place a star on the very top of it as a finishing touch.
12. Love and Happiness – Celebrating Christmas
As an alternative to using tinsel or lights to create the shape of a Christmas tree, how about using a collection of memories? This is no other than gathering a pick of your favourite photos and fixating them onto the wall. Try to create the shape of a fir tree with the arrangement of your pictures. These may be photos of beautiful and happy times when you were enjoying yourself with family and friends. The memories will help create that vibe filled with love and joy, that Christmas is meant to be about! Of course, you can add a string of fairy lights to add a warm glow to your room for the holidays!
13. Simplistic and Minimalistic – Wall Christmas Tree Ideas
Keep your wall Christmas tree simplistic and minimalist! You don't even need to create branches for your Christmas tree, just lead down two rows of tinsel and lights on your walls, putting together a triangle shape. Connect these two rows on the floor, in order to create a whole triangle. Feel free to add a star ornament to the very top of the triangle. That's all there is to it! Place your pile of Christmas gifts in the bottom of the tree, for the full Christmas effect.
14. Using Led Lights – A Stunning Image
Now here is another strikingly gorgeous wall Christmas tree idea, that can be used as a piece of decor during the winter festivities! Lines of led lights, branching out of one main row, that resembles a tree trunk. Depending on your preferences, you may choose a lit-up wall tree that has white lights or lights that are tinted yellow for a warm illumination. Either way, a wall Christmas tree such as this will spruce up any room you decide on placing it in.
15. Cascades of Fairy Lights – Wall Hanging Christmas Tree
We have talked about a variety of ideas on how to put together a wall Christmas tree if you're short of space, or just looking for a way to decorate your home for winter! This idea revolves around connecting about a dozen rows of fairy lights together at the top, then allowing them to hang down, with spaces in between them. You should be able to create the shape of a triangle like this. When finish, add some ball ornaments and a start to the top of the lights. This will help in giving it a classic Christmas tree look!
16. A Gorgeous Glow – Gold and White Decorations
Decorating for Christmas is all about adding friendly and welcoming lighting to your home or garden! Whether it's lighting a few candles in lanterns or creating a wreath wrapped in fairy lights, we're sure your decor will look amazing. When it comes to making your wall Christmas tree, use a combination of fairy lights and gold ornaments, to really bring that a snug and cosy ambience to the room!
17. Pale and Pretty – Another Simple Solution
If you'd prefer to make your wall Christmas tree look like a fir tree that has snow powdered on its branches, why not use a selection of pale ornaments? Maybe you have decided to hang pieces of wood underneath each other, creating the shape of your fir tree. If so, hammer some nails into each piece of wood, to hang your decorations from! Add an array of white snowflakes, bells, angels, reindeer, stars or just simple ball ornaments from them! It will look awesome once you are finished and ready to place it on your wall.
18. Cuts of Paper – Wall Christmas Tree Ideas
Are you trying to find a cheap and super easy option for making a wall Christmas tree? Then how about you use pieces of paper to create your tree? For the branches and leaves of the tree, you'll need long green strips of paper, placed diagonally over each other, just like in the example above! Use more than just one shade of green for the foliage of your wall tree. Also, cut out a star to fixate above the tree shape, giving it the essence of Christmas!
19. A Groovy Vibe – Thin Branches and Big Ornaments
Try out this groovy wall Christmas tree idea for a unique look! You'll need to use a combination of thin, wooden branches to create the base of the tree out of. Fixate these thin wooden branches to the wall, arranging them in the shape of a fir tree. Then perk it up with some large ball ornaments, hanging them from the branches!
20. Green Wooden Panels – Wall Hanging Christmas Tree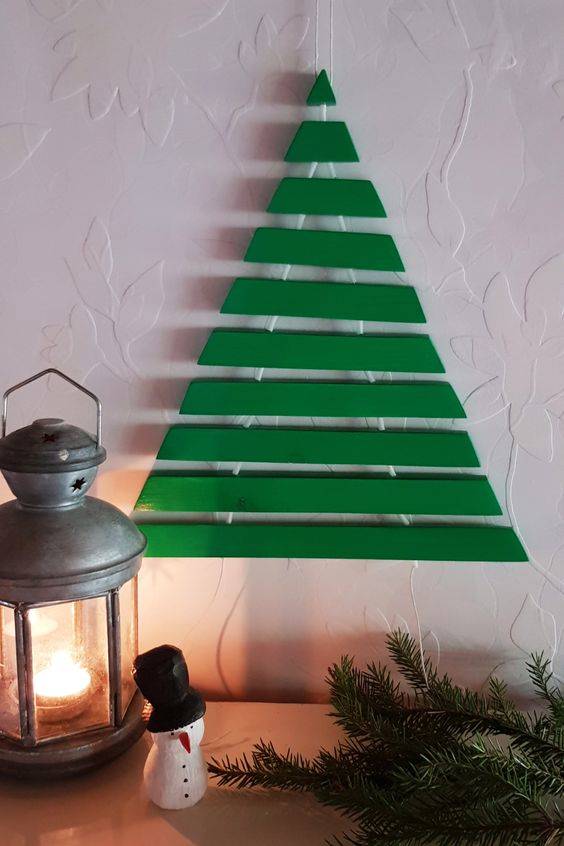 Finally we have a wall Christmas tree idea that is effortlessly simplistic! The idea incorporates wooden panels, each shaped like a trapeze, place underneath each other growing in size. Only the top panel should be in the shape of a triangle, resembling the top of a fir tree! Coat the wooden panels in green paint to give it a classic tree look! This will look perfect on any of your walls!
We trust that you've found some inspiration amongst these wall Christmas tree ideas! For other ideas concerning Christmas or winter, like DIY Christmas tree decorations or Christmas party decoration ideas, visit our website!