When you are planning on moving to a new house, or you would simply like to refurbish your home, make sure you pay attention to small details! After all, you want the space you live in to be perfect and homely. Even if you end up having a small room for your bedroom, it's important to give it a design which suits your tastes. And also a design which isn't too expensive. That's the reason why we have gathered 25 small bedroom decorating ideas on a budget. Hopefully, this will help you in finding bedroom ideas for small rooms. So, make sure to take a look at our pick below! 
1. Blue and Grey – A Calming Interior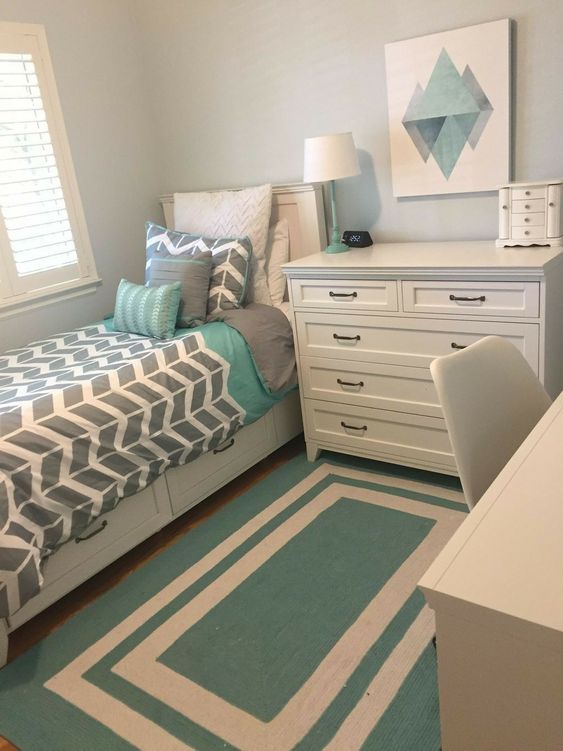 source
Perhaps you are a laidback and chill person, who would like a relaxing room design. After all, after you get home from school or work, all you'd like to be able to do is rest a little. So when it comes to setting an atmosphere in a room, it's very important to pay attention to what sort of colours you choose according to VisionBedding. For example, shades of blue and grey will help create a calm ambience. If you like this colour combination, then why not give it a try in your room, using it for all the furniture as well as the colour of the walls.
2. A Room to Adore – Bedroom Ideas for Small Rooms
Make sure that your bedroom is a space in which you feel safe and comfortable. If your bedroom is super tiny, then try fitting everything into the room. You can place some floating shelves on the walls of your room, which will help to create storage space. Or if you'd like to decorate your room and spruce it up, floating shelves are a great solution! Especially if you have a small room! Also, try using white as a dominant colour, as it will help create an illusion that the room is bigger than it actually is.
3. Colour Contrast – Small Bedroom Decorating Ideas on a Budget
There's a lot of ways to create a unique and interesting contrast in your small bedroom. Creating two or three different designed parts of your bedroom will take anyone's sight away from the size of your room. Instead, you will be occupied by looking at the interesting room design. For example, paint a part of the room pink and only used pink furniture in that space. Then paint another part of the room black, doing the same thing.
4. Cosy and Adorable – Perfect Tiny Bedrooms
Even if your room feels more like a long corridor than an actual bedroom, there is still a variety of ways in which you can design it, creating a comfortable and cosy space. You should be able to find a bed, which fits right in between the two walls of your room. You can place a nightstand right at the foot of your bed, which is a practical option if you don't have much space. Then feel free to design the bedroom in any way you want, you can opt for a more modern design or something on the vintage side of decor.
5. Rose Gold Decor – Keeping Your Bedroom Simple
There are a few hacks of making sure that your small bedroom looks larger! For example, painting your walls, or at least your ceiling white, will help create more space visually. Keep your bedroom simple, using simpler types of furniture which won't hog a lot of room. If you are in search of ways to spruce up your room and give it a bit of life and colour, why not use rose gold ornaments? This can come in the form of a rose gold lamp, a rose gold frame or just some pots to put your plants in.
6. A Mellow Yellow – Small Bedroom Decorating Ideas on a Budget
No matter how small your bedroom is, you can still make it into a happy and bubbly environment. A lot of people tend to be iffy, about using bold colours when it comes to decorating a room. But it's totally worth it! Especially if you bring a bit of sunshine into your room, by painting part of it in a mellow yellow. To bring a bit of balance to your room, you can paint the other half in grey or white.
7. Storage Space – Decorating Ideas for Small Bedrooms
If you have a small bedroom, you will know by now that it can be a difficult task to fit everything in. That's exactly why we have a great solution for you on how to design your room! Create a loft on which you place your bed. Underneath the gallery, place an array of shelves, which will create storage space. This way, if you have any books, clothes, you will be able to place them in boxes on the shelves. It's a simple way of saving space in a tiny bedroom!
8. A Loft Solution – Creative and Unique
While we have talked about creating a loft in your small bedroom, we would like to emphasize how practical it is. You create two levels in a room, by installing a loft. This allows you to place the bed on one level and create a different space on the other level. You can use it for storage or just for creating a spot to sit in. Or if you need to study a lot or have to work at home, you can place a desk here.
9. Another Unique Idea – Bedroom Ideas for Small Rooms
Here is another unique solution to designing your room in a way that all your furniture fits in! While we have mentioned creating a loft, making space for sleeping and practical space for anything else you need, here is another idea! Create a loft which hangs from the ceiling! You can attach two of it's sides to the walls, then use a rope to keep the last corner in place as well. Of course, it might prove a difficult task to climb up into bed each night and get off in the mornings.
10. Renew a Bunk Bed – Put a Desk Underneath
There are so many options when it comes to creating space in a small bedroom. Here is just one of them! Get yourself a bunk bed, which you place in your bedroom. Use the top part for sleeping, then use the part below your bed for a desk! You can place a desk inside this space, creating a space for studying or working. This is an easier and cheaper option than creating a loft in your room. So if you are in search of something more temporary, than give this idea a try!
11. Storage Space – Small Bedroom Decorating Ideas on a Budget
Here is yet another option for small bedrooms which have a space issue. If you don't have enough room to place a shelf or closet inside the bedroom, then why not create these shelves or drawers underneath your bed? By lifting up your bed and installing a set of drawers underneath it you will be able to store all your clothes or any other belongings. This will help you feel that you are not cramped inside your bedroom and have a spacier bedroom!
12. Creating a Murphy Bed – A Fantastic Hack
Perhaps you are in search of a piece of furniture which you can easily place into your room and will help save space. Then check out the murphy bed! It's a great solution for any smaller bedroom, as you open it for sleep and close it during the day. So if you have a truly tiny bedroom, then the murphy bed will help provide a larger sense of space during the day! Not to mention, there are a lot of stylishly designed murphy beds.
13. Bed with a Bookshelf – Easy and Creative
If you're a bookworm, who loves reading during their free time, then why not create a bookshelf at the headboard of your bed? It will make it so much easier and comfortable for you to just take a book off the bookshelf without having to get out of the comfort of your bed.
14. A Simple Loft – Bedroom Ideas for Small Rooms
Check out this simple-looking loft! Lofts, as talked about before, are a great way to divide your room horizontally. This helps create more space in any room. So if you are having troubles with organising and arranging everything, then why not have a loft built in your small bedroom?
15. Bunk Bed Idea – Small Bedroom Decorating Ideas on a Budget
We have already talked a lot about using a bunk bed to create more space in a small bedroom. You can place a small desk underneath your bunk bed, or even a comfortable seat. It's really up to you what sort of space you would like to create out of the part underneath your bunk bed! Another thing which is your choice is what sort of design or style of bunk bed you'd like.
16. A Bed on a Closet – Bedroom Ideas for Small Rooms
Here is another idea on how to add a new level to your room, as well as creating new storage space. Create a whole set of shelves and drawers right underneath your bed. This will make your job so much easier when it comes to storing your things. So if you don't have any room for placing a closet inside, then give this a try!
17. An Elegant Design – Small Bedroom Organization
If you find yourself leaning towards an elegant and stylish design, then make sure to create your room in that sort of way! No matter how small your bedroom is, it still deserves to look refined and lovely! You might have to settle for small furniture, instead of a king-sized bed, get a single bed, which will actually fit into your room.
18. Spacious and Stunning – Bedroom Ideas for Small Rooms
Coat your room in complete white! This will create an illusion of space, so even if your room is small, using white will make it look a lot larger than it actually is! Another hack for a tiny bedroom is to use floating shelves to store your things on!
19. A Lovely Loft – Bricks and Wood
You might have decided on building a loft in your small bedroom! After all, it is a great and practical idea. Make sure that your bedroom has a unique ambience to it! You can achieve this by using different sorts of wallpaper for different walls. For example, a great combination is bricks and wood.
20. A Vanity Bed – Small Bedroom Decorating Ideas on a Budget
Are you the sort of person who loves getting dressed and ready for the day in front of a mirror? Then why not get yourself a vanity bunk bed? It has a bed on top and a closet underneath, which is opened by sliding mirror doors!
21. Cover the Walls – With an Array of Shelves
Here is another great idea on how to save space in a small room! If you don't have room for a closet, then it's time to line one of your walls with a whole set of shelves. You will be able to store practically anything inside these shelves!
22. Create a Bigger Room – Bedroom Ideas for Small Rooms
How about creating two or three spaces in your small bedroom? All you need to do is install a loft in your room and use the top part as a sleeping space. You can create a small workspace underneath, separating it from the rest, which you can make a closet out of.
23. Bohemian and Artistic – Amazing Ideas
Depending on your style and taste in home design, why not get creative with some unique decorative elements? If you have a loft in your small room, you can create a chill space underneath it. Hang plants and vines from the loft's ceiling as well as lanterns or fairy lights.
24. Floating Shelves – Great for Storing Stuff
Having trouble with storage? If so, here's a great choice to try out in your room! You can place floating shelves on one of the walls right above your bed. This is a great alternative to placing an actual shelf in your room.
25. Two Sleeping Spots – Small Bedroom Decorating Ideas
If you are sharing a small bedroom with someone else, then make sure to have a loft built in the room! You can have two spaces created for sleeping, thanks to the loft! As we have mentioned before, you can place shelves on the walls, on which you can store all your things.
We trust that this collection of small bedroom decorating ideas on a budget has helped you out! After all, it can prove to be a difficult task to find a great design for a small bedroom. If you are still in search of some amazing interior design styles for small rooms, make sure to look at our pick. Best Budget is here to help you make informed decisions on your purchases through price comparisons and peer-to-peer reviews to make your research a bit easier.