Decorating a room can seem like a daunting task itself while doing so in a limited space makes it even more challenging. Having a room that's short on square footage doesn't mean you can't make it look bigger. If you're skeptical about that, we've got two words for you: smart styling. There are certain tricks of the trade many interior designers keep up their sleeve, which they use to manipulate our perception and create an illusion of bigger spaces. If you're interested in learning about ways to make your small room appear larger, read on and get acquainted with our top five helpful hints to do so.
Installing practical vertical blinds
One practical and easy way to protect your home from weather conditions all year round is by installing vertical blinds. They help keep sunlight out of your room when necessary and allow you to control the amount that comes in during the day. They are a very practical solution when you need some privacy in the evening. Other than being a highly functional addition to your home, quality vertical blinds will also fit in nicely with any style of the room since they come in a variety of colors and styles, so you can choose the ones that will merge nicely with your interior.
Introducing effective lighting
Lighting is an easy and inexpensive way to manipulate the eye and make the room seem larger. When combined with mirrors, lights can create the illusion of spaciousness by reflecting from mirrors. Light can also be used to accentuate a certain area of the room and highlight a particular feature. Consider investing in recessed lights in your living room to create a more elegant vibe, and think about installing under cabinet lights in your kitchen to make it both practical and chic. Also, having several windows in your room ensures your living area appears bright and airy, with a lot of natural light coming from outside. A combination of several sources, artificial and natural, is recommended for achieving optimal results.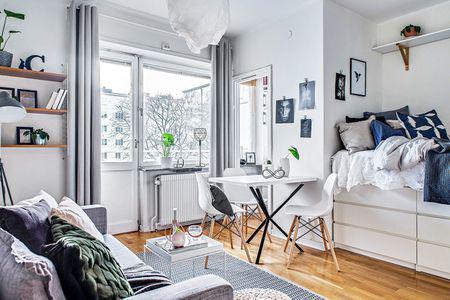 Painting your walls bright colors
Colors can really affect how we perceive space. That is why it is best to avoid implementing dark hues of paint into your small spaces – they will only shrink them, making them look even smaller. What you need to do is use the advantage that comes with paler shades. White is an especially good option for small spaces since it tricks our brains into thinking that the room is somehow larger. Other neutral tones that are good for rooms of smaller dimensions are light grays, cool beige colors, and soft pastel hues like blush pink, aqua or lavender.
Implementing hidden storage into your living space
Small rooms call for some space-savvy solutions. In order to maximize the use of space in your small room, you need to get pretty creative and include some hidden storage. Ottomans are a great option – other than being useful as extra seating when you need to fit more people into your living room, ottomans can also be used to hide the clutter and give your room a clear, polished look. You can also turn them into a coffee table by adding a tray on top for placing books and flowers. A good storage solution for a small kitchen are custom pullout spice racks and rollout cabinet drawers, while a shower caddy can help keep your bathroom clutter-free.
Use different textures throughout the room
When it comes to making your small spaces look bigger, it's a good idea to implement an abundance of different textures in similar colors in order to add some depth. If you decide to stick to a neutral color scheme for your room, adding textures can really help make it more interesting to the eye. Introducing fluffy accent throw pillows, fluffy blankets, metallic vases, and wooden tables in similar shades, can really help you balance your room and add visual weight to your space. Your room needs to have a feel to it, so coupling different items that look like they feel, for example, a rough coffee table and a soft throw, is a great way to layer contrasts that add interest to your space.
Making the most of your limited space might seem difficult in the beginning but with some sneaky tricks and a little creativity, anyone can turn their small room in a comfortable haven that will seem bigger than it actually is. It is a challenging thing to do but, it's very much possible and you'll realize it pays off once you see the end result.