Are you feeling tired of the way your kitchen looks and feels? If you are, and if you believe that it's the overly safe and standard design of this room that's making you avoid it and neglect healthy cooking, you definitely want to do everything in your power to make the kitchen stand out and feel inviting again. And, with the right design tricks, you can do just that. Once you're done with this project, your kitchen can finally become a place where you can both just sit down, relax and have a snack/drink and prepare deliciously healthy meals for you and your family.
1. The go-to solution: play with colors
One of the easiest yet most effective ways to spruce up the look of your kitchen is to play with the color possibilities. Now, painting is obviously the simple answer. You can paint your walls and your ceilings, but most importantly – you can paint your cabinets! Vibrant kitchen cabinets have been really trendy when popular kitchen design is concerned. On the other hand, you can explore the possibilities of vinyl wallpaper and tiles. These can serve as both décor and a backsplash!
2. Statement furniture can transform the space
Aside from bright and bold colors and patterns, opting for the same boldness in design of furniture can definitely make an impact. You don't have to replace your kitchen elements in order to do this – a table, an island and even a chandelier that acts as a statement piece thanks to its interesting shape and cut can provide a thorough and attractive makeover for your kitchen area. If this is the look you tend to gravitate toward in your other rooms, don't hesitate to make the most out of it in the kitchen.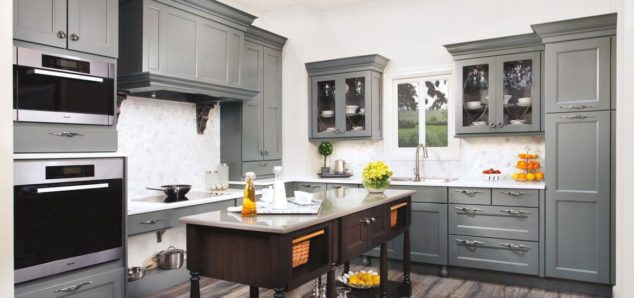 3. Utilize the power of textures
Textures add warmth and comfort to every space, and the same goes for the kitchen as well. Therefore, you can definitely benefit from the creative use of kitchen textiles when it comes to making your kitchen stand out in a good way. For starters, kitchen towels and cloths are always there to add more life and personality to this room. Moreover, you can use table cloths, seating cushions, curtains and even rugs to mix and match different textures and materials. So, not only do you automatically get more color options with these details, but you also get to cozy up the space.
4. Wall galleries are always welcome
Just because you're working with a kitchen area (and not a living room or bedroom), you are not limited to the design styles and trends. Actually, mixing and matching different things and erasing the borders between the different rooms makes for some of the biggest home design trends these days. With that in mind, don't hesitate to utilize your walls. Wall displays/wall galleries are truly an interesting manner of decorating any vertical space. Doing this in the kitchen will allow you to introduce more personality and uniqueness to this room. Of course, you can use kitchen-themed wall galleries, but you can also combine the hanging utensils with something completely different such as records and neon signs. Obviously, you can happily settle for the usual wall art and décor if that's something you prefer. The important thing is not to hesitate to pour all your creativity and personality into this particular project.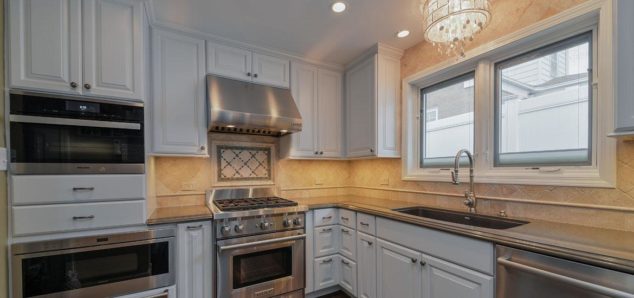 5. Light it up properly
You can't enjoy a kitchen that lacks proper lighting. Therefore, it would be best to utilize as much natural light as possible. Glossy tiles and finishes can help with that as well. And, in case you have a small kitchen space, you might want to consider the idea of using mirrors for wall art. But, if you generally lack effective lighting solution when it comes to task lighting, don't hesitate to make the most out of the efficient LED light strips. And, if you want something completely different, ambient lighting options such as unique lamp and chandelier covers and even fairy lights can definitely make an impact.
When you're playing with the design possibilities of your kitchen, always keep in mind that functionality should be your priority. This is especially true for people who'd like to redesign their kitchen from scratch. A functional space to move and cook is paramount. Also, always consider the storage options, as this is one of the most important kitchen essentials.