When seasons change, it's usually a sign that our home décor could use an upgrade and update too. If you're thinking of remodeling your living room or if you're just looking to jazz it up, we're here to help you out. We've put together a list of creative decorating ideas that are easy to implement in pretty much any room and that will make your home look cool and chic without too much money and effort. Read on to find inspiration for your next decorating project:
Throw pillows
Cool and chic rooms are always super-cozy, and is there a better way to add coziness than with throw pillows on the couch and armchair? We think not! Throw pillows are adorable, they help make everyone sitting on the couch more comfortable, and they can also be very stylish. Fortunately, all you need to do is change the pillowcases and the room will look different. You can get sequins, faux fur, embroidery, brocade, wool, and even take it to the next level and make your own pillowcases. You can do this with your old T-shirts and sweaters, and there are also handy tutorials that don't require the use of sewing machines and needles either.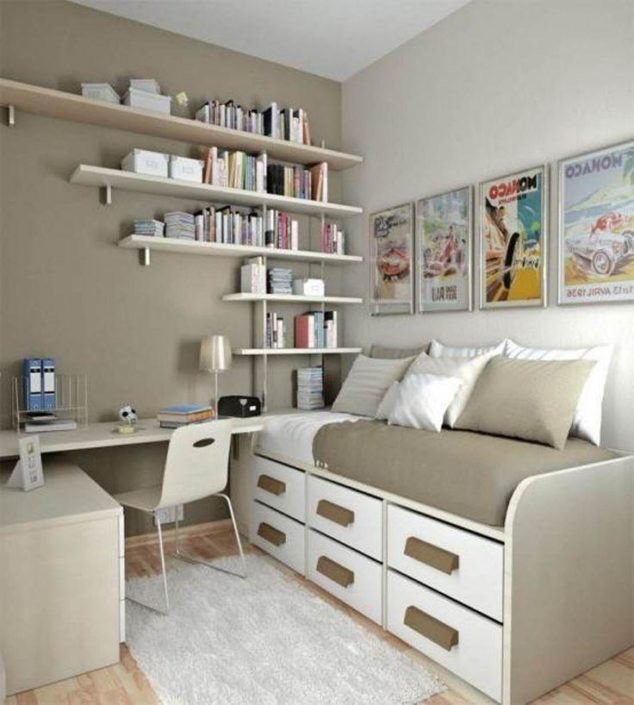 Fluffy rugs
Adding depth to the design of your room has never been this easy – all you need to do is play with different textures and materials and you'll be pleasantly surprised with the result. The simplest way is to use different types of floor rugs because these will manage to accentuate different parts of the room (depending on where you want to place them). You can keep them in the middle of the room, in front of the couch, under the dining room or a coffee table… You can also choose an interesting pattern that will really stand out and complement the rest of the room. It doesn't matter if you're a fan of rustic design, geometric print, or intricate, oriental rugs, you will surely manage to find something that will make your room cozier and more chic.
An accent wall
We all know that painting a room usually means that all walls will be the same color, but why not change this tradition and try something a bit more exciting? Having an accent wall is a great way to add depth to a room, especially if it's a stark contrast to the other walls. Some people choose to put on wall stickers, others opt for wallpapers, and there are also those who decide to paint the wall with chalkboard paint and get creative with colored chalks. Sometimes, an accent wall doesn't mean different color – it can be the wall where the majority of your art collection will be placed: pictures, mirrors, photos, and shelves with your rock collection.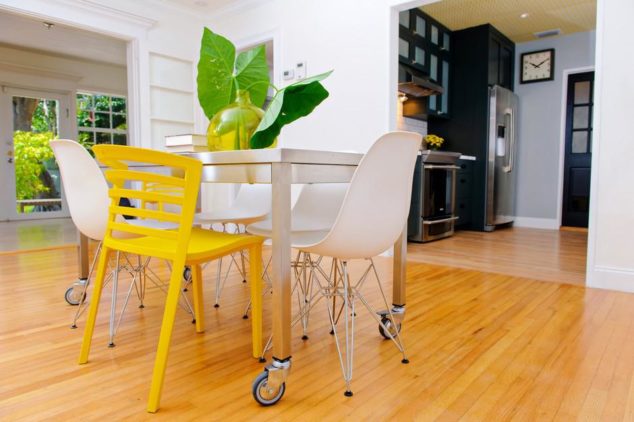 Bring the seasons inside
There is nothing better than having a little bit of the outdoors in your home. You can look through the window and enjoy the view, but if you bring nature in, you'll enjoy it immensely. Flower bouquets are a good idea, but you could also arrange dried twigs in mason jars and add nuts and seeds to create adorable centerpieces for your living room table.
String art
Not everyone has a knack for arts, but it doesn't mean that we can't make an effort and produce something we'll be proud of. Making string art is incredibly easy, and finished pieces look stylish and adorable, making it easy to add them to any room. You can make string art for pretty much every room in your house: bathroom, living room, nursery, and bedroom, and you can get as creative as you'd like. What is more, stringing is also therapeutic and you will enjoy creating the pieces too.
Keeping up with the latest trends isn't always easy, especially in interior design, but it doesn't mean you can't implement some of the elements you love into your home décor. Keep an eye on new trends and when you find something you like, try to find a way to incorporate it into your living room. In the end, your home might look like a professional interior designer has spent long hours decorating it, when in reality it's just been you, looking for ways to brighten up the room.
External appearance
Beyond working on a home's internal areas, it is always a good and refreshing option to do a little trick to the the external appearance of a house too. For instance a nice little touch the main entrance of a home could also set a special atmosphere to make it a bit more than just coming and going through a door… It works especially well if a certain door decoration is done in the mood of the ever changing seasons. That way we could be thinking in seasons such as autumn or a spring door decoration.