Deciding to tackle the entire home renovation project on your own can seem like too big of a challenge. Planning, creating a budget, and tackling some tasks on your own is not something everyone can do, but those who are brave enough to venture into this type of project understand how rewarding it can be to design your own home. In order to make the whole process run smoothly, we've prepared some tips to help you plan your DIY home renovation. Read on to learn what they are.
Write a detailed plan about the size of your home renovation
Of course, you can't start renovating your home without a detailed plan. First of all, you need to determine the size of your renovation project – will it involve the whole house or just certain rooms? As you carefully plan out the scope of your project, think about what needs to be installed, updated, or replaced. Write down which room requires what, and then, do a walkthrough with the list in your hands to double-check if you got everything down. Once you've covered the basics, it is time to address the other things that you want from your project. Make a list of things you've always wanted – a larger list will make it easier to downsize once you determine your budget and cross out the things from the list that are not really a necessity. Last but not least, determine the timeline of your project. AC installation needs to come before plumbing and electrical work, so make sure you do those things in that order.
Realize that you can't do

everything

on your own
Even though home renovation can be full of exciting DIY projects, not all home improvement projects can be DIY. There are some things that require the help of the professional in order to be installed properly. That is why many homeowners from Australia opt for an experienced electrician in Sutherland to get their electrical wiring and circuitry installed professionally. By undertaking this project on your own, when you have no prior experience or knowledge about the subject, you're exposing yourself to a variety of risks. Not to mention the fact that you won't be able to sell your house in the future since all electrical work needs to be certified. Also, besides hiring an electrician, you'll need a variety of other subcontractors as well, such as a plumber, tile installer, and a drywall installer to make sure all major work is done properly.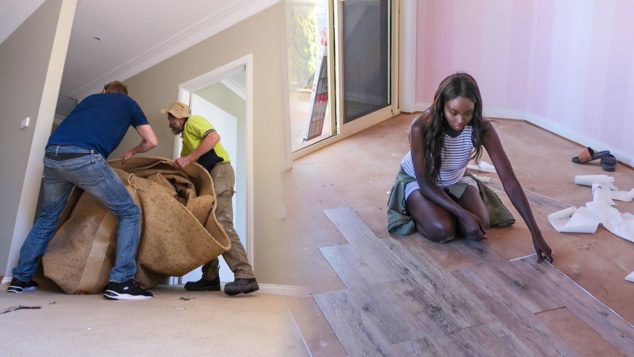 Set financial boundaries to avoid overspending
Some financial boundaries need to be set when you first venture into a DIY home renovation project. It might be tempting to splurge on different things, but reckless spending won't get you anywhere. After you've made your to-do list and roughly estimated the cost of your renovation projects, you'll need to tackle your reno budget. Remove some things from the list to make it more realistic (you don't need that gold wireless light switch anyway). Although you can let yourself splurge on several items your heart desires, like granite countertops or that fine leather sofa you've been eyeing for a while, do it only after you've calculated the amount needed for your top renovation priorities. Include all the costs of the renovation on your list, including materials, labor, and truck rentals, and make sure they all fit into your budget to spare yourself the hassle of having to downsize unexpectedly.
Use design apps for your home renovation
Gone are the times of sketching your designs on a sheet of paper – the era of technology brought us many advantages when it comes to visually representing our ideas, so today we are able to design our entire home with ease, by using digital design. There are certain design apps that can help you with home renovation, which can be useful for homeowners who decide to DIY most of the things involved in their renovation project, and most of them are compatible with our smartphones. These apps are great for planning and organizing your renovation project, as you have access to all your room measurements and indoor data which you can then easily share with professionals working on renovating your home. Design apps let you visualize the improvements needed throughout the house and some of them can help you create tasks, set deadlines and track each one of them.
Even though DIY home renovation might seem daunting to some, for others it can be incredibly fulfilling to see the fruits of their labor, making the whole project worthwhile. Use the tips we mentioned above to help your home renovation run more smoothly, roll up your sleeves, and start designing the house of your dreams.