To acquire funds, you'll be expected to create a business plan and pitch deck as a founder or business development professional. These documents serve to convey critical information and highlight your worth. Infographics that have been carefully created can change a business plan from a basic proposal to a powerful marketing tool.
If you want to create a far more exciting business plan for yourself, your employees, clients, and investors, utilizing infographics to achieve this is a must.
There are many different ways that infographics can impact your business plan. They can help you visualize your data, make it more understandable to others, and help you communicate your ideas more effectively. That's why we cannot stress its importance enough.
Here are ways that infographics can make your business plan impressive.
They can help you to visualize your data.
Trying to explain your business plan to someone using only numbers and text can be daunting, but infographics can help to make the data more digestible and visually appealing.
By representing your data graphically, you can more easily highlight trends and relationships that might otherwise be difficult to spot. You can also use infographics to communicate complex ideas quickly and effectively.
They can make your data more understandable to others.
Have you ever created a presentation for work, only to have your audience's eyes glass over when you start talking about data? If so, you know how important it is to find ways to make your information more engaging.
You need infographics to present information visually and communicate complex ideas. Hence, it can help your audience understand your data and see its relevance to your business plan.
They can help you to share your ideas more effectively.
If you're like most people, you probably think of infographics as being primarily visual. However, they can be a very effective way to communicate your ideas for your business plan. It is because they can help you to organize and present information in a way that is easy to understand and remember. In addition, infographics can help you to make complex concepts more accessible to your audience. For example, if you're trying to explain the potential market for your product, an infographic can provide a clear and concise overview that will help your reader to see the big picture.
They can improve the overall look of your business plan.
A well-designed business plan is essential for any company. It helps to provide a roadmap for success and can be used to secure funding from investors. However, many business plans are dull and uninspiring.
Using the best infographics can help to solve this problem by adding visual interest and making complex data more accessible. For example, you can quickly convey important information about your company's strengths, weaknesses, opportunities, and threats using an infographic SWOT analysis template. In addition, infographics can be used throughout your business plan to break up long blocks of text and add visual interest.
They can help you to save time and money by eliminating the need for expensive data visualization software.
Creating an engaging and informative business plan can be a time-consuming task. Not only do you need to gather data and compile financial projections, but you also need to find a way to present all of this information in a clear and visually appealing way.
One option is to use infographics. A creative infographic can help you to quickly and easily convey complex information in a visually appealing format. In addition, it can save you money by eliminating the need for expensive data visualization software. You can create a professional-looking business plan without spending much time or money on design.
An online infographic creator is affordable and has free templates, so you don't have to spend much.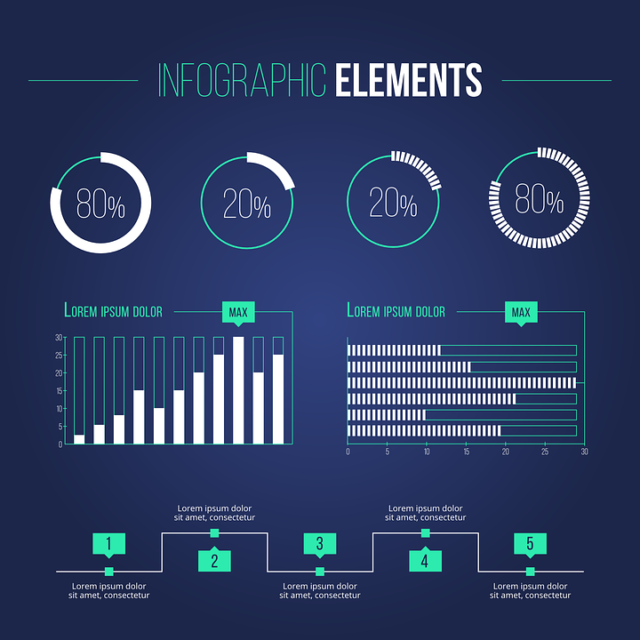 They can help you to create a more effective marketing campaign.
If you're looking for a way to take your marketing campaign to the next level, you may consider using infographics. They can be incredibly effective in multiple ways.
First, they help make complex information more easily digestible for your audience. They can also help to increase brand awareness and engagement, as people are more likely to share infographics that they find interesting or valuable.
Additionally, infographics can help you to stand out from the competition, as they offer a unique and visually appealing way to share your message.
They can help create models to illustrate companies positioning.
Your business plan is one of the essential documents you'll produce as an entrepreneur. It's a roadmap for your business that outlines your goals, strategies, and how you plan to achieve them.
While there's no one-size-fits-all approach to creating a business plan, you should include certain elements. One is a positioning statement, where infographic making can be helpful. A positioning statement briefly describes your target market and how you intend to position your company within it.
A Quadrant chart or matrix model can be used to illustrate your positioning statement visually. It can help communicate your business plan to potential investors or lenders, providing a clear and concise overview of your company's competitive landscape. Infographics can also create other visual elements in your business plans, such as a timeline, flowchart, organizational chart, and graph.
Conclusion
The purpose of business plans is to provide crucial facts and data, such as market activity and growth, as well as anticipated revenues and return on investment. In these situations, infographics become a valuable tool to make business plans look more professional and understandable.
You can use online creators like Venngage and try on multiple templates to find the perfect infographic template for your needs. Sign up today and access all the content, from reporting to newsletter layouts.