The autumn has come again and it charms us with its beautiful dress of fall flowers that cover the streets of the neighborhood. Picking some of them and bringing them home is an easy way to stay in touch with the seasons outside. Preparing your autumn decoration is a really simple task. You only need the beauty of nature and the rest is few advices from us, the Founterior team. You can consider yourself a lucky person if the place where you live in has autumn leaves in fascinating shades of red, yellow and orange. And now, let's have a look of what are this season't most inspiring autumn decorating ideas.
A tree of autumn leaves like this one from the image brings a rustic touch in your room interior. The great part is that when you decorate your table, for example, you do not need some extra rearranging of furniture in order to focus the attention on the decor item. The beauty of nature has enough power to shine by its own and become the focal point of the room. In this case, you can see the beautiful contrast of natural elements and polished interior. The clue to this fantastic fall tree is to pick some fallen branches from the street outside and put them in your favorite vase.
This simple autumn centerpiece is simply astonishing. Your ordinary candleholders (in case they provide enough surface like this one) can quickly become a leading autumn motif in the room by adding two or three candles in them and surround them with autumn leaves and acorns. In this specific example the candles are electric because they are safe enough with the dry autumn leaves. Be sure not to use real candles or unless don't light them up. Sometimes decorations are only for beauty, not for functional needs.
A white candle, glass candlestick and a clear glass vase are the perfect item for decoration with autumn leaves. Just select the proper combination of colors and fill them to the top. You will be amazed by the feel they create and the easiness of their placement.
Did you though that we will leave the previous example in an empty state? You if do, you simply don't know us, the Founterior team! Now, this is the final appearance of the previous items. They are hot glued together and filled with leaves. This a great DIY way to bring the autumn atmosphere right into your living room.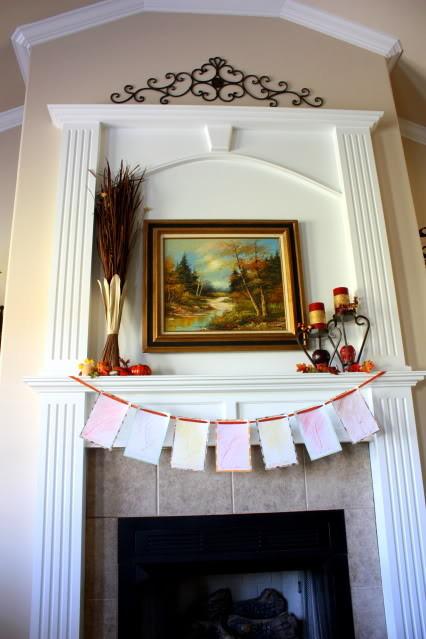 Every little member of the family loves to help his parents when they are about to decorate their home. An easy way to involve the children is to make a cute fall garland like this one.
Now, the secret from the garland in the previous image is revealed. But the most creative part is just about to be explored. Go in front of your home out there in the street and find the best autumn leaves. Then, put them underneath a sheet of white paper and use colorful pencils in order to paint the sheets. This is the best part, because even your kids can take part in the action. After you finish the paint job, make a hole in each piece of paper and string them up with some kind of ribbon. And ta – da…… you have a beautiful autumn garland!.
The next garland has more rustic appearance, yet unique. It is a clever combination of hand-forged metal leaves and natural elements. The result is spectacular.
A closer look shows all the elements used for the garland. Birch discs and acorns work perfectly well together with black walnuts, lined in a row. In order to be create, don't stick to this idea – go outside your home and find the strangest possible objects that can be arranged in a garland that has an autumn spirit. Of course, the seasonal leaves and flowers are a must.
Using autumn leaves instead of pictures is a great idea, we must confess. This simple and elegant interior solution provides extra seasonal atmosphere. In fact, the leaves are plastic and they are wrapped with black picture frame on a white background. Thus, the brilliance of autumn colors reveals their charm.
Does this look like a dream catcher to you? Actually, it is a window peace that can be placed at the facade windows. The item itself softens the sunlight coming from outside and filters it through the colors of autumn. Making such a decorative elements is an easy DIY trick. You only need to cut contact paper into a suitable shape, insert the collected autumn leaves in it and then punch the holes around the edge. No need to mention that you should a ribbon by your choice through the holes that will stick the paper to a metal ring.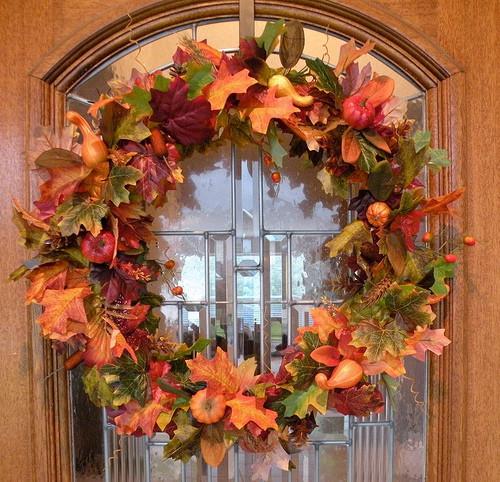 The front door wreaths are a typical Halloween decorative elements, but this doesn't mean that you can't use such autumn colors for your entry. If you want to make one, go to the local dollar store and buy some artificial leaves. Of course, there is a possibility to collect real leaves around your place – it is up to you. Don't forget to buy some glue in both case, because it is needed to attach the leaves to the wreath base. Now, when you are ready, place it at your door and enjoy the magical ambiance.
And the last, but not least – sweet autumn jar. The girls will love it! Pssst, it's not a jar, it's a candleholder! You can do it this way:
1. Dry and press fall leaves for one night;
2. Dry a mason jar;
3. Apply Mod Podge all over it;
4. Press the leaves;
5. Apply Mod Podge all over it once again;
6. Let it dry;
7. Apply Mod Podge all over it once again;
8. Let it dry;
9. Spray it with acrylic spray;
10. Enjoy 🙂
Now, let us find what you think about this great ideas! Tells us in the comment section below which one do you like best!