Flooring can be one of the big debates when it re-doing your home. There are just so many options to choose from, and they each offer different pros and cons. The aesthetic of the material comes into play in a big way when deciding, but the functionality also needs to be considered. For instance, tile is easy to clean, durable, and water resistant which makes it an ideal choice for a bathrooms. Unfortunately it doesn't hold heat well so it might not be recommended for a bedroom. These are the things to keep in mind when it comes to flooring. Two of the most popular materials are of course carpeting and hardwood flooring. They are also often utilized in the same kinds of rooms. So how do you decide which one is best for your home?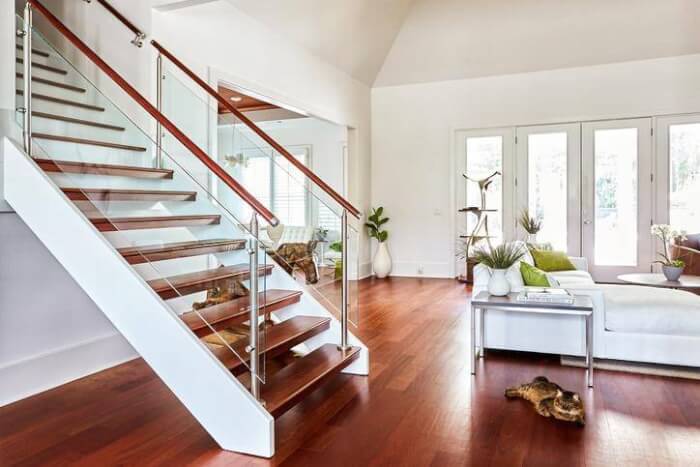 What is Hardwood?
Hardwood flooring has been a popular choice of flooring for centuries. It is timeless, durable, and never goes out of style. These reasons have made it a go-to for countless homeowners even today. When considering this as a flooring choice though, the first question that needs to be answered is what exactly hardwood is. To be "hardwood" is has to be 100% wood, with each plank being a single and solid piece. This is different from engineered wood which is a plank constructed from a few different layers. Both have their benefits and challenges of course, but they still offer the same aesthetic and can last for years when properly cared for.
Keep in mind that not all woods are made the same either. Some are more scratch-resistant than others. While they might not be the idea shade, it still might be worth investing in the most durable wood. Different finishes can be applied to achieve the look that you want. Be sure to talk to your hardwood suppliers to get exactly what you want.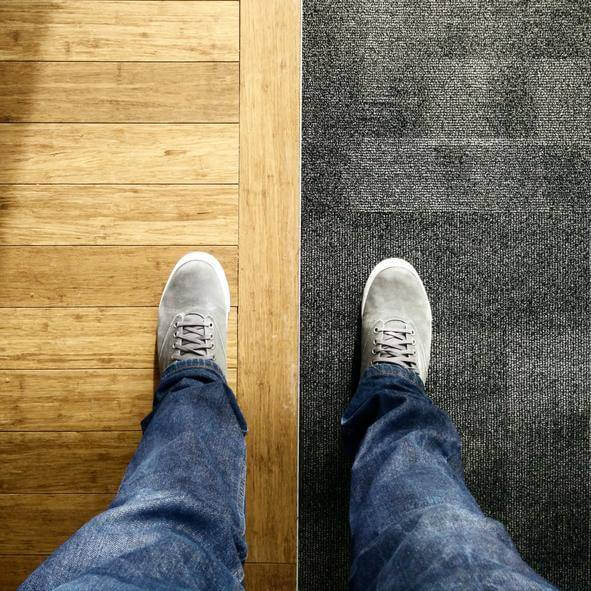 Hardwood vs. Carpet
Hardwood – Some of the virtues of hardwood have already been mentioned. It is timeless and rich in appearance while also being very durable. Even if it does suffer some damage, it can easily be refinished to appear as good as new. It is important to note that this is only possible for hardwood, not engineered wood. Beyond this though, hardwood is a sleek and hard surface meaning that it is easy to clean. You can easily sweep debris up and do a dry clean of the floor. This won't take anytime at all.
The nature of the surface also means that it is good for household that have people with allergies. Pet fur and dust don't get caught in hardwood the same way that it can with carpets. A quick sweep will effectively get rid of all of these allergens. The fact that it is an ecologically-friendly material might also please some homeowners.
The trees that the wood comes from can be replaced and renewed, which is always good news. Those very concerned with environmentally friendly materials might just want to look into the company further to research their harvesting methods. Finally, hardwood is a versatile material. You can leave it bare for a dramatic and natural effect, but you could also use a throw rug. This is an especially tempting thought in the cold months,
Carpet – One of the biggest selling points for carpets is their comfort and warmth. Carpet is warmer than hardwood thanks to its material and this is most often appreciated in the coldest months of the year. You don't have to worry about cold feet when you get out of bed in the morning. Thanks to the cushion-like quality it possesses, carpet from carpet to go can also help with muffling sounds and soften a fall. Due to this carpet is a great option to consider in children's bedrooms. It will keep them warm and maybe even reduce their bruise count.
Finally, a huge perk of getting carpet installed is the price-point. It is an economic choice to make for every home, but no one has to know that. I can be up to a quarter of the price of hardwood, ringing in at about & $1.00 per square foot at times. That being said, it is important to understand that it does not last as long. If you're going to be in your home long term, the carpet will most likely have to be replaced in the coming years.