SLIDE DESIGN
Not just furnishing, but furniture eradicating light is what company Slide has promoted since its establishment in 2002. Functionality and aesthetics, requisite for the environment we inhabit, are materialized in innovative, practical articles of simple yet ironic design. Characteristic features of all products are that they eradicate light, attract with a variety of colors, provoke with their irony. The wide range of products includes sitting furniture, tables, lamps, vases and shelves.
Designed in playful shapes and bright colors, they create the unique atmosphere of Slide. The creation of products is built upon three core principles. The insight and ideas of Italian and international designers are materialized through the ordinary plastic material polyethylene.
The silhouette of the products is achieved via the production technique, called rotational moulding.
The material, used in the manufacturing of furniture and accessories, makes them equally suitable for indoor or outdoor activities. Along with that the design is oriented to arrange a modern atmosphere, both in the home and in public places.
The conceptual design behind the project has been developed by Slide.
Beautiful and modern vases.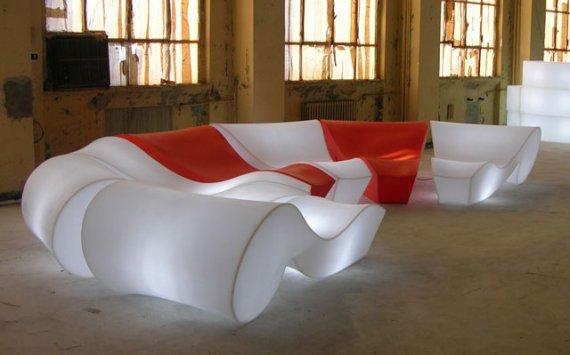 This futuristic modular sofa has led lighting for greater effect.
The futuristic interior of the place is achieved by using Slide's objects.
The sofa has a completely modern outlook.
This is one fantastic piece of modern furniture, a simply beautiful.
Here is something for the kids.
The design of the object has been conceptual in the beginning. Now, it is a fact!