McDonald's Building in Batumi
McDonald's is a true legend in the fast food business. Their restaurants has always been impressing visitors witch fresh interior and remarkable architecture. So is the following contemporary building, located in Batumi, Georgia. It also includes fuel station, some recreational areas and a pool.
The architect Giorgi Khmaladze and his team made a really impressive job on this building. They have separated the dining area and the vehicle service area in such a way, that the two functional spaces are existing in perfect balance. The designer lines are coherent and create a sense for an overall building. Thus a restaurant customer wont be able to see what is happening on the gas station, in fact a thing, that may disturb his restful mood, and on the other hand, a person that has stopped to fuel his car wont be able to see the restaurant. Of course, McDonald's signs are everywhere, so he will definitely know that he can have some fast food there, and maybe he will do so. Clever developed, isn't it?
The building has a relatively small footprint and the surrounding functional areas are grouped in order to be easily accessible.
The restaurant area starts from the lobby and has a entrance that has been separate from the fuel station one. A very smart architectural decision was to make the floor stepping upwards and thus connecting gently the ground and the upper floor where dining spaces are spread in a perfect order.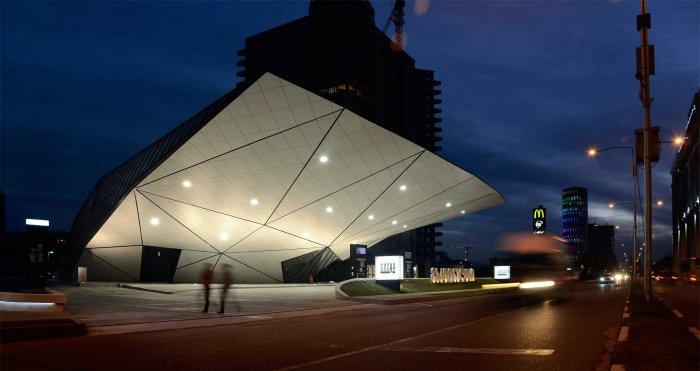 If you visit this fantastic place you will be amazed from the nice view towards the water features which are surrounding a part of the building. You will definitely feel the tranquility flowing in the atmosphere!
The passion is another feature that you will simple love. It is closed for curious passers-by and is a wonderful relax in the sun, after the pleasant meal, after refueling the car. The circle has been closed. Now, take a look at the rest of the images.