This workplace is designed with extraordinary design that will provide its employees an inspirational working environment and creativity. We all know that the workplace is important because it affects our results. For example, as the most efficient specialists outline the home backyard office, but if you can't afford it, you need to have e good working environment at your public office.
One Workspace is located in Santa Clara, California. It used to work with several technology companies from the Silicon Valley. The designers from Design Blitz had the difficult task to create an emotional environment that needed to create positive mood when spending time in it – both for workers and visitors. That's why when entering the office, you will be impressed by the spaciousness and the inner organization of functional areas, that have been achieved by the famous architect studio.
The 35,000 square feet of office space are enough for the convenience of the employees. There are also 180,000 square feet of storage space that are ready to come at hand in case if need. As for the outer appearance of the building we must admit that it looks a little bit raw in design. However, the interior is, as we already said, really cozy and welcoming. The name of the company is engraved on the facade, thus branding the building and allowing its clear recognition.
The disposition of the areas is well planned enough in order to satisfy the workers need. There are coffee and lounge areas where they can go and have a break whenever they need to. Colorful design accents can be find as motives for inspiration.The designers also had in mind the workers' health and chose to place really comfortable office chairs, so that they can be able to work in the best conditions possible at the present moment.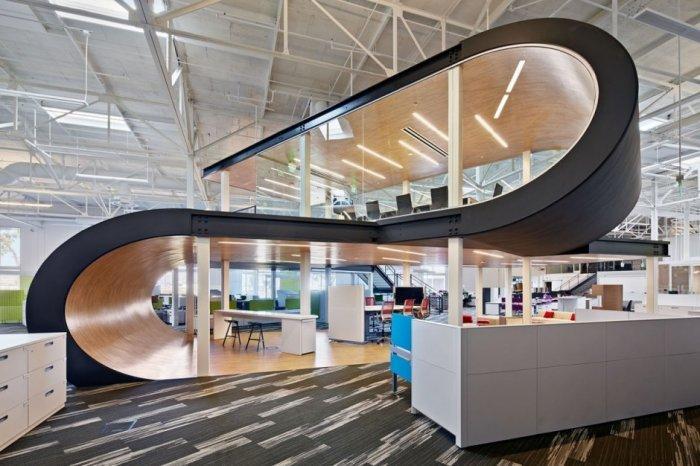 See the other images of the project by clicking them below:
[lg_folder folder="Contemporary Office Architecture – One Workspace by Design Blitz -Gallery/"]