This small building is actually an office for people who love to work from their homes. What makes it really convenient is that it is built in the backyard. It is practical and it saves you time avoiding all the annoying traffic in the crowded urban areas. Being near your home and working at the office at the same time has its advantages. Scroll ling down you will see more backyard offices.
Image 1:
If we pay attention on the design of backyard offices we can see that there are various stylish types. This way when we build our home office in the yard, we also add some stylish accents in it and make it look more contemporary. The WorkPod by Ecospace is a good example for this. It takes just a little space in the yard but it will be enough to move freely inside and put a working desk.
Image 2:
This exciting round shaped office called Archipod resembles a pine cone because of its surface. The office is big enough inside to accommodate everything needed for a working environment. It fits well with any kind of contemporary landscape and can be your desired inspiration for work.
Image 3:
This is another interesting project called Blob VB3 with a shape of an egg. The designers form dmvA made it practical and functioanl as it can be used not only for an office space but also for a sleeping area. Yes, you can have your afternoon nap there! There is also another application for this gorgeous office – if you have an extra guest staying for the night at your place and don't have enough space inside the house, you can accommodate it there – he'll be charmed.
Image 4:
For those who require high concentration and insulation, this is office is the right solution. It was built from recycled materials. OfficePOD creates a secluded environment that allows you working more concentrated when this is essential for your job. The style is contemporary and exquisite providing much comfort in the working process.
Image 5:
Who may think that this is a recording studio? Wooden logs cover the metal structure and thus the outer appearance merges with the forest around. Piet Hein Eek designed this small studio for Hans Liberg in order to create an inspirational center where ideas flow one after another – something really important for a modern entertainer.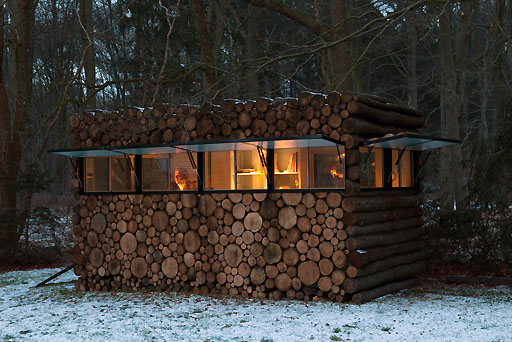 Image 6:
This place is completely immersed in the nature. It is big enough to have its own lighting system, heating central, power outlets and even a small bathroom or, just imagine!, a kitchen. Actually, once you get to the office, you wont need to go to your main house when you need something – you may bring everything needed there. The project Garden Studio has been designed by UK company in.it studio.