So you've just bought a new apartment. It's your first time away from home and you don't have much left over to make the place look nice. There's still a lot you can do to make your new place feel more like home.
Buy Used Furniture
Of course the easiest way to save a lot of money when decorating, especially when you're decorating from scratch is to buy your furniture used instead of new.
Many new apartment owners make the mistake of decorating with cheap furniture to keep their costs down but this will just cost you more money in the long run. Cheap furniture is more likely to chip, crack and ultimately break. That's why buying high quality used furniture is your best option for keeping the price down, without having to break the bank later when your furniture starts falling apart 6 months on.
Fix the Walls
One of the most overlooked and easy to fix features in your new apartment will be its walls. Walls are often cracked or have dents or small holes in them. This is something that is super easy and quick to fix and won't hurt your wallet. Take a little wall putty to your walls, wait for it to dry and sand it down before painting.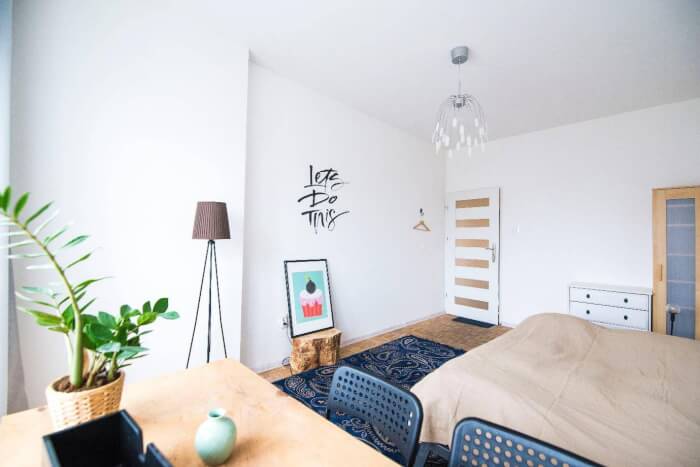 it's a little thing but it makes a big difference to the feel of your new home. Choose whatever paint colour you like whether daring and red or a calming white to put your own stamp on your new place. Finally hang up some art prints to create a focus to the room. You don't need to spend big here. You can even use some of your old posters from your bedroom at your parents place, simply frame them and hang for a new adult-you look.
DIY Everything
Okay, maybe not everything. There are some things that are definitely better left to the professionals but it's a good idea to get practicing with your DIY skills. If you have no DIY skills to speak of then this is the perfect time to learn some new tricks. When decorating or even maintaining your new apartment it will cost you a fortune to outsource all of the small jobs that you could potentially do yourself like puttying up the walls and painting as above, or even re-caulking old windows. If you're unsure of what you can safely do yourself, following DIY blogs and watching YouTube clips of certain jobs you find yourself needing to do should help you along.

Lighting
A little light goes a long way when it comes to decorating a home. Not only is lighting essential, it also helps to set the mood of your place. Consider the style of your home when choosing any new light fittings or lamps. When trying to keep things cheap, you can probably make do with whatever lighting is already in the kitchen and bathroom but don't skimp (light wise – not money wise) on lighting for the living rooms. Good lighting makes such a difference to the room. This is another good area where it pays to buy second-hand. A quality fixture is always going to outlast a new but cheap alternative.