Planning the perfect dinner party is all about the details. From the perfect floral centerpiece to intricately folded napkins, there are many elements that go into creating an unforgettable tablescape.
Although decor may be top of mind when preparing for a party, knowing proper table setting etiquette is equally as important. Whether you're planning a formal or a casual event, there are certain rules to consider when setting the perfect table for your guests.
That's why Invaluable created these visual guides on silverware placement to help walk you through how to create the perfect table setting for any occasion. In these visuals, they'll show you the different types of silverware, where to place them, common table settings you can use for any occasion. They even include a few table styling tips for one of the most important occasions of all — weddings!
Proper Silverware Placement
This guide shows the 11 most common types of silverware. It includes the measurements for each type, when to use them, and tips on where to place them in a proper table setting.

Rules and Tips
Only place silverware that will be utilized during the meal. For example, if a fish entree will not be served, don't place a fish fork.
Forks are typically placed to the left of the plate, except for oyster and dessert forks. Spoons are typically placed to the right of the plate, with the exception of the dessert spoon.
Utensils should be placed in order of use from the outside working inwards.
Knife blades should always be facing the plate.
Napkins can either go to the left of the fork, or on top of the plate before service.
Types of Table Settings: Basic and Formal
Whether you're planning a luxurious 5-course meal for a wedding reception, or inviting a few friends over for a casual dinner party at home, there's a table setting for every occasion. Below, we'll show you two types of table settings: basic and formal.
Basic Table Setting
The basic table setting is perfect for casual get-togethers with close friends and family. Just as the name entails, the basic table setting contains just the basic or most essential utensils and dishware.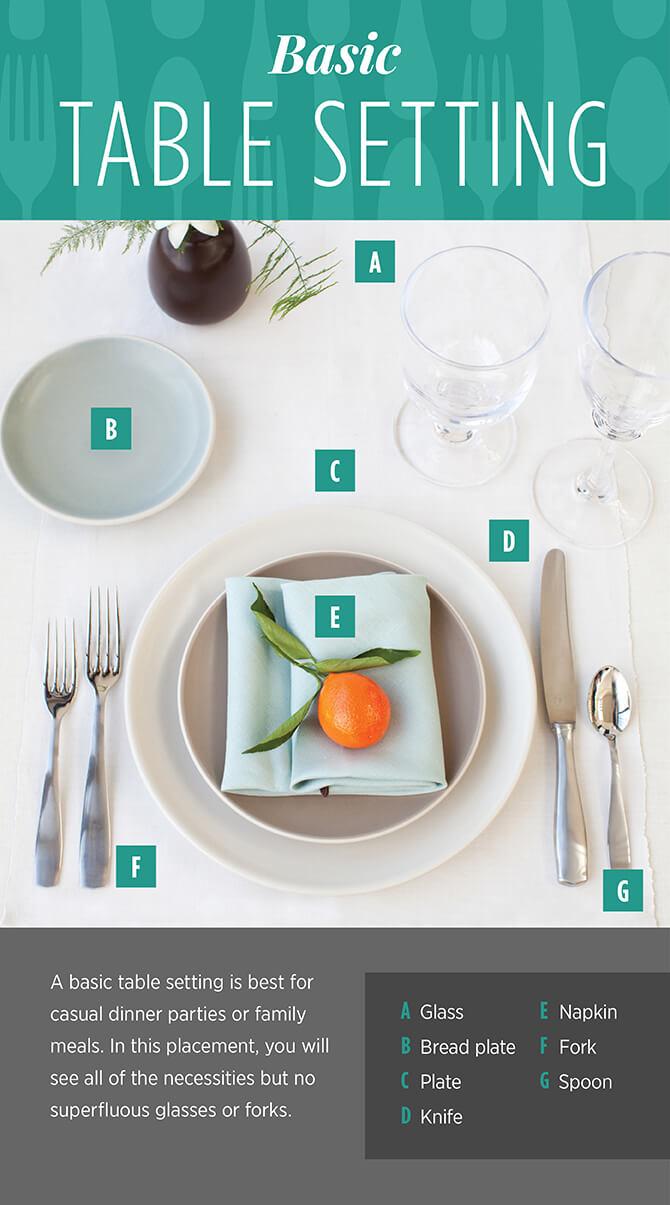 Formal Table Setting
The formal table setting contains a few more utensils and dishware compared to the basic table setting. For example, this type of table setting usually contains multiple types of glasses, silverware for specific dishes like dessert, seafood, and salads.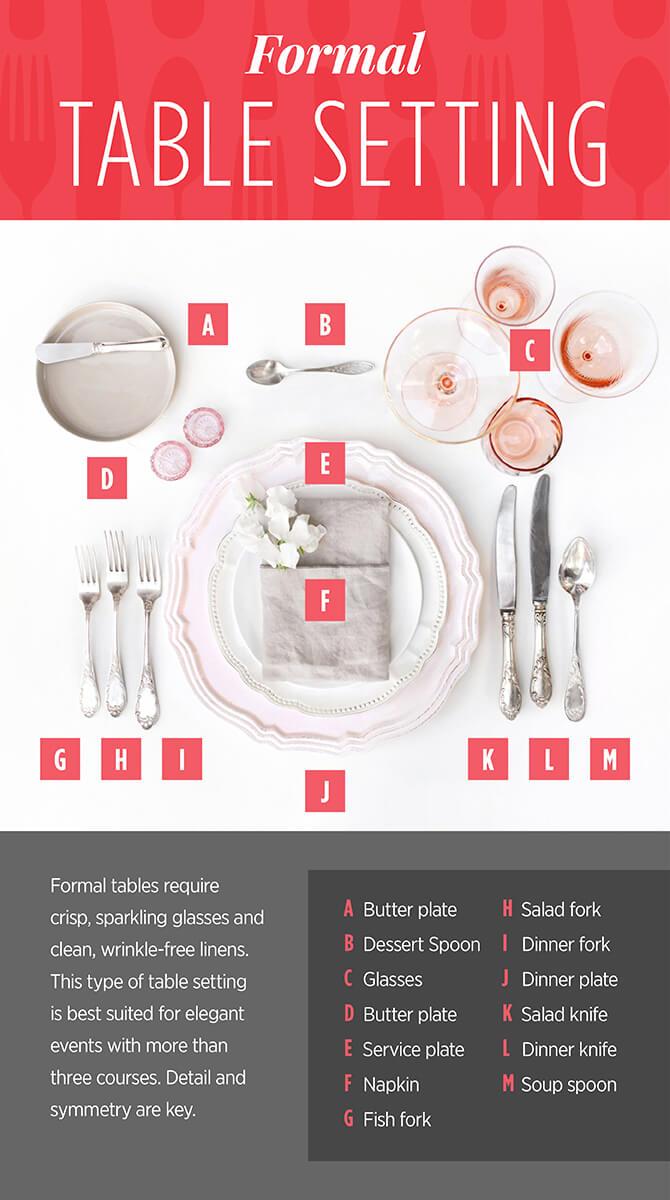 Wedding Table Styling Tips
Since a wedding reception is one of the most important occasions of all, it's important to have a tablescape that your guests will never forget!
There are many creative ways to decorate a table setting, from layering different textures together to create interest to adding flowers and greenery to liven up each guest's place at the table. Check out the tips below!

Image credits: Yonder Design | Michael Radford | Kayla Barker