Is your home due for a design update? Do you want to renovate from floor to ceiling? Or maybe you are just after a quick fix that will still give your place a completely new vibe? We assure you that with the decorating ideas we offer you in this article, the possibilities are nearly endless! These trendy,  decorating ideas will spark your creativity, and with a few days of work, and an advanced planned budget, you can give your home a dramatic facelift.
Your Entryway
The entryway can easily be neglected when decorating since technically is not even its own room. However, your entryway serves as your guests', but also your first look into your home.  With the right design and decor, you can add a bold look for this part of your home. Even if it isn't exactly large, having hooks for outerwear is normal. But, we encourage you to think outside of the box. Use the space to add artwork, so that it immediately catches the eye and attention of anyone who walks through the front door. To define and draw attention to the area, paint the door a bold color. Or, simply add a rug that expresses your personality. Choose, for example, pattern rug that will add visual interest to your entryway, but it will also hide dirt and grime temporarily until you have a chance to clean. Take your time and browse rugs for sale if you want to stick to your planned budget. Implement one of these (or all of them) ideas, and you'll definitely create an impression that welcomes and wows.
The Living Room
One of our favorite design updates for a living room is a reading nook. This corner of your living room is easy to create since all you need is a bench with a few pillows in front of your bookcase. If your space allows it and you are up for a more vacation-like feeling, try hanging a "birdcage" chair which will let you sway gently as you read your favorite magazine or book.
Lighting is essential in a room and can impact how everything else looks. According to interior designers, living rooms require ambient, task, and accent lighting. Ambient light provides your room with overall illumination, task lights direct light to certain zones, and accent lights highlight specific objects, such as paintings, sculptures, or books in the room.
Setting up a bar station in your living room can be an exciting update. More interestingly, using it as an end table (especially when space is limited) to display blooms or art is just amazing. You can also experiment with the walls around it by adding some new art pieces.
Your Bedroom
The bed is the most focal point of a bedroom. There are so many available options when it comes to buying a new bed or bed frame –  from something luxurious to something a little more old-school or vintage. Regardless of the style, our advice is to go big! A big bed allows you to shift around in your sleep, but it is also beautiful. This, of course, if your bedroom allows it. Also, the mattress you choose depends totally on personal preferences, but it is absolutely critical to enable you to sleep well. The right model will fit your particular needs and will make a big difference in the rest your body gets each night. There are seemingly endless options, but we recommend you to take the time to research online the possibilities within your price range and read king size mattress reviews before heading to a mattress store to test them.
Another bedroom decorating idea for an added touch of luxury – have more (two to six)  pillows on your bed. Place the larger pillows towards the back, and the smaller pillows towards the front, and do not be afraid to mix different colors and match different patterns.
If your budget allows it, another popular decorating idea used by designers is to have a fantastic chandelier over your bed. This will make the bed an even more amazing focal point, not to mention that it will add a touch of glamour and romance to the room.
The Kitchen and Dining Room
Coloring your kitchen walls is one of the fastest and most inexpensive ways to update your kitchen. And the brighter the paint color you use, the bigger your kitchen will look. Painting your kitchen white, soft yellow or blue can brighten up the area and make it look larger, crisper, and cleaner. If you are in a mood for something more trendy (and useful), add a kitchen backsplash as a decor focal point. It will not only protect the wall from liquids and water but will also define the style of your work area, and reflect the mood and feel of your cooking space.
Of all the kitchen paint trends, painting the floors is our favorite. Painted floors aren't per se low-cost, but they are cheaper than refinishing or replacing wood floors in an old house. Coat the floors in a glossy layer of paint to really brighten things up. The bonus here is that if they are glossy enough, they will be easy to clean.
If you have a dining room and are looking for a fun and exciting way to instantly update this space, we suggest testing the waters with an accent wall. An accent wall visually jumps out at you. It will be a bold and unique focal point that can add a beautiful pattern and color to your dining room.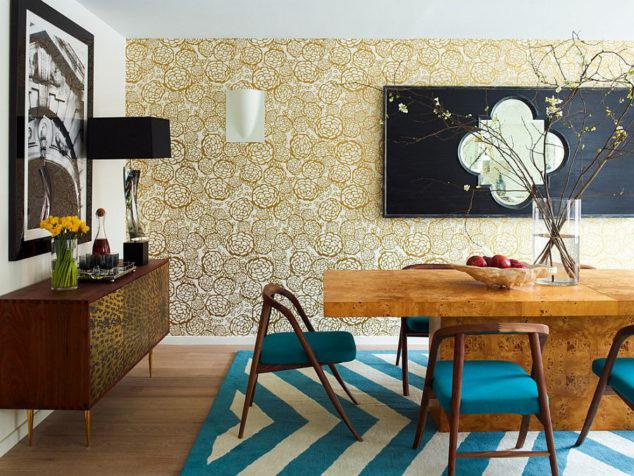 The Bathroom
Your bathroom is your private heaven. Since it is a space that we use every day, it deserves our full attention and creativity when we decorate it. We really like the idea of a beautiful, functional, and built-in shampoo niche. Do not stick one of those little pre-made corner shelves in your shower. Instead, build it out large, with some unique tiles. Make it a design feature.
Think of adding a touch of greenery in your bathroom. This is a great way to create a connection between the natural outdoor space and the indoor space you are designing. Bring an indoor plant or two in your bathroom and enjoy the tranquility and relaxation it will offer.
Bottom Line
Decorating a home can be exciting and challenging. It can be hard at first to imagine how each area in your house will look like in the end; however, you should always aim for interior designs that make you comfortable and your rooms welcoming, cozy, and totally luxe.