Maintaining a beautiful lawn can be a time-sucking nightmare, especially if you live in warmer climates that gets very little rain. But, you might just be tired of mowing your grass, watering your lawn, and taking time out of your day to fertilize. That's why some homeowners prefer artificial turf; it's a weed-free surface that is low maintenance, but it has other benefits as well. Here are five reasons why some homeowners are adopting artificial turf.
Environmental Benefits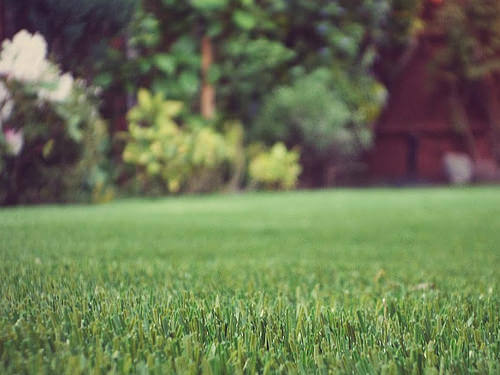 source
One of the many great reasons homeowners choose artificial turf is because of the positive impact on the environment. The water shortage in the U.S. is a national crisis, especially in areas like California where droughts are common. In fact, the U.S. Environmental Protection Agency states that a family of four uses 400 gallons of water per day. By adopting artificial turf, families may be able to significantly reduce their water usage. Also, as an incentive, many water companies are giving homeowners cash rebates for using artificial turf.
Health Benefits
Another major reason some homeowners are adopting artificial turf is that it eliminates the need to use harmful pesticides, which leads to less water pollution. Also, lots of people are allergic to grass pollen and have allergies that can result in watery eyes, runny noses, sore throats, and even more severe reactions like hives. The good news is that artificial turf helps control allergy symptoms.
Low Maintenance
Artificial turf is low maintenance so you can spend less maintaining your yard and more time with your family. For example, there is no fertilizing, mowing, seeding, edging, or other lawn maintenance activities. But, not only does low maintenance save you time, but it also saves you money by reducing lawn care costs.
Grass All Year Round
A beautiful lawn can give great aesthetic pleasure so that your yard looks as beautiful as your home. Artificial turf comes in a variety of blade lengths, textures, and colors. So, if you choose green artificial turf to replace your grass, the great thing is that it stays green all year round, withstanding scorching hot summers and cold winters. Your lawn will be the envy of the neighborhood!
Durable
If you have children, then you know how rough they can be on the landscape. Outdoor play areas are critical for homeowners because children need ample space to play. However, natural grass can't always stand up to days and weeks of rough outdoor playtime. Artificial turf is durable and stands up to heavy use, enduring soccer, football, and other outdoor activities that kids love. Also, artificial turf provides a safe surface for kids to play on.
Artificial turf is a long-term investment that's easy to install and has many benefits. Homeowners find that artificial turf allows for more time with the family and less time worrying about the landscaping. If you've never considered artificial turf for your home, now is the time to look further into this appealing option.