Tropical design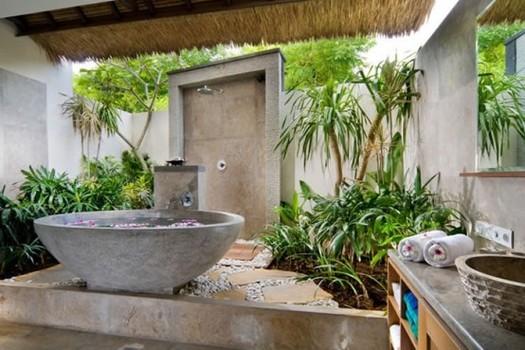 It is a winter and it is cold; the time makes us dream of Exotic Island, palm trees and sea. Therefore, here are some great ideas to design a bathroom that will make us feel like we are on vacation. If you re-create one of these exotic interiors, you will not want to leave the bathroom. Some of the pictures will inspire you how to decorate and arrange outdoor bathroom with lots of greenery around. However, if you cannot do it, there are many options for a standard room. You can put plants or to create illusion of greenery using green tiles or put a photo wallpaper with plants. Use materials such as marble, bamboo and glass furniture for the bathroom. Add some candles and voila – your tropical interior of the bath is ready!
Scandinavian style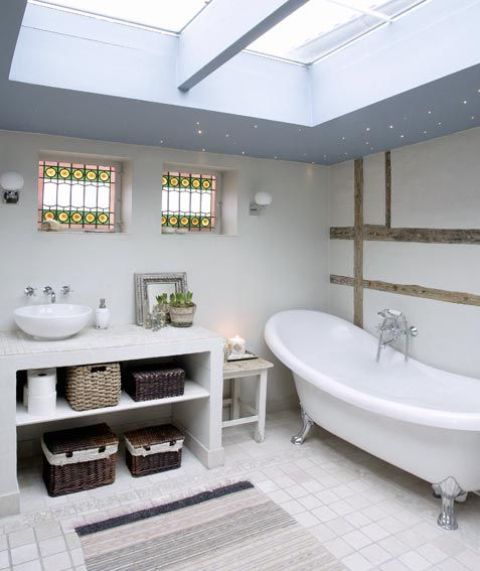 If we take a bath or hot shower after a long tiring day, this means that we need a place that is relaxing and peaceful. Therefore, one of the best options for the interior of the bathroom is the Scandinavian style. Today we present photos of bathrooms in this style. Some of them are fully furnished model of the North, while others have different accents – minimalism, classic, elegant, rustic. Basis of Scandinavian design is black and white theme, but you can always add a touch of dark blue, gray or why not in the cheerful colors like yellow and pink. It will not be an intrepid Scandinavian interior, if there is no details of wood or stone. These natural materials, combined with a few plants will make the bathroom very cozy and nice!
Superb bathrooms combining vintage and modern design.
Irina Schastlivaya designed this great collection of baths. The proposals look as if they are a work of art as for the tiles have been used different models. These models do not make the place look small and crowded, and are invisible at first glance, but they add a new dimension to a boring bathroom.
Japanese style bathrooms
There are times when one day seems to be longer than usual and begin to weigh us. The only thing you would expect in this case is a refreshing shower. A rejuvenating and relaxing bath is an ideal solution. This way you will recover your energy and shake off the modern and hectic life.
The beauty of Japanese baths is not only in the sense of minimalism and simplicity, but also ergonomic design that combines soothing natural elements. It helps to be washed away and gone all the worries and problems. This article will offer you a collection of some stylish Japanese baths.