Most homeowners have a general idea of how they want their home to look. They opt for comfy furniture and add details that give home a cozier look. While homes styled this way can look nice, it takes a lot more time and effort if you really want to make your home look magazine-worthy. The worst part is, most of us have no idea where to start and how to achieve the design we have in mind. To help you get there, we came up with five home styling tips that will help you create your own interior design masterpiece.
Start with a plan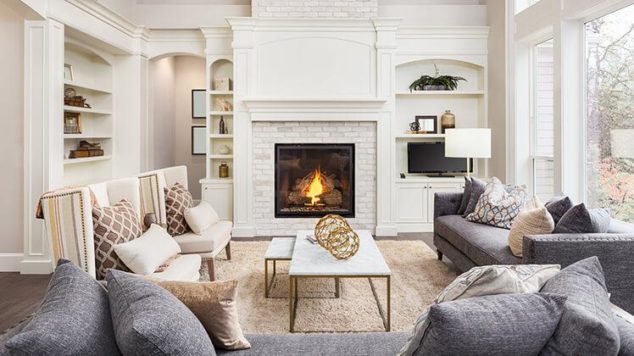 One of the most important things you need to do when styling your home is come up with a plan. Even if your budget doesn't allow you to style every room in your home at once, it's still a good idea to pre-plan every room. This will help you evaluate the aesthetics in every room even before you start making any changes. The thing is, many homeowners fall in love with the features that simply don't match the overall look of their home and it's usually the best to figure that out before you make any purchases. Consider using a Pinterest board to get a clear picture of how your home will look if you opt for every feature you fall for.
Focus on the big things
There's no need to say that the bigger the feature is, the more effort you have to put into choosing the right one for your home. For example, choosing the right furniture for your home is a critical part of styling your home, especially if you have a large family and need a lot of seating options in your living room. Once you identify the furniture that matches the style of your home, move onto things such as rugs, floor lamps and large wall art. The reason why you should follow this order when styling your home is because small objects can sometimes distract you from the overall look you're aiming at.
Turn to the pros
Sometimes, you can spend weeks on trying to style your home only to come up with absolutely nothing. Even with all the resources available online, styling your home is still a lot more difficult than you might've believed. Luckily, there are home styling experts who can get the job done for you. They'll help you choose the right furniture and find the accessories that match the overall look of your home. Even if you're styling just a part of your home and not the entire place, they'll create a style package for the rooms you want to style. And in case you decide to sell your home, having experts help you style your home is guaranteed to pay off.
Consider minimalism
Obviously, if you want to style your home like a pro, you need to stay on top of the most recent interior design trends. And this means opting for minimalism and keeping your place as tidy as possible. No homeowner wants to see a lot of clutter in their home, especially in rooms such as the living room or the bedroom. The best thing about going minimalist is that it allows you to choose quality over quantity. The key here is to abide by the "less is more" approach and tone everything down. Just bear in mind that the ideal minimalist home is warm, rich and inviting even though you need to keep it simple.
Rely on greenery
No matter what look you're trying to achieve, using greenery to decorate your home is an absolute must. We live in the age of technology and any natural elements you can include into your interior design are more than welcome. And there's hardly any better way to do this than to use greenery. The good news is, there are just so many beautiful potted plants that can match just any style and incorporating them into your home design will be a real piece of cake. We should also mention that the more of these you include into your design, the fresher the air inside of your home is going to be.
Final thoughts
No matter what your reasons for styling your home are, there are just so many things you can do to ensure the entire place looks its absolute best. Follow the five tips we covered in this post and you'll have nothing to worry about.