There are many different ways you can entertain but one thing everyone enjoys during the busy holiday season is a great open house party. Everyone loves house parties, but no one loves throwing them as it's quite a demanding task and the end result could be quite disappointing.
If you're looking to organise something different than an ordinary sit-down meal but you still wish it to be far from a frenetic, crowded and noisy cocktail party everyone has already been to, here are several simple tips to help you throw an epic party that everyone will talk about for months to follow.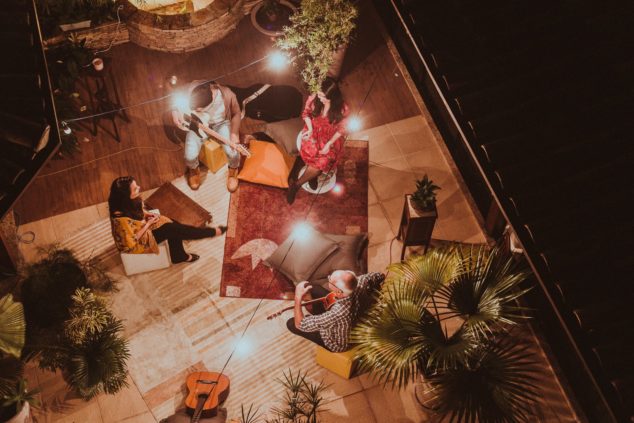 Get organised
To make sure you keep track of everything, plan ahead and create lists. Write your tasks down, from calling the caterer to buying flowers and balloons. Make a shopping list of all the necessities for the party and the post-party cleaning, and sketch out a timeline for the day and who's going to be there to help you with everything.
Also, think about who you're inviting. You want to bring as many people together as you can from various walks of life and see if sparks may fly. Don't only stick to the same old people you see every week, but invite your college friends, quirky cousins, interesting neighbours and friends from work.
As evenings are festive, they make a great time for parties, but if you plan to have families with kids, consider an afternoon bash. A four-hour time frame allows everyone to come in and go. And you to have real time with your guests. Make sure you send out the invitations in time and include all the helpful information regarding the location, location, dress code and parking.
Decorate the place
Even if you haven't picked any particular party theme, you can go all in with decorations. Put up garlands, wreaths, string lights and balloons. Pops of colour here and there can add a lot of cheer to any space, and consider adding more greenery as well. Plants have a great ability to freshen up a place. Even if you have a paved backyard, you can buy bunches of flowers and arrange them out in vases, and hire outdoor plants for the occasion. They will add a touch of beauty to the space and break up its uniformity.
Offer good food
Good food is an absolute must for an epic party. Whether you prepare your own food, hire a caterer or go for a potluck, you'll need good food choices to make your guests happy. Pick a few things to serve warm, maybe even opt for a hot dip, but let everything else be snacks conveniently spread out and served so everyone can easily get a bite. However, keep things simple because you really don't need an enormous menu.
What also makes a great impression is how the food is set up and arranged. Think about colours, types of platters and which food makes sense to go together on a plate. Don't forget something for the vegans and vegetarians too! And make sure you put out enough plates, glasses, utensils and napkins, but don't worry if they don't all match. Sometimes that's what adds the most charm.
Set up a bar
It's smart and practical to set up the bar in advance with all the glasses, ice and small bowls with citrus wedges and olives. You can also put up a larger container with water and ice to keep the drinks cold. What you don't need to worry about is providing all possible beverages under the sun. Make your pick of a few alcoholic and non-alcoholic ones, but make sure you are well stocked.
Great music makes great parties
One thing that will surely get everyone's spirits up at a party is good music. Everyone today is a bit of a DJ and it's so easy today to create playlists and play good music with all the modern technology. If your budget allows it, employ a really talented DJ, if not, turn to a streaming service or you may also allow your teenage kids to do it. You only
need to make sure the list is diverse so you don't end up playing the same songs over and over again and killing the mood.
Once you've got people connected, everyone is fed and happy, the right music is playing and there's enough room for dancing, you can get the party started!