All of us know how important it is to have a few drinks after work and see some friends. Of course we don't do this every single working day, but we need such time to take all the pressure down from our bodies. Being in a pleasant company is an important part of community life. In today's busy world there is fewer and fewer time to spend with our dearest friends and having this in mind we can conclude that the focus lately has been moved towards the home life.
At first we thought that this trend will kill the traditional pub gatherings but we were wrong. Changing the focus from outdoor to indoor activities turns out to be the reason for this recently appeared approach in interior design, when professionals include home bars, separated from the rest of the living areas. The perfect home pub.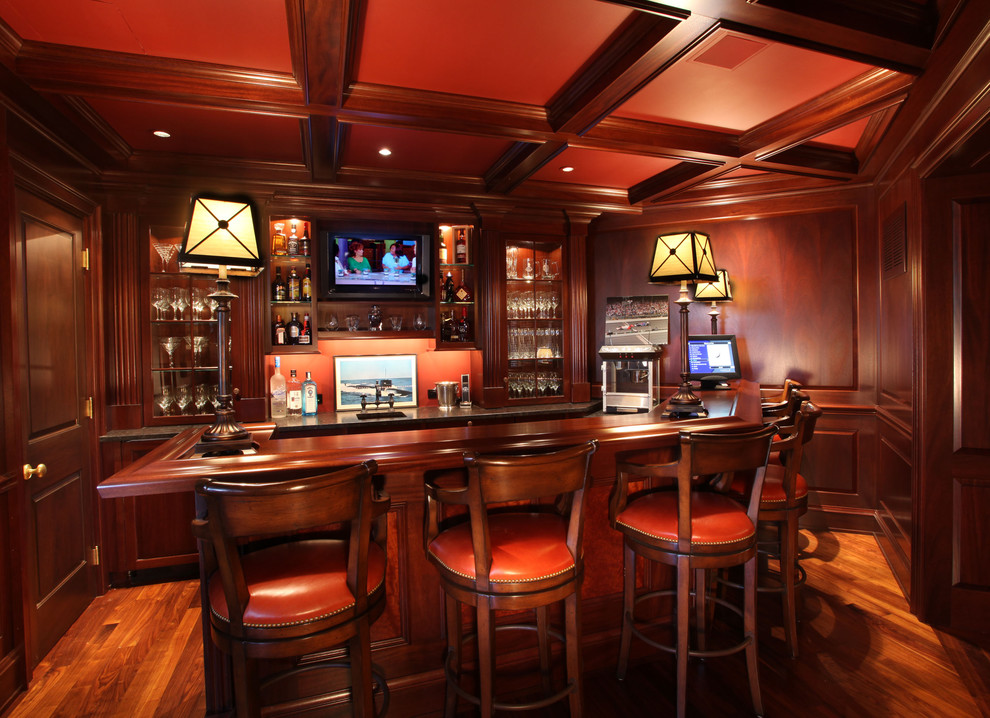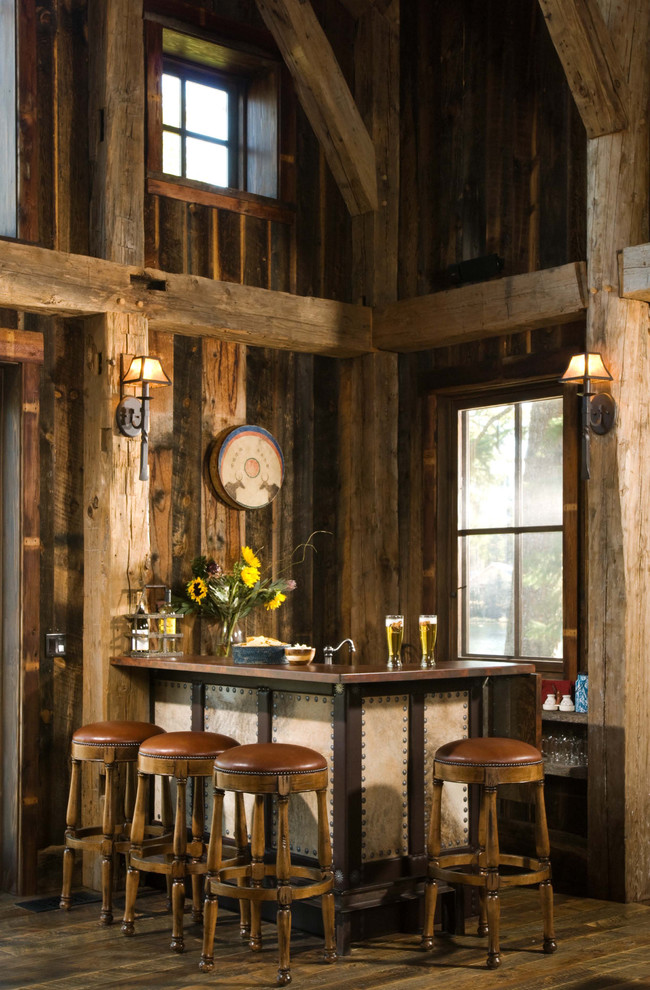 This little masculine rooms has become one of the sacred private areas in homes today. The men oasis has another function – it establishes a balance with the typical feminine areas. From the visual example above you are able to see that the essential materials used for a man cave are rich wood and expensive leather. All kind of modern technologies, like cutting-edge TV sets, are welcomed in the interior. Needless to say, a typical night in the home pub includes pool table games, strong cigars and old whiskey.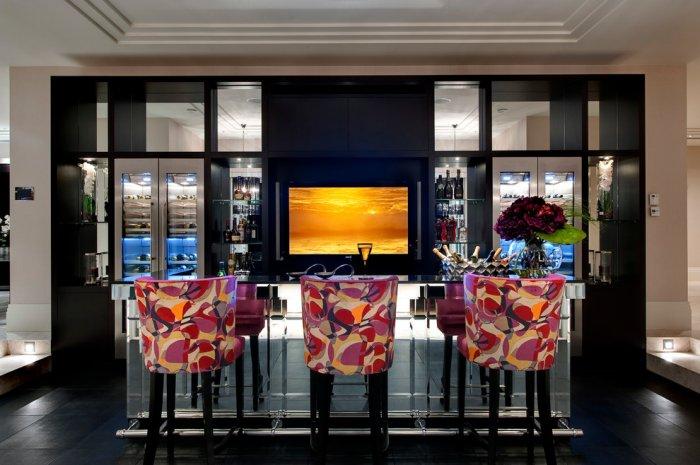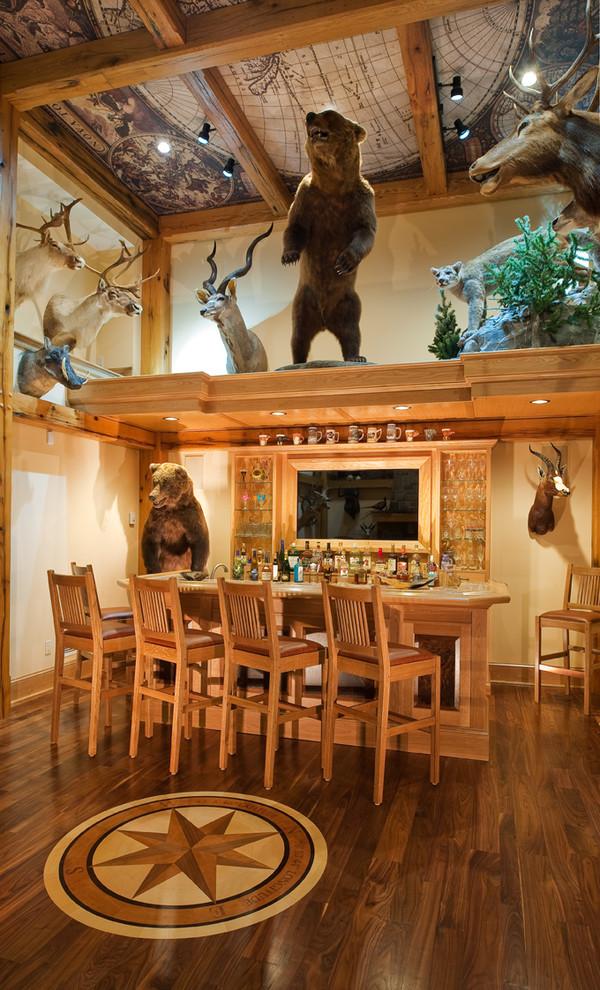 Other designs are developed with contemporary touches that makes the home pub a trendy night hot spot for all friends and ladies that like to have fun till the early morning hours. Since most of the newly build homes allow huge areas to be used for a single purpose, why not have some private space and fulfill the man's dream? To have your own bar!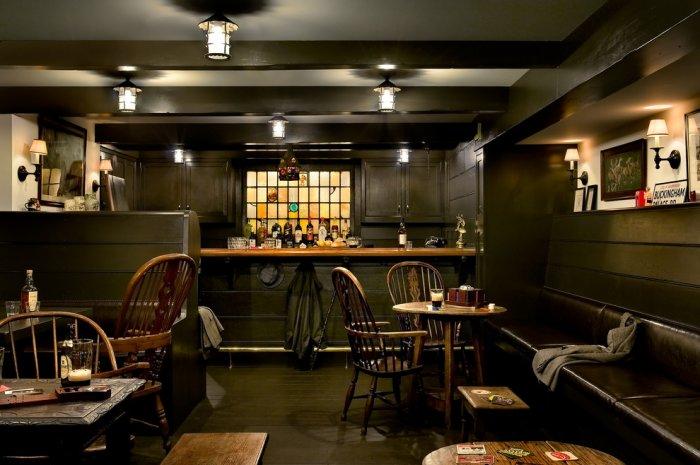 This home bar is built in a home in New York. The homeowner is a businessman that flies several times a year to London. And everytime he gets there, he would certainly visit a favorite pub. And this is how the brilliant idea was born! To recreate the interior of a London pub right into his New York home!
The bar shows the point of view of a modern man. Since the homeowner's wife took control over the décor in the house, it was the man who decided that the pub should be in his mighty hands. The result is astonishing, as you can see from the images here. The atmosphere is so authentic that you can almost feel the soccer fans singing their lucky jolly songs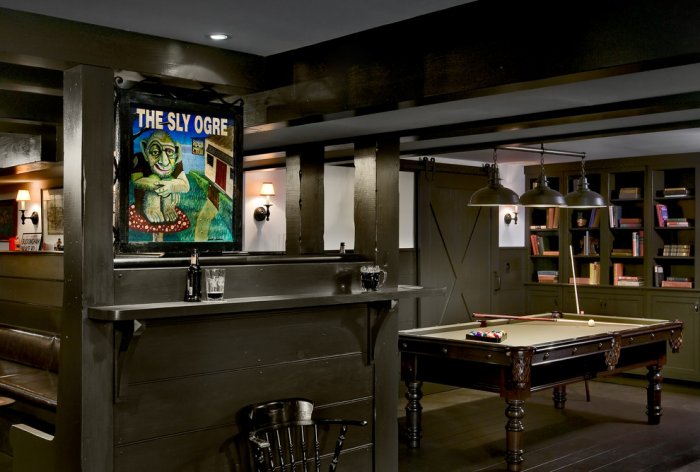 There is an all-pine space with a custom-made bar top where the men can enjoy different sport games that are broadcasted on the local sports channel.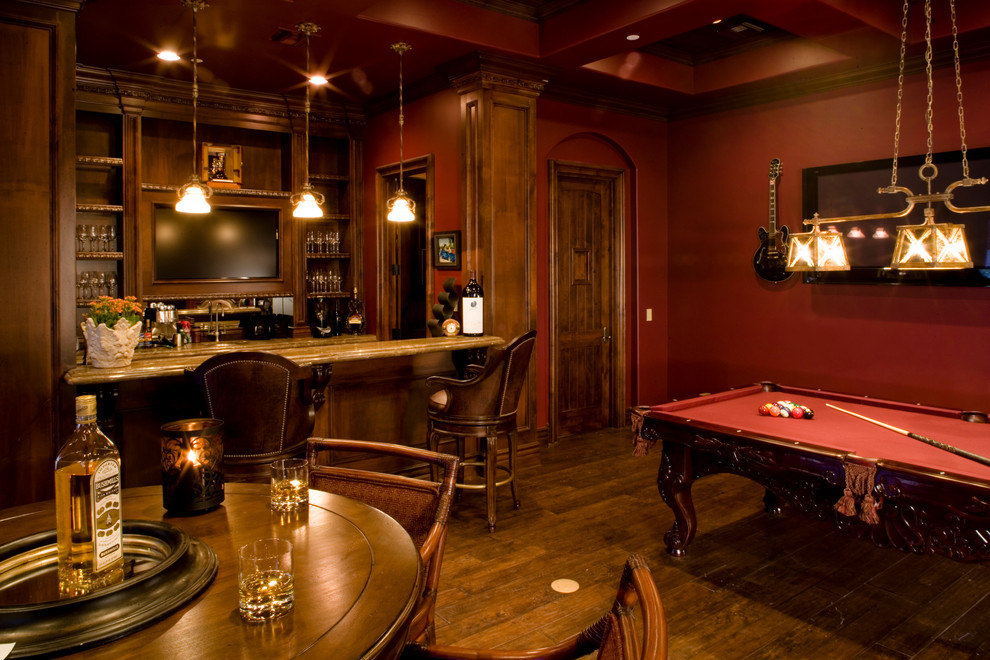 A place devoted to bachelor life and those who love parties – this is the perfect man cave. You can see different accessories decorating the place – signed guitars, jerseys and other precious items that have almost priceless value.
The designer of the place, Michael Macaluso, is the man who is responsible for the clever combination of wine-reddish walls and wooden bar colors. The walnut floor completes the fluent visual transition of nuances in the interior. In addition you will find animal print and embossed leather that give the pub a sense for luxury private space.
If you want to build a room like that in your home you should know exactly how much space you will actually need and use, says Michael Macaluso. It is very important to know if there is going to be a pool table, for example since it takes a lot of space. The proper planning will prevent the homeowner from a lack of seats once the slots machines and pool tables are taken in.
It will cost you approximately $100k to build a home pub. This includes all kind of furniture, cabinets, floors, ceilings, TVs, audios systems, wine rack, as well as the interior designer work.
Another home pub reveals a man cave created from a previously existing two-bedroom casita. The homeowner is a retired professional baseball player that wanted to bring some freshness in his home. Now, this is his favorite place for gatherings with the boys from his ex-team. And they have a great time here!!!
Since the rest of the house is in light white colors, the football player wanted to create a sharp contrast with his own pub. The darker and moody atmosphere is a straight hit in the bull's eye.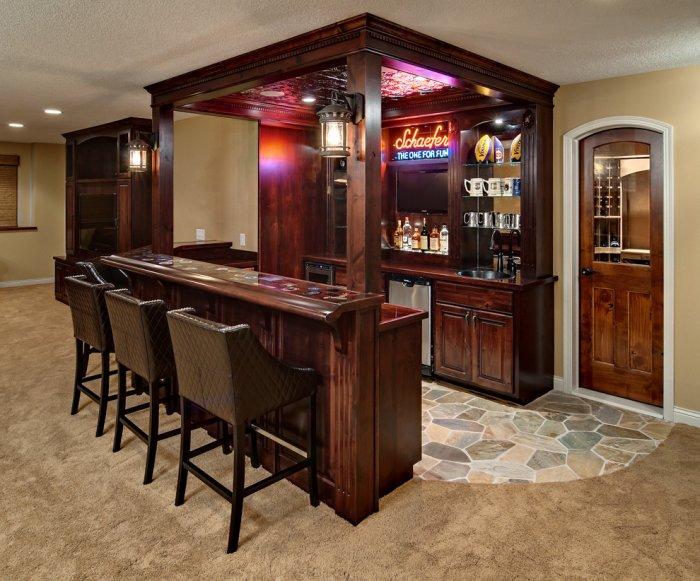 And the next home pub has been an old storage room above a garage. Now, it is a shiny new space where the boys can gather and have some beers in a pleasant atmosphere. The contractor Bob Michels was not the only person that gave the idea for the interior of the home pub. His wife has chosen the carpets and wall colors. And of course, she joins the boys for a beer or a pool game.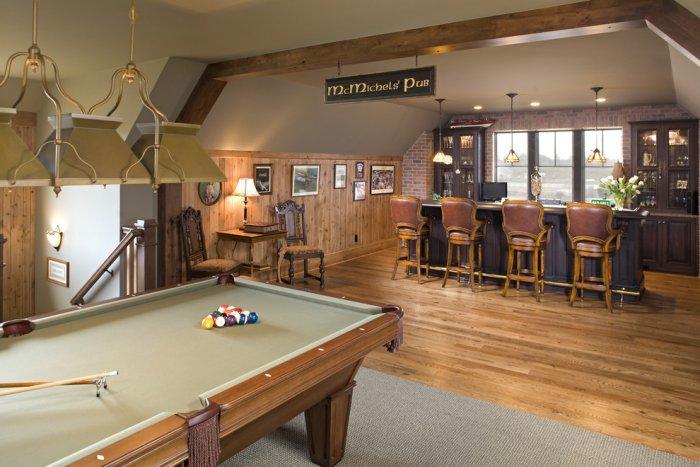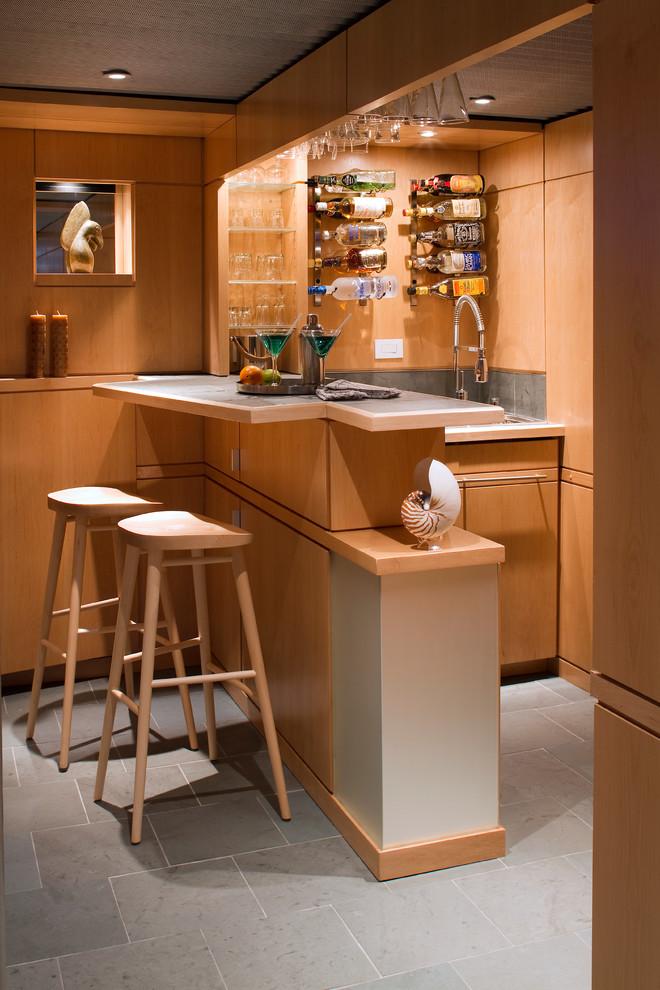 The next image is a pure example of how a tiny little space can be used at its maximum in order to accommodate an entire home bar. In this basement room you will find everything essential for a pleasant stay – a sink, refrigerator and plenty of bottle storage. The ceiling is made of  Fry Regletacoustical wall panels.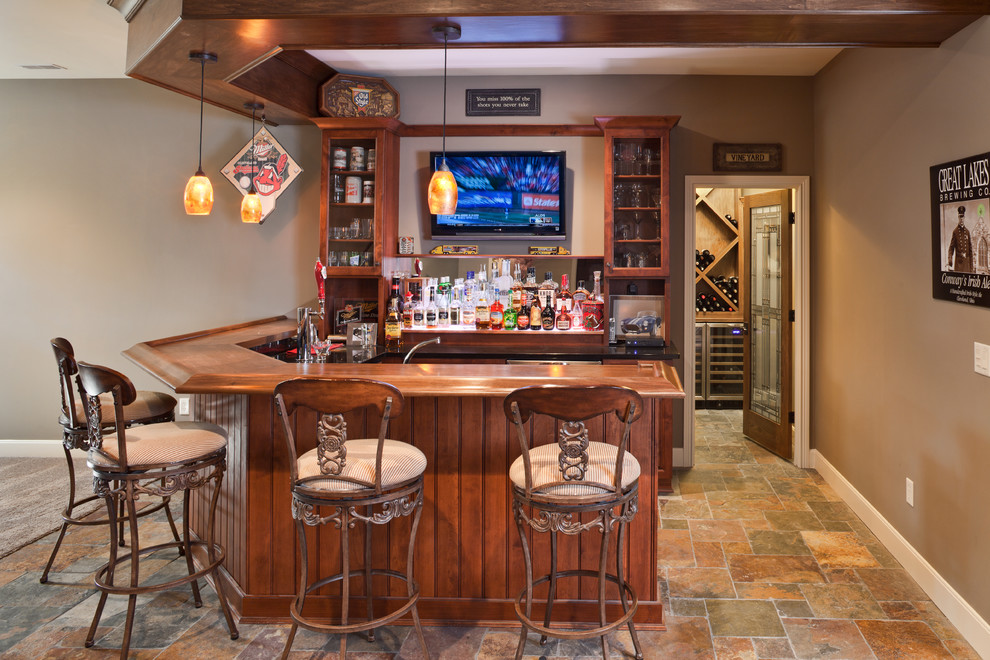 When this homeowner changed the location of his home away from downtown, he realized that an easy night 2 minute walk to the local bar was not an available option any more. That's why the decision to construct a home pub turned back the emotion of being among friends. This particular room from the image above is built of plywood and old wood pallets.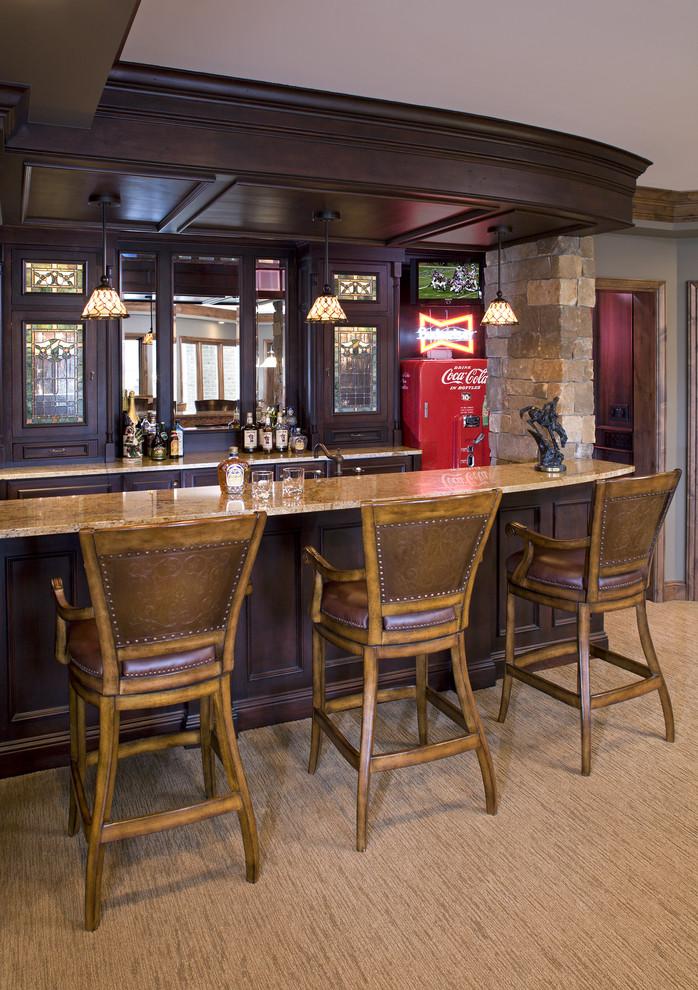 And now, we would like to present to you a home bar which belongs to a married couple in Minnesota. The family decided to turn their basement into amusement room where they could spend countless hours in a good company. An interesting item is the Coke machine that the family owned since their years in college. There are also a pool table, table for poker, popcorn machine and pizza oven. As you can see, there are not only available entertainment for men company, but it is more like a family place.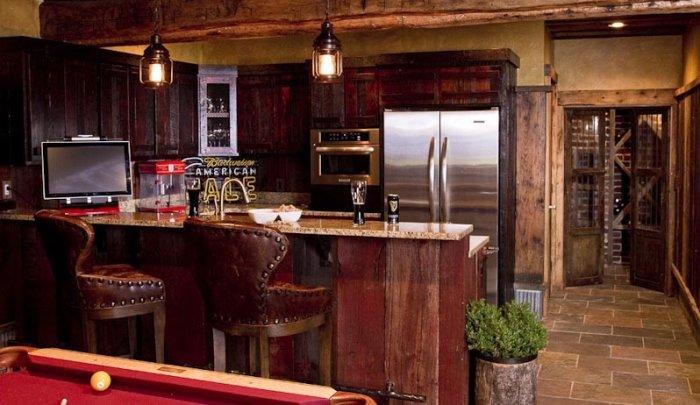 On the image above you can see another family home bar located in the basement. The interior is created in rustic style with knotty barn wood. On the bar you will find an eletronic poker game and behind it, there is a fridge, microwave, popcorn machine and a wine cellar. In the central part of the room, the family is able to enjoy a game on the pool table. There is everything needed for a pleasant night with friends.