In some fashion trends, dark brown shades are called "new black" because they are incredibly stylish and look great in combination with a wide range of other colors.
Choclate color sofas and armchairs
Thick and rich chocolate tones are preferred as color solution in the interior of this apartment. The wonderful location of the living area with panoramic glazing of two walls stands as a fresh frame of elegant furniture. Not only the trim, but also the wooden elements and the table are decorated in warm chocolate. The pastel carpet and fresh green of the palm in the room only emphasize comfort and stylishness of recreation area.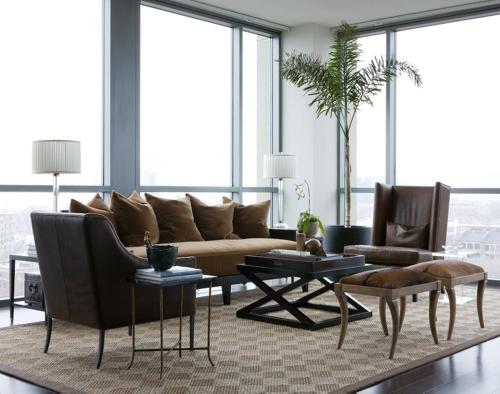 Chocolate color interior luxurious living room
Next to it is the kitchen, symbolically separated by high breakfast bar. The color combination of light and dark wood interior make the room more attractive avoiding "heavy" look that would have, if it was decided again in chocolate brown.
Chocolate color a modern kitchen design
Chocolate colored for decoration in a bedroom
Chocolate colored a modern bedroom
In the bathroom, the presence of chocolate brown is sought by furniture, highlighted by warm yellow walls and the gloss surface of the mirror.